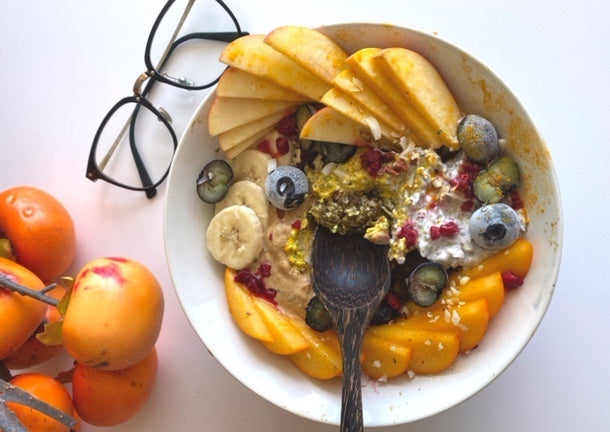 1 min read
Permission Turmeric Latte Oats
Posted By
Karim Youssef
All the health benefits of
oats
,
turmeric
and
Clean Lean Protein
combined into a single r
ecipe that you can use in breakfast, snack or dessert.
Ingredients
1/2 c oats
1/4 tsp turmeric
1/2 tsp ginger
1/2 tsp cinnamon
Pinch of black pepper
1tsp maca powder
Plant Milk to cover
Recipe by The Sweet Potato Diaries
All the health benefits of oats, turmeric and Clean Lean Protein combined into a single recipe that you can use in breakfast, snack or dessert.
Method
Cook on low until liquid is absorbed then stir with a serve of Nuzest Smooth Vanilla Clean Lean Protein and more liquid until desired consistency
*sub either more oats/ 3tbs coconut flour + 1tbsp maple syrup
Top with persimmon, banana, bloobs, Chia flax yog pudding, apples, crushed nuts, hemp seeds, coconut flakes and ofc another sprinkle of tumeric!
Enjoy with a hot cup of tea/ coffee!



Disclaimer: The information provided on Nuzest is for educational and informational purposes only. The information provided on this site is not, nor is it intended to be, a substitute for professional advice or care. Please speak to your qualified healthcare professional in the event that something you have read here raises questions or concerns regarding your health.