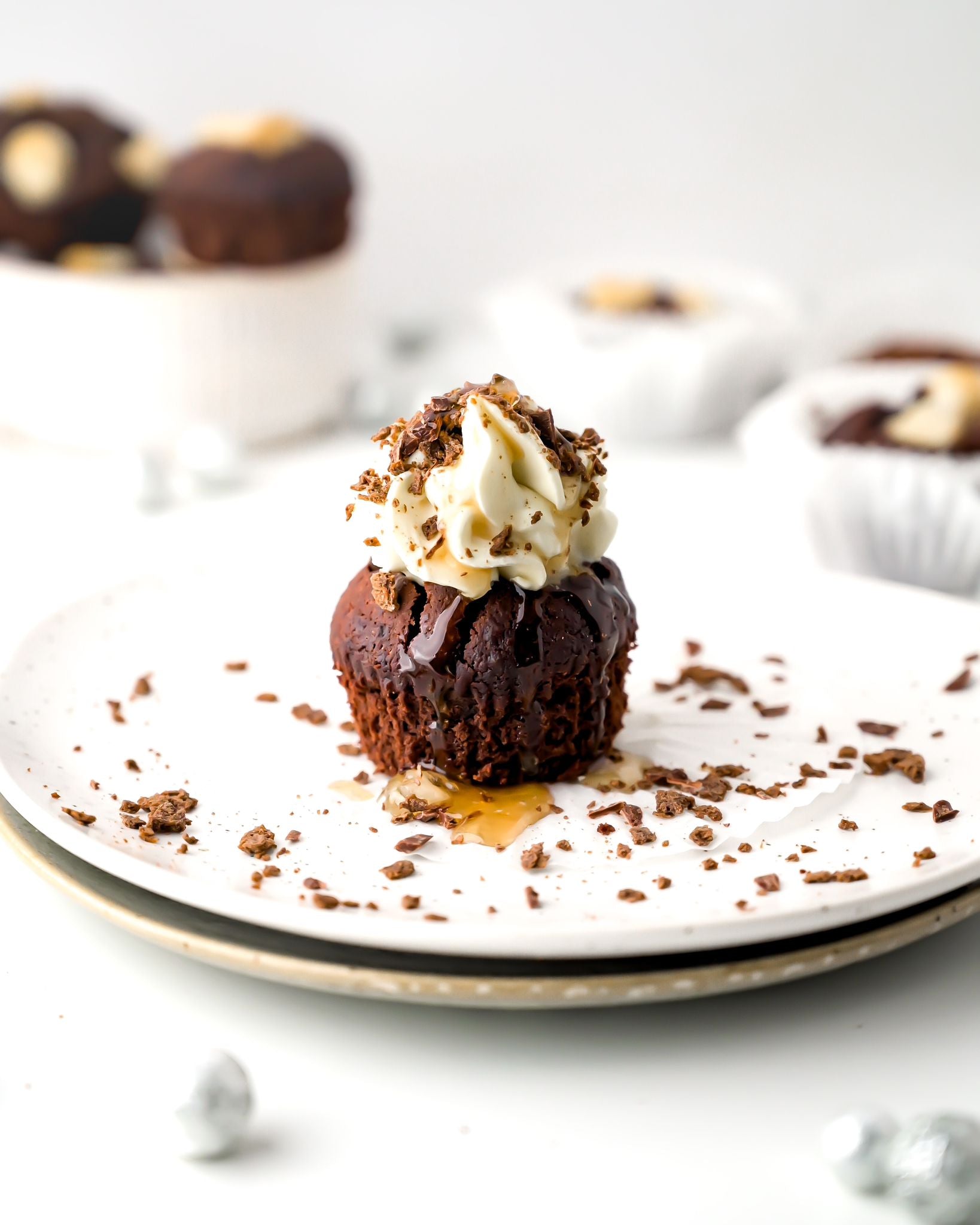 1 min read
HOT CHOCOLATE BROWNIES
Posted By
Karim Youssef
These easy to make, hot chocolate inspired brownies are made with minimally processed ingredients and they are free from gluten.
Ingredients
1 Cup almond flour
1/2 Cup cacao powder
1 Cup dark chocolate chips (sugar free)
1/3 Cup monk fruit syrup
1 Tsp baking powder
2 Servings of Nuzest Rich Chocolate Kids Good Stuff
1 Large egg
2 Packs of crushed toasted coconut crunch cacao *
1/2 Cup runny cashew nut butter
2 Tbsp coconut oil (melted)
Recipe by Charissa & Co.
Since it is that time of the year again. Why not enjoy your warm cocoa drink in a brownie form?
These easy to make, hot chocolate inspired brownies are made with minimally processed ingredients and they are free from gluten.
They are rich, chewy and so gooey. It has a rich intense chocolate flavour with caramelised marshmallows topped with a creamy icing.
These hot chocolate brownies are grain-free, gluten-free and a absolute delight for this festive season.
They make the perfect guilt-free indulgent this holiday season.
Yield: 12 Cupcake shaped brownies or 8 x 8 inch baking tray
Method
Preheat the oven to 350 F.
Firstly, start off by dividing the chocolate chips into two half's. One half to be melted and the other half keeps in its chocolate chip form.
Add to a large mixing bowl the dry ingredients (only one pack of your toasted coconut) as well as half of the chocolate chips, followed by the wet ingredients including the melted chocolate.
Once the mixture is evenly mixed. It needs to be a sticky dough consistency, if the mixture is too dry add a little more cashew nut butter.
Scoop the brownie batter into your baking tray. Ensure the tray is non stick silicone, or line the tray out with baking paper. Fill each pocket to about 2/3 of the way. Top with marshmallows and a few sprinkles of your toasted coconut crunch.
Bake for roughly 18 minutes, or until preferred gooey/cakey-ness. It also depends how thick the brownies are.
Allow to cool off once you have removed it from the oven. Optional to enjoy with your favourite cream cheese icing.
For storage you can keep them stored in the fridge (4 days) in a airtight container, the flavour just gets better the next day. Pop it in the microwave if need be for 15sec to warm up if need be.
NOTES: *One pack of coconut crunch is for the batter and the other is to be sprinkled on as a topping prior to baking.
Disclaimer:
The information provided on Nuzest is for educational and informational purposes only. The information provided on this site is not, nor is it intended to be, a substitute for professional advice or care. Please speak to your qualified healthcare professional in the event that something you have read here raises questions or concerns regarding your health.