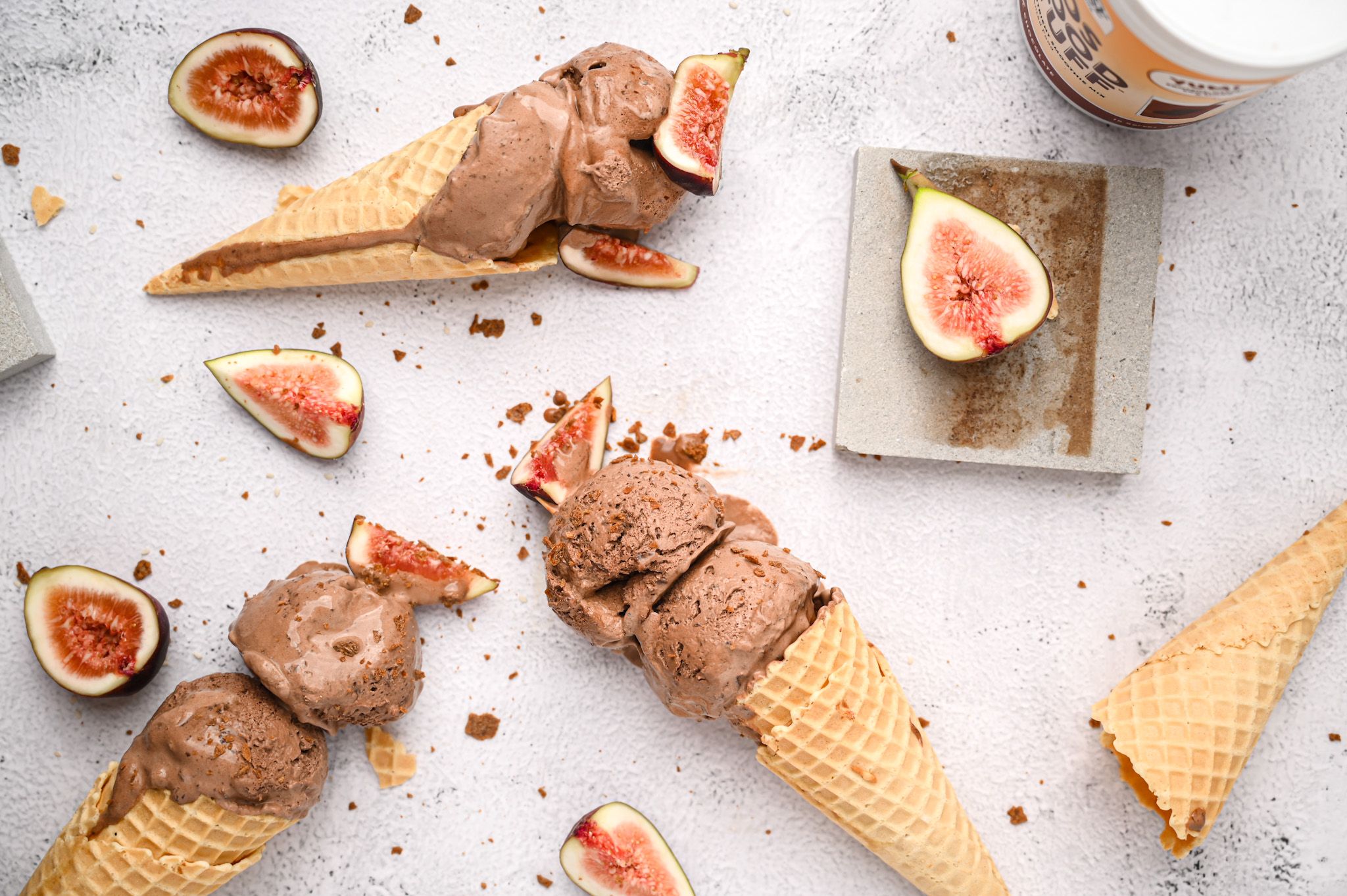 1 min read
CHOCOLATE COCONUT FIG ICE-CREAM
Posted By
Karim Youssef
Who doesn't want ice cream? Here's one that's not only delicious but so healthy too.
Ingredients
Ice-cream:
2 Cans of coconut cream (chilled overnight in the fridge)
2/3 Cup cacao powder
1/2 Cup almond milk
4 Fresh chopped figs
1 Tbsp chocolate chips
1/2 Cup sunflower seed butter or almond butter
1/2 Cup monk fruit syrup
1 Tbsp vanilla extract
Toppings:
Coconut power crunch
1 Tbsp monk fruit syrup
Fresh chopped figs
Recipe by Charissa & Co.


Who doesn't want ice cream? Here's one that's not only delicious but so healthy too.
Method
Place your loaf pan or metallic ice cream container in the freezer, I used a silicone mould. 

To your blender or food processor, combine all your ingredients and blend until a thick creamy consistency.

Pour the chocolate ice cream mixture into the chilled container. For the first hour, you would need to stir the mixture every 20 minutes, to ensure it doesn't freeze solid and it also removes the excess icicles. Thereafter freeze for another hour.

Before scooping out the ice-cream, please allow it to thaw for for 10-15 minutes depending on the temperature of your kitchen. Lightly wet your scoop with boiling water before scooping out your ice-cream. For toppings you can drizzle a little coconut crunch and monk fruit syrup.
Disclaimer:
The information provided on Nuzest is for educational and informational purposes only. The information provided on this site is not, nor is it intended to be, a substitute for professional advice or care. Please speak to your qualified healthcare professional in the event that something you have read here raises questions or concerns regarding your health.