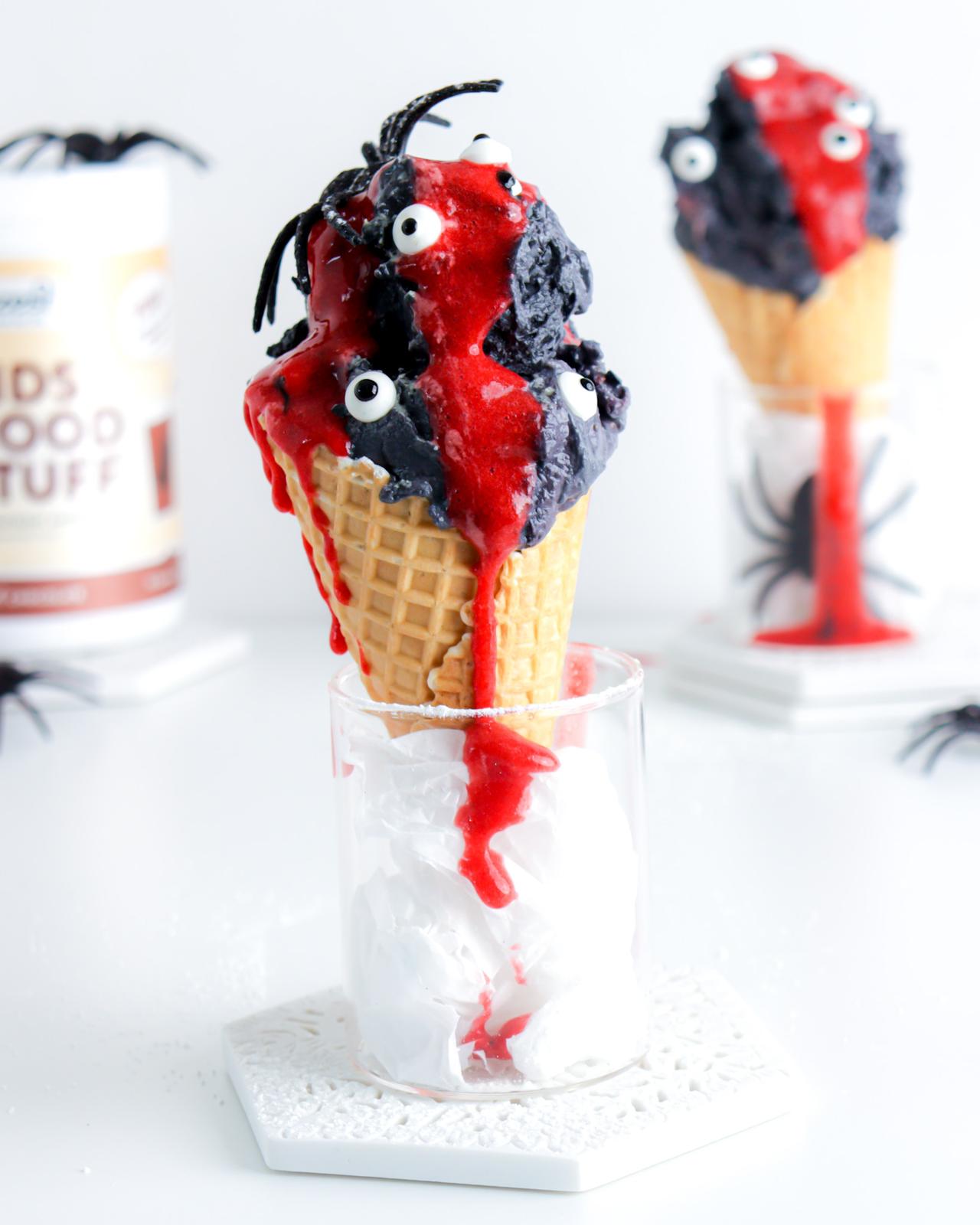 1 min read
MONSTER BLOOD ICE-CREAM
Posted By
Karim Youssef
This scary and
 terrifying 
ice cream is 
perfect for a 
spooky
 Halloween party.
Ingredients
Ice-cream base:
1 Cup pre-soaked cashews
1/2 Can coconut cream
1 Tsp vanilla extract
1/3 Cup monk fruit syrup OR 3 Tbsp coconut condensed milk
3 Scoops Nuzest Rich Chocolate Kids Good Stuff
1/3 Cup nut milk
4 Drops of charcoal colouring (not artificial colouring)**
*Strawberry mixture (1/2 Cup strawberries puréed with 1 Tsp monk fruit powder)
"Blood drizzle":
1 Cup strawberries
2 Tbsp monk fruit icing (powder)
Recipe by Charissa & Co.
This scary and terrifying ice cream is perfect for a spooky Halloween party.
Method
For the ice-cream, start by adding all the ingredients to your blender apart from the strawberry mixture. This we will only fold into the ice-cream mixture once all the other ingredients are blended. Once you have blended the main ice-cream base, start by folding in your *strawberry mixture.
Cover and place the ice-cream mixture into the freezer and allow to freeze for 4 hours.
For the first two hours, stir the mixture in between to prevent "ice crystals forming".
Whilst this is in the freezer you can start making the "blood" drizzle by microwaving the strawberries and monk fruit powder for 2 minutes, blend the ingredients to create a puree like texture.
After four hours, you can start serving up your ice-cream.
You might want to allow it to thaw for a few minutes or so, depending on the temperature in your kitchen. A great tip, is to place your ice-cream scoop in hot boiling water as it allows you to scoop the ice-cream mixture with ease.
Once the cones are topped with the ice-cream, you can then drizzle your strawberry "blood" on top.
Notes: ** Using natural colouring to create different colours in kids treats is key, using beetroot is a great natural food colouring, or charcoal powder and perhaps some blackberries. Avoid using artificial colouring, not only is it man made, but it is harmful to the body.
ARTIFICIAL FOOD DYES HAVE ALSO BEEN SHOWN TO:
Negatively impacts the functioning of the liver and other vital organs
Interfere with the digestive enzymes that our bodies produce to help properly break down the food that we eat
Increases intestinal permeability aka "leaky gut"


Disclaimer:
The information provided on Nuzest is for educational and informational purposes only. The information provided on this site is not, nor is it intended to be, a substitute for professional advice or care. Please speak to your qualified healthcare professional in the event that something you have read here raises questions or concerns regarding your health.