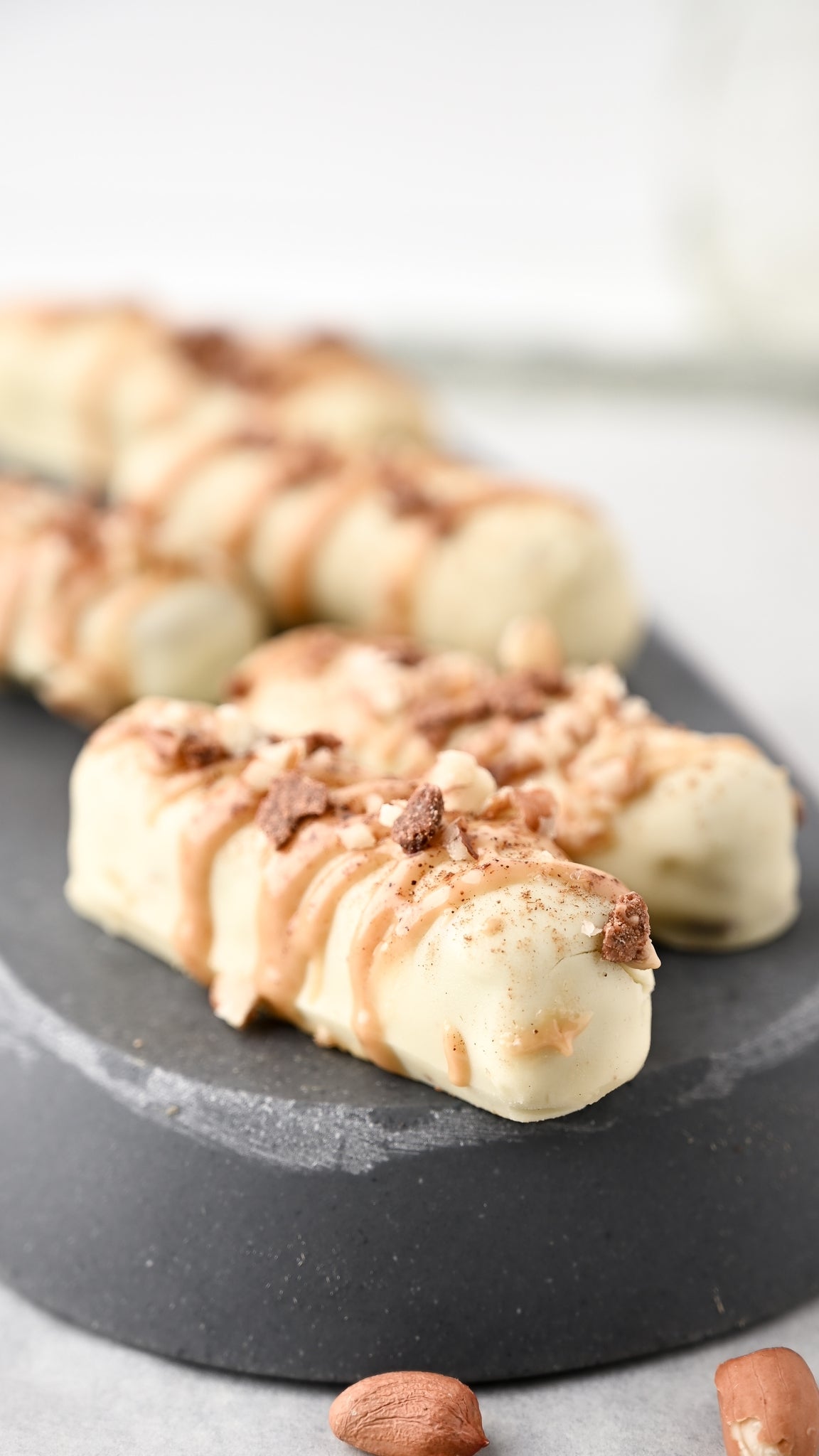 1 min read
TOASTED CINNAMON PEANUT BUTTER COOKIES
Posted By
Karim Youssef
Recipe by
Charissa & Co. 
Method
To your food processing add your coconut cinnamon cereal and blend until a flour like texture is achieved.

Once done, pour the mixture into a large mixing bowl, followed by all the other ingredients. Mix until a dough like consistency is achieved. The consistency needs to be a firm dough consistency, if its too runny add a little more grounded coconut crunch.

Scoop the mixture into your non stick silicone mould. This recipe we used a stick like shaped mould. Level out each shape equally. Press down firmly. Place the mould in the freezer for 45min to set.

Once the mixture has set, you can start making your white chocolate caramel coating.

Add to a microwave bowl the white chocolate chips and coconut oil, keep the caramel extract aside. Melt the chocolate chips and coconut in the microwave on a medium heat in 20sec intervals. Stirring in between, make sure the chocolate does not burn. Once the chocolate is meted you can add your caramel extract, this will not work with essence as essence forms a syrup texture when added to heat and it will make the chocolate lumpy.

Once you have started coating your toasted coconut peanut butter cookies. Place each of them on a non stick tray, place the tray back in the freezer for 10min once all the cookie sticks have been coated. 

Remove from the freezer and drizzle with a peanut butter drizzle and chopped nuts. Enjoy.

Keep them stored in the fridge in an airtight container for up to two weeks.
Disclaimer:
The information provided on Nuzest is for educational and informational purposes only. The information provided on this site is not, nor is it intended to be, a substitute for professional advice or care. Please speak to your qualified healthcare professional in the event that something you have read here raises questions or concerns regarding your health.