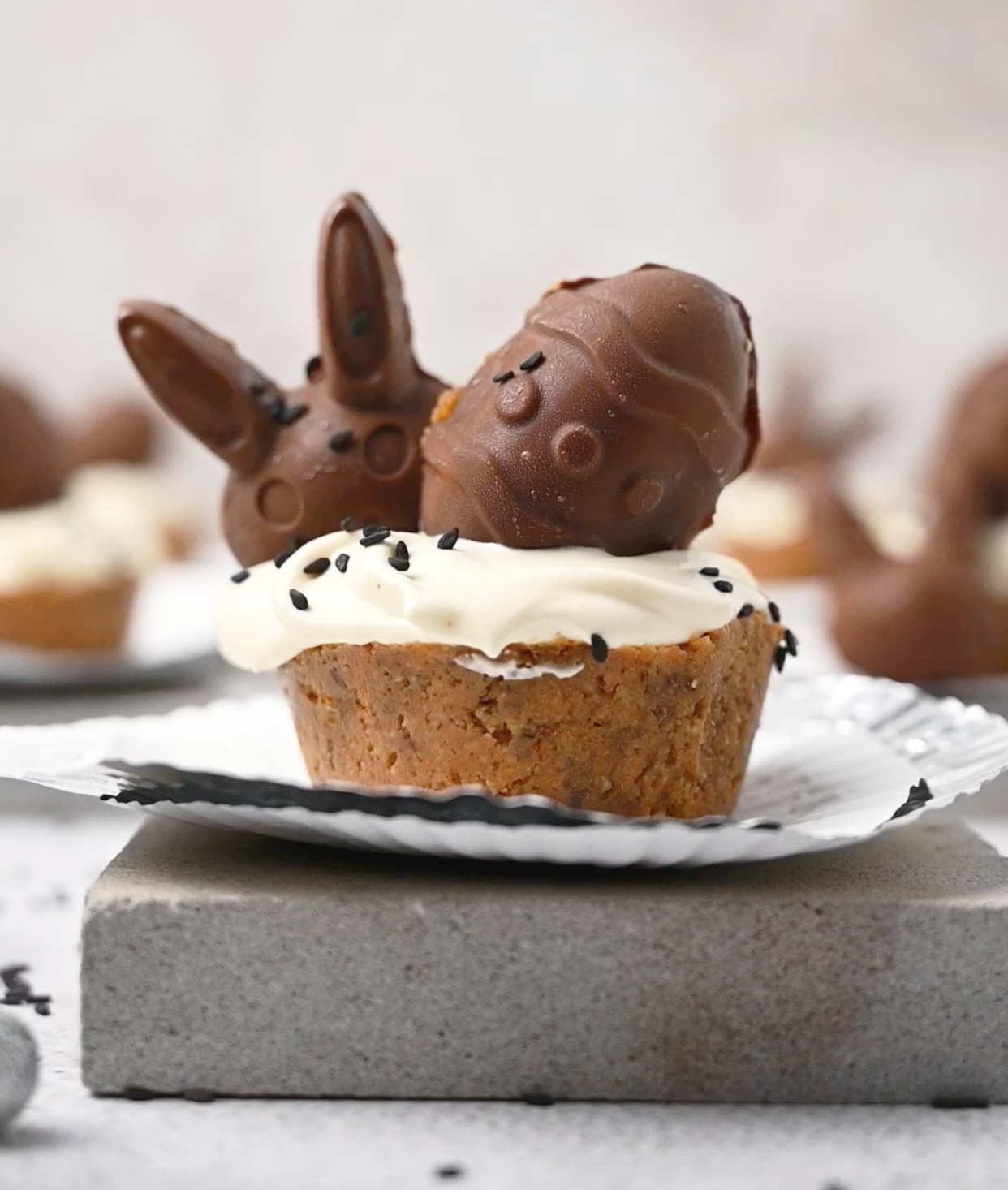 1 min read
NO BAKE CARROT CAKE WITH VANILLA FROSTING
Posted By
Karim Youssef
These vegan no bake carrot cake cups are made with 100% whole foods!
Ingredients
For the carrot cake:
1 Cup grated carrots
8 Large medjool dates
1/2 Cup pecan nut butter
1 Tsp cinnamon
1/3 Tsp nutmeg
30g Toasted coconut power crunch
1 Tbsp vanilla extract
3 Tbsp coconut flour
For the vanilla caramel frosting:
1 Cup pre-soaked cashew nuts
1/2 Can coconut cream (kept in the fridge overnight)
1 Tbsp vanilla extract
1 Tbsp monk fruit icing powder
2 Tbsp coconut oil
3 Tbsp monk fruit syrup (caramel flavour)
1 Lemon juiced (Large)
Recipe by
Charissa & Co.
These vegan no bake carrot cake cups are made with 100% whole foods!
Method
Start off by making your vanilla caramel frosting first, add all the ingredients for the vanilla caramel frosting to your high speed blender, blend until smooth and creamy. Pour the mixture into a airtight container. Place the container in the freezer. After 45min, stir the vanilla cream frosting to remove any icicles. Place it back in the freezer for another hour. Whilst the frosting is in the freezer you can make your carrot cake.
To your food processor add all the ingredients for the carrot cake and blend until you reach a dough like consistency. Place the carrot mixture into your non-stick cupcake moulds. For ease, I would recommend using a non-stick silicone cupcake mould. Spread the carrot cake mixture out evenly into each cupcake mould. Press down firmly and cover with cling film. Place in the freezer for 1.5 to 2 hours to set. Depending on how thick your cake batter is will depend on the time to set.
Once you are ready to serve, you need to whip up your vanilla frosting and optional place the frosting into your piping bag. You can even dollop the frosting with a spoon onto your carrot cakes, you don't need to pipe it onto the carrot cakes. Finally for the toppings, sprinkle some toasted sesame seeds with a delicious creamy chocolate Easter egg filled with almond butter.
Disclaimer:
The information provided on Nuzest is for educational and informational purposes only. The information provided on this site is not, nor is it intended to be, a substitute for professional advice or care. Please speak to your qualified healthcare professional in the event that something you have read here raises questions or concerns regarding your health.