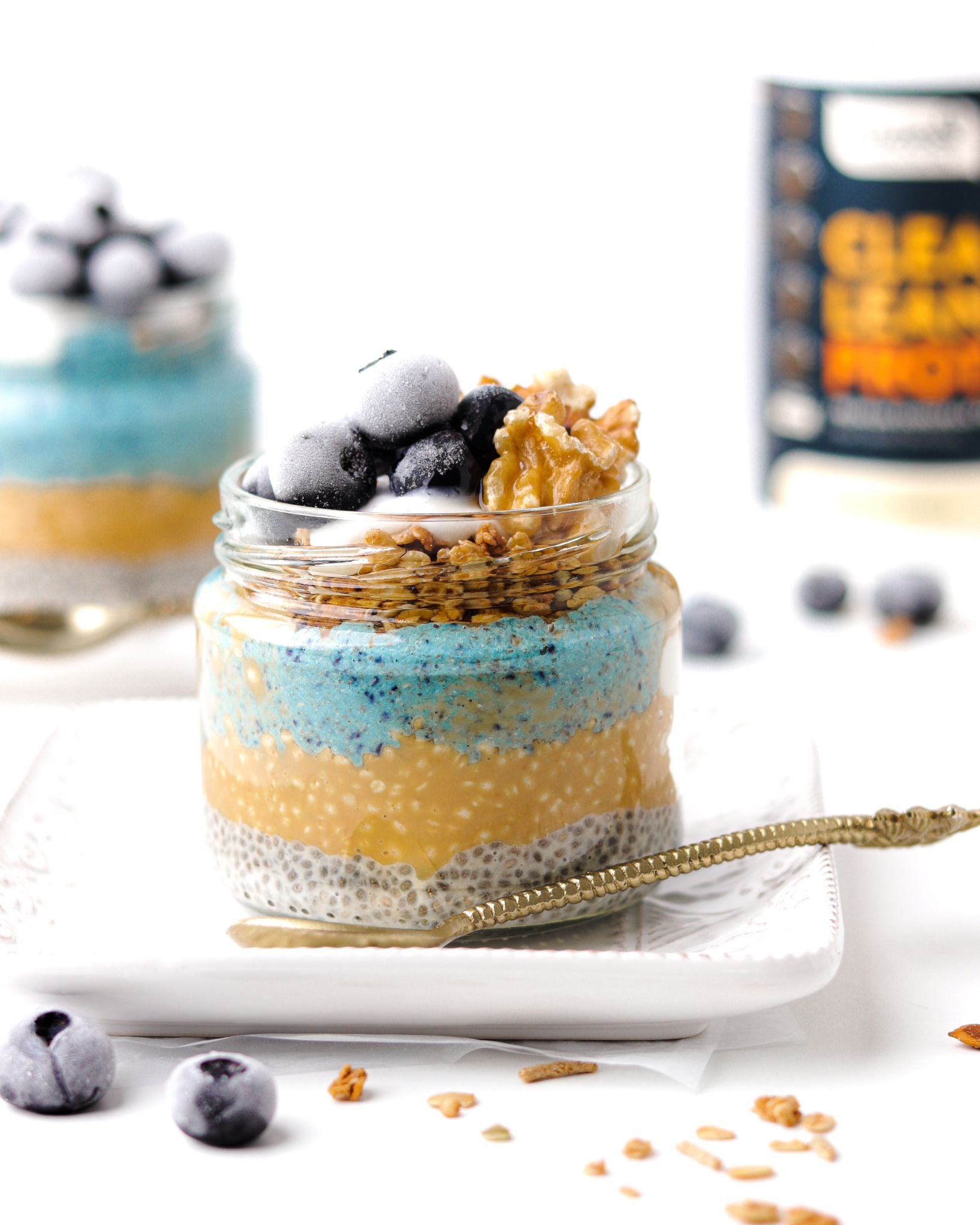 2 min read
A TRIPLE LAYERD CHIA PORRIDGE
Posted By
Karim Youssef
This peanut butter chia blueberry pudding makes for a delicious breakfast, snack or healthy treat.
Ingredients
Chia Porridge base *
Peanut butter layer:
1/3 Chia porridge base *
1 Tbsp runny peanut butter
1 Tsp flaxseed meal


Blueberry layer:
1/3 Chia porridge base *
1/2 Cup blueberry puree
1 Tsp vanilla extract


Vanilla cream layer:
1/3 Chia porridge base *
2 Tbsp coconut vanilla yoghurt
1 Tsp runny tahini paste
Recipe by Charissa & Co.
This peanut butter chia blueberry pudding makes for a delicious breakfast, snack or healthy treat. 
Packed with nutrients and flavour. This little powerhouse jar of goodness is gluten free, dairy free, grain free, refined sugar free, paleo friendly… and it is so easy to make.
I love how customisable chia pudding is. You can create any flavour you want and it is good for you.
This combo, I decided to create THREE different chia layers, one layer being a vanilla cream layer, followed by a peanut butter layer, then finally a blueberry vanilla layer and of course some in between crunchy, chewy granola with chopped walnuts a dollop of coconut yoghurt for the topping with some frozen blueberries and walnuts.
Fun fact about chia seeds, they contain large amounts of fiber and omega-3 fatty acids, plenty of high quality protein, and several essential minerals and antioxidants.
The first meal of the day you always want to aim for the SUPER 3. Well, this actually counts for most meals. Protein is number one, two is fiber, three is healthy fats. 
Protein is KING 👑 A high protein breakfast has been shown to benefit muscle health and to support weight loss by increasing muscle mass, energy expenditure (calories burned), satiety hormones, glucose regulation and by decreasing the desire to snack at night. 
I often add my favourite protein supplement to my meals especially when it comes to making breakfast. This ensures I cover any nutritional gaps, giving me quality protein my body needs, especially post workout.
Method
Start by adding all the ingredients for the chia porridge base together, mix until even. Set aside for 5 min, once 5 min has passed, go back to the chia porridge mixture and mix once more, this prevents the chia porridge from clumping together.
Once mixed, divide the mixture into 3 different bowls. Each bowl should have equal parts of the chia porridge mixture.
Add to each of the three bowls the ingredients for the layers. Each bowl will represent a layer.
Once you have added the flavours to each bowl, start by filling your jars with the layers. You can also add a Tbsp of toasted muesli with a few crushed walnuts in between the layers.
Once you have added all the layers, you can cover your jar and store it in the fridge for the next day.
When it settles in the fridge, it has a pudding texture, amazing flavour and lends itself to endless topping possibilities. It's a snack will leave you feeling satisfied, satiated and so energized for your day!
The toppings are optional, but for this mixture we used a dollop of vanilla coconut yoghurt with some frozen blueberries added some crunchy walnuts and a drizzle of monk fruit syrup.
NOTES: ** If you prefer your chia pudding to be more runny, you can add a little more nut milk, but try and have a firmer consistency as it creates a nice texture.





Disclaimer:
The information provided on Nuzest is for educational and informational purposes only. The information provided on this site is not, nor is it intended to be, a substitute for professional advice or care. Please speak to your qualified healthcare professional in the event that something you have read here raises questions or concerns regarding your health.