Clean Lean Protein Is Loved by Customers
Reviewed by Rose C., from New Zealand
Verified Buyer
I recommend this product
Product Standouts
Blendability
Ease of use
Quality of ingredients
Digestability
Nutritional profile
Vanilla Clean Lean Protein
We both love the Taste !! Makes the morning smoothie extra Yummy, Thank you.
I make the smoothie with frozen mango pieces, blueberries or mixed fruit, walnut pieces. Then add chia seeds ,matcha matcha ,hemp seeds and ground linseed. Then add 2 spoons of Vanilla Nuzest, a cup of water. top up, with Boring Oat Milk or Creamy original Vita Soy. all in the nutri bullet. 30 seconds & Yum set for the morning. Delish !!
Reviewed by Kristi B., from United States
Verified Buyer
I recommend this product
Product Standouts
Nutritional profile
Results
Ease of use
Blendability
Quality of ingredients
Great Taste!
I buy the chocolate powder and it is the best tasting protein shake that I have had...not to mention it is the cleanest too!
Reviewed by Debs L., from New Zealand
Verified Buyer
I recommend this product
Product Standouts
Blendability
Nutritional profile
Quality of ingredients
Digestability
Great flavour and consistency
Best pea protein I've found. The flavours are tasty but not too sweet. Blends great with spinach and banana as a great post-workout breakfast or to power me through the afternoon.
LOOK, FEEL & PERFORM YOUR BEST

Our unique formula is suitable for all diets and all ages. Protein is an essential nutrient required by every cell in the body.

HEALTHY WEIGHT MANAGEMENT

High in protein and low in carbohydrates to help you feel fuller for longer.

MUSCLE REPAIR & RECOVERY

Contains all nine essential amino acids and provides the building blocks for vitality, repair, recovery and muscle growth.

DIGESTIVE RELIEF

Light on the stomach and easy to digest resulting in less bloating.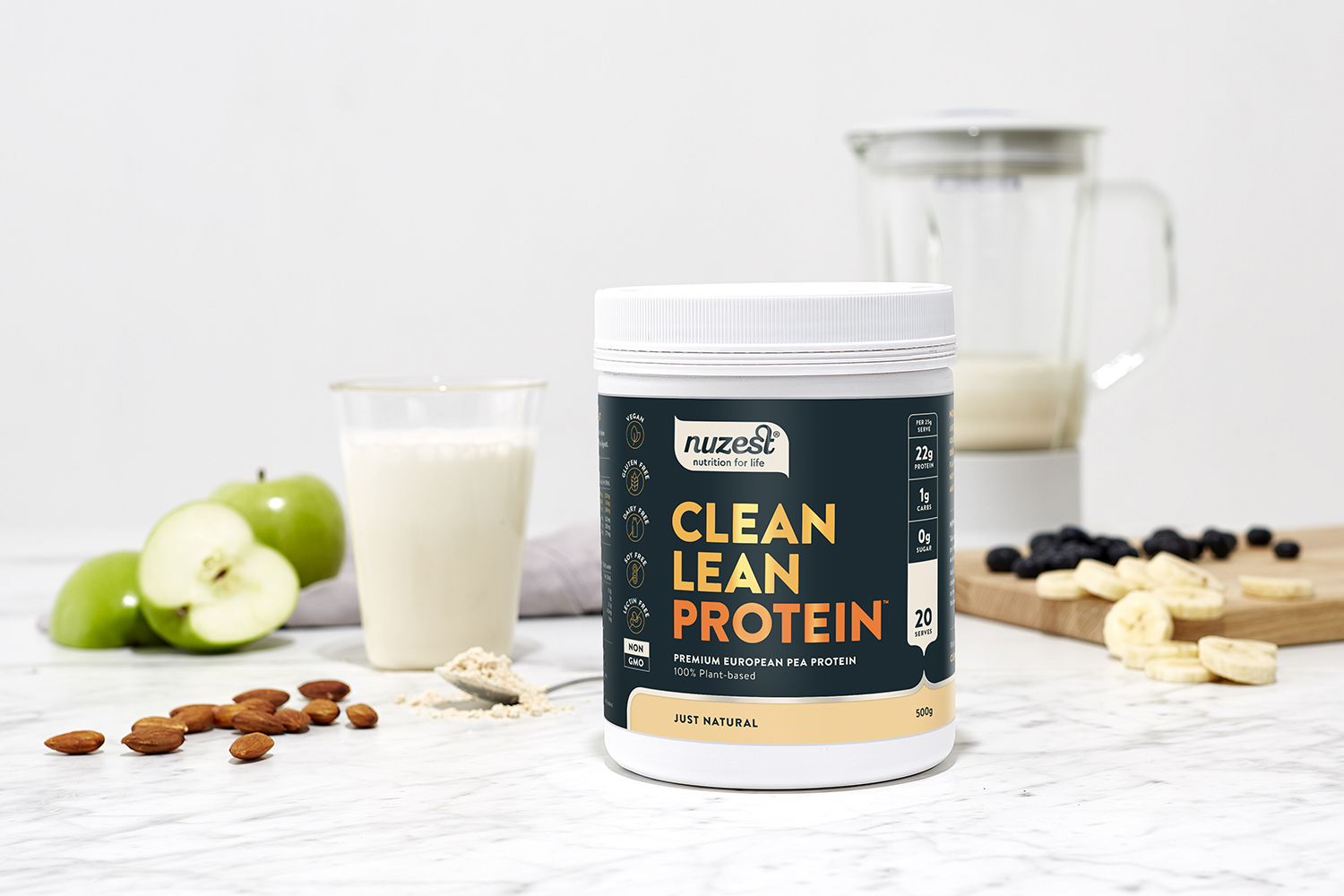 Premium
European
Golden Pea
Protein
Protein

Carbohydrate

Sugar

Fat
Made from the highest quality European golden peas, Clean Lean Protein is the environmentally friendly choice. Complete with all nine essential amino acids, it is a natural source of iron, tasty and easy to digest.
From seedling to shop floor, we use the cleanest growing, flavouring and manufacturing methods available – meaning no chemicals, no additives and no preservatives.
On top of this, every batch of Clean Lean Protein is tested for safe microbial activity, allergenic substances and heavy metals. Everything is certified gluten free and GMO free.
Smooth Vanilla Nutritionals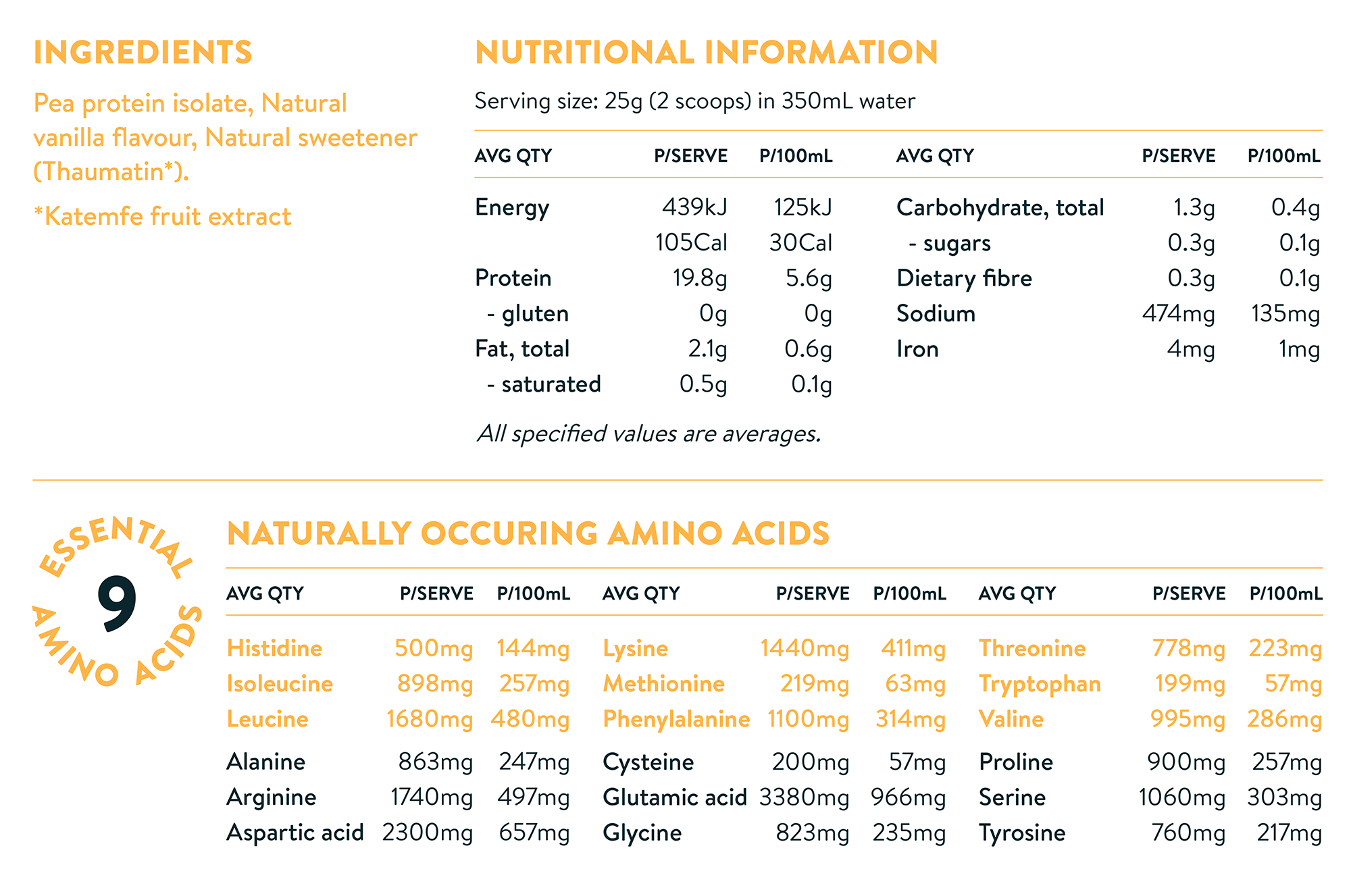 Rich Chocolate Nutritionals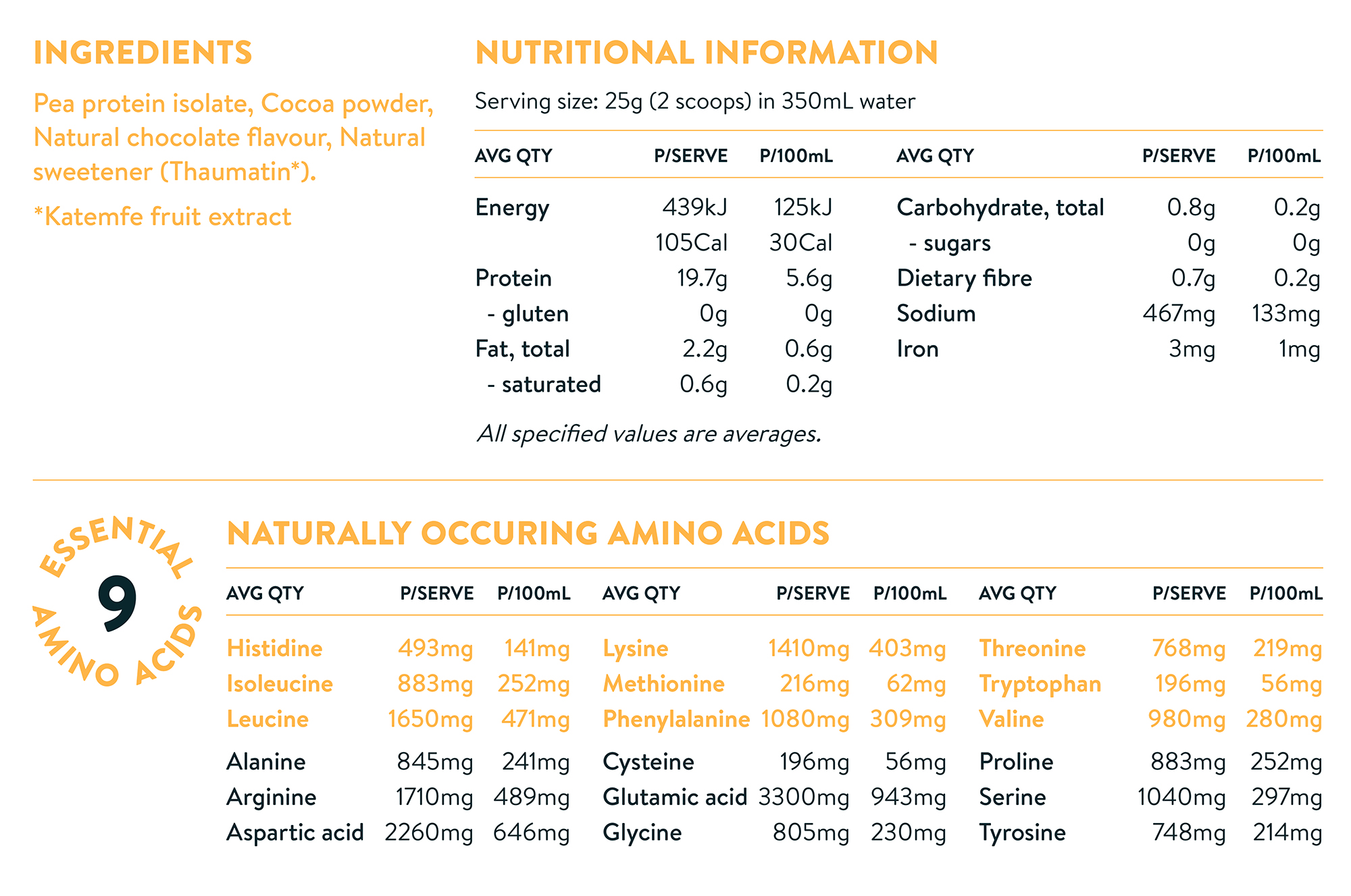 Just Natural Nutritionals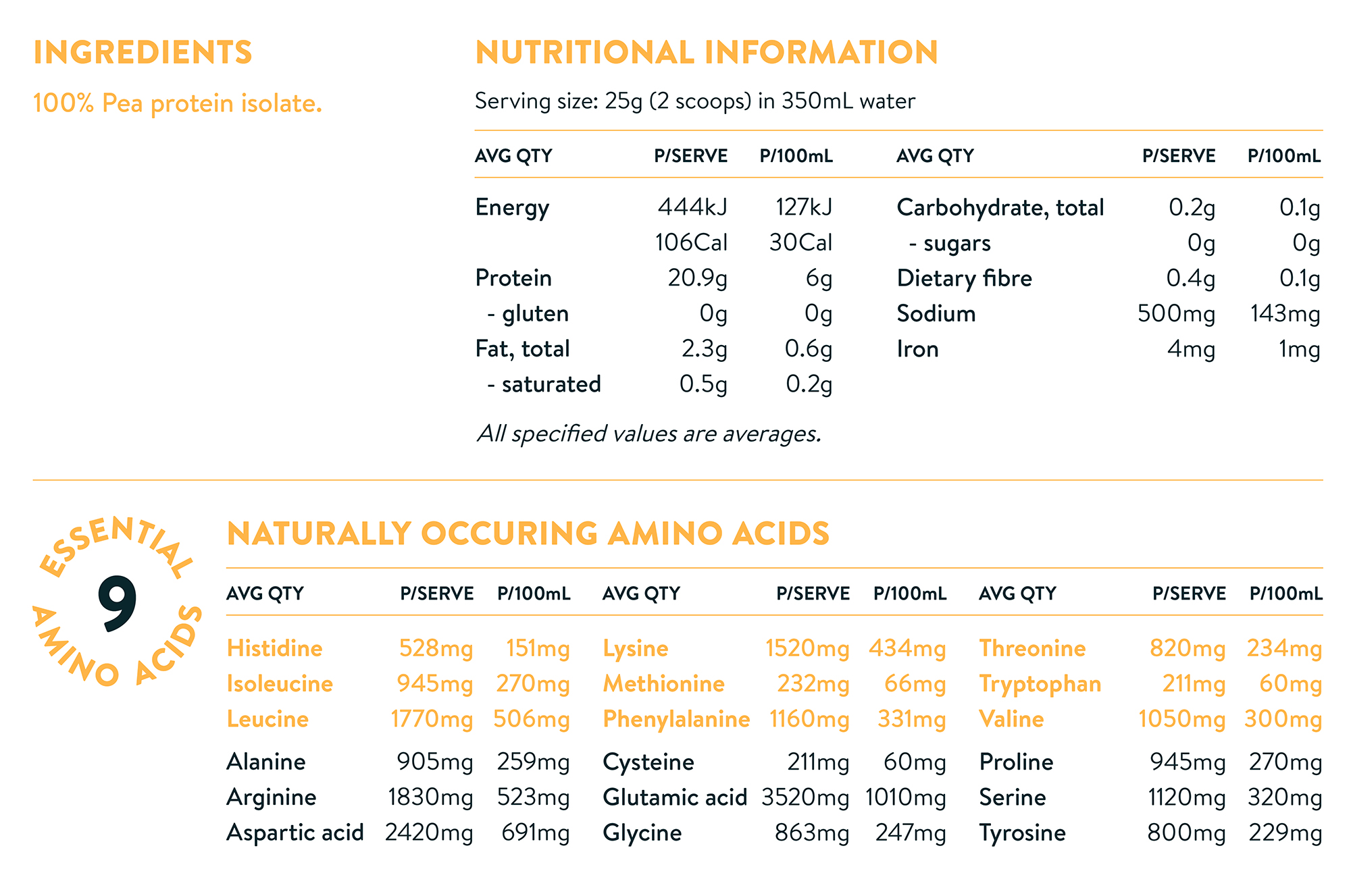 Real Coffee Nutritionals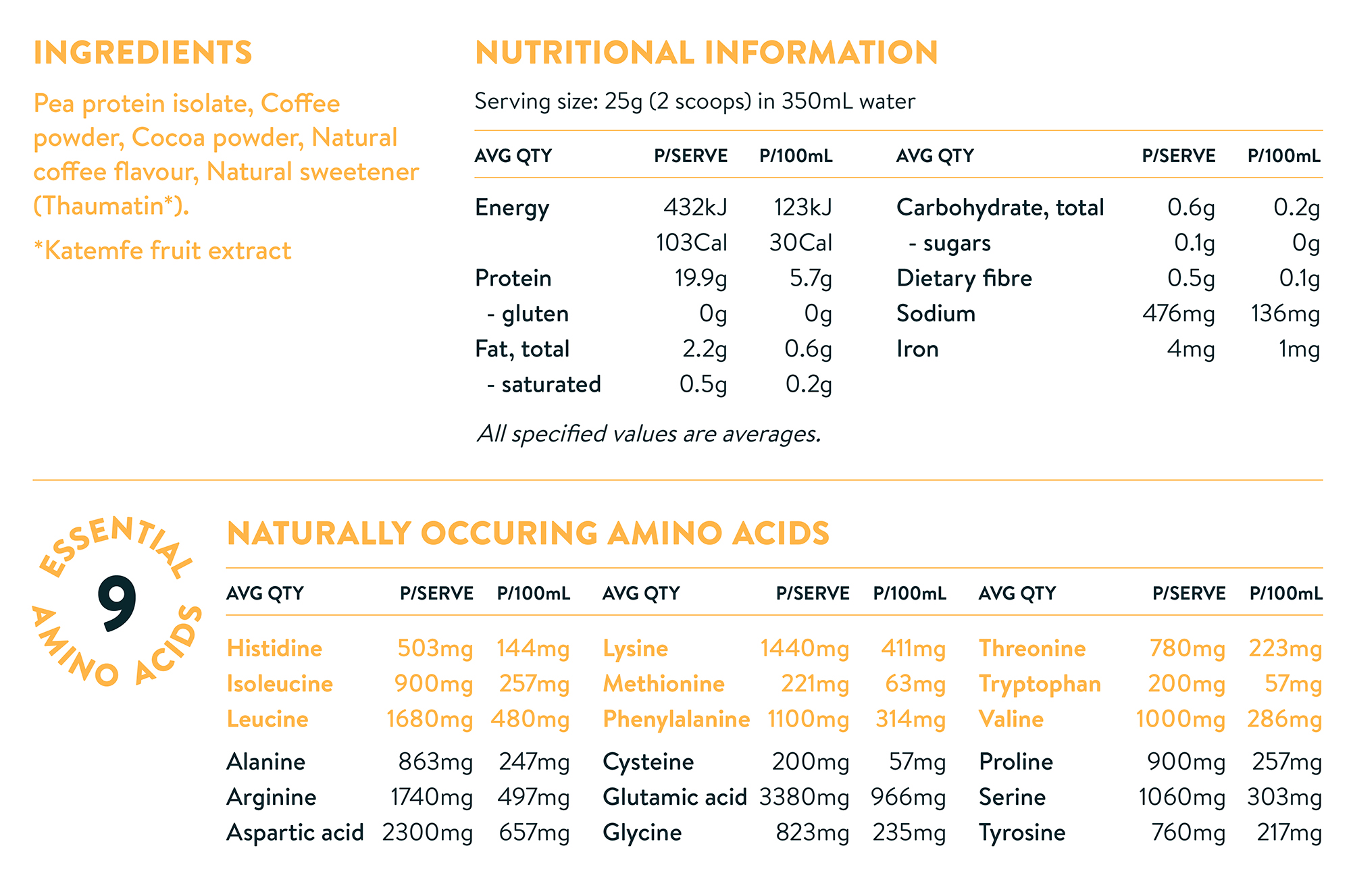 Wild Strawberry Nutritionals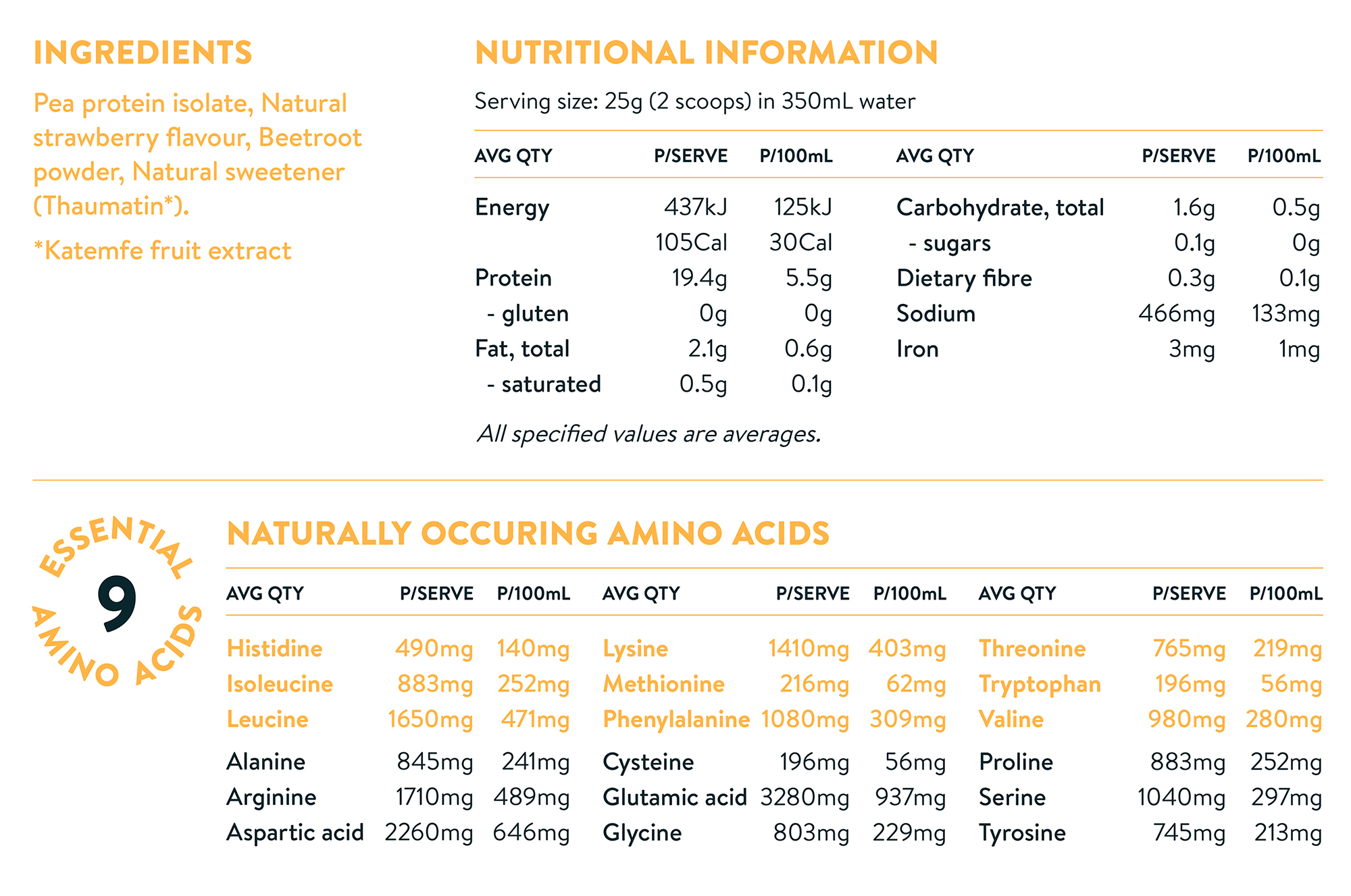 Coffee Coconut + MCTs Nutritionals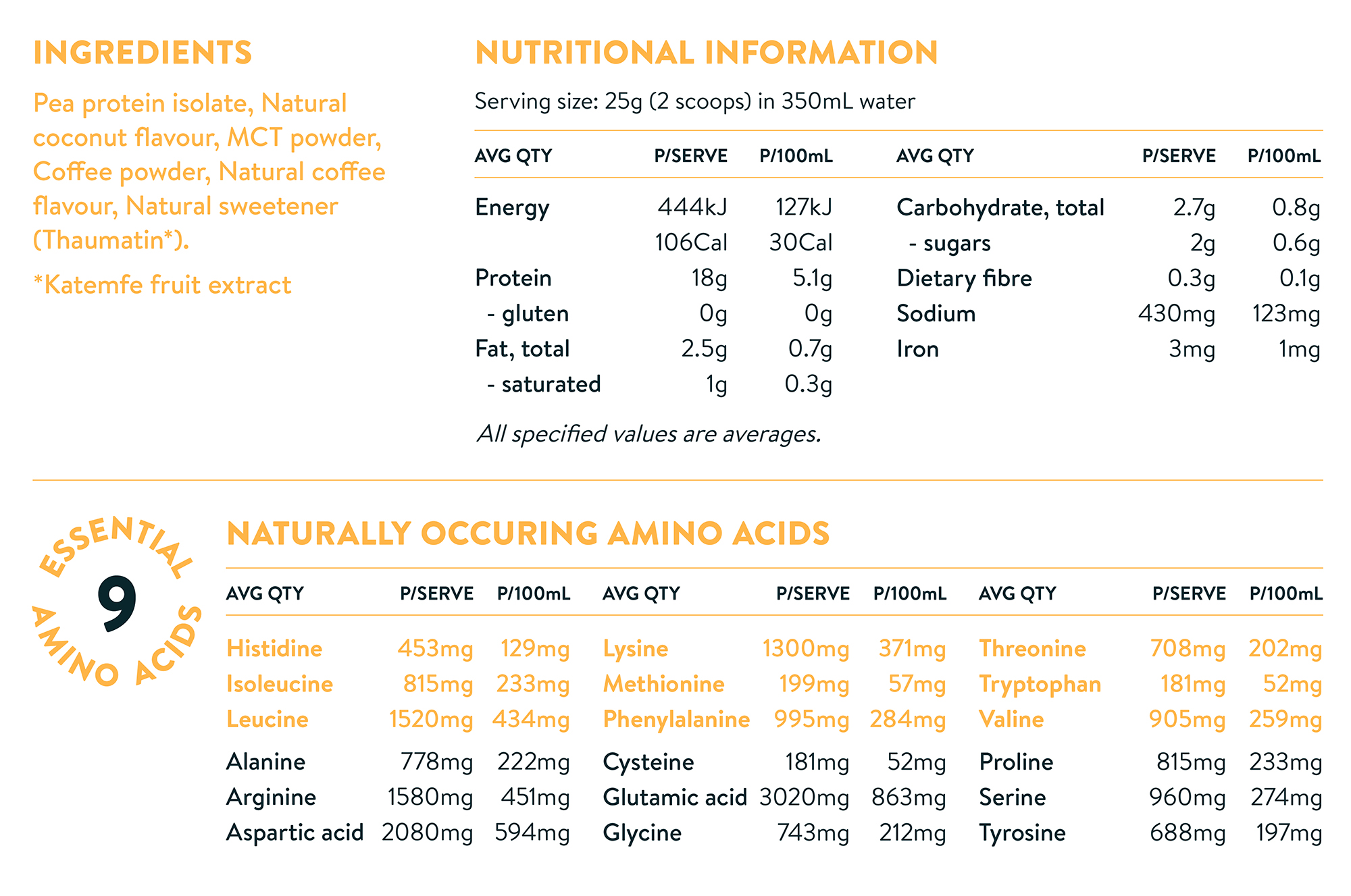 Chai Turmeric + Maca Nutritionals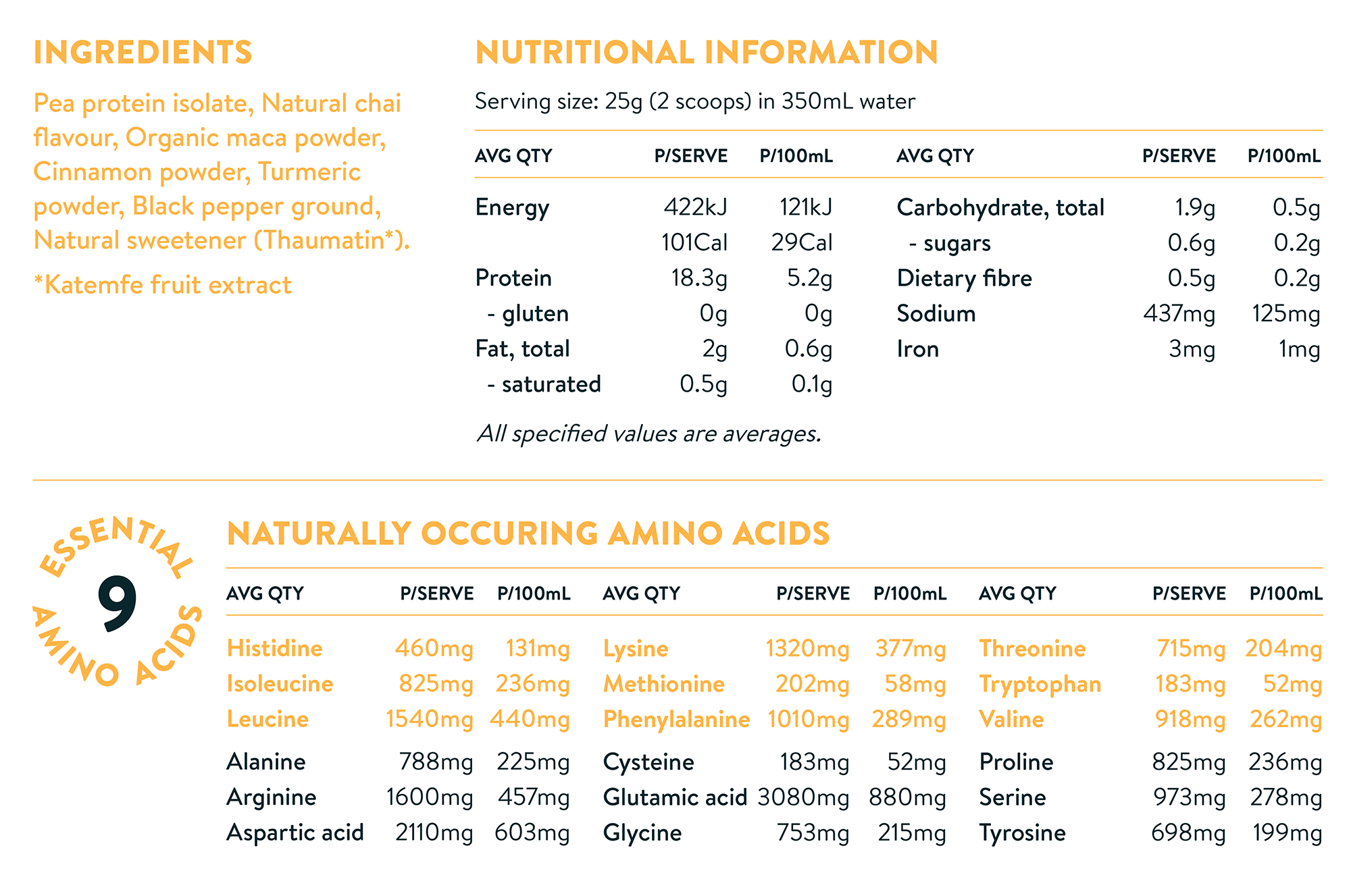 Vanilla Matcha Nutritionals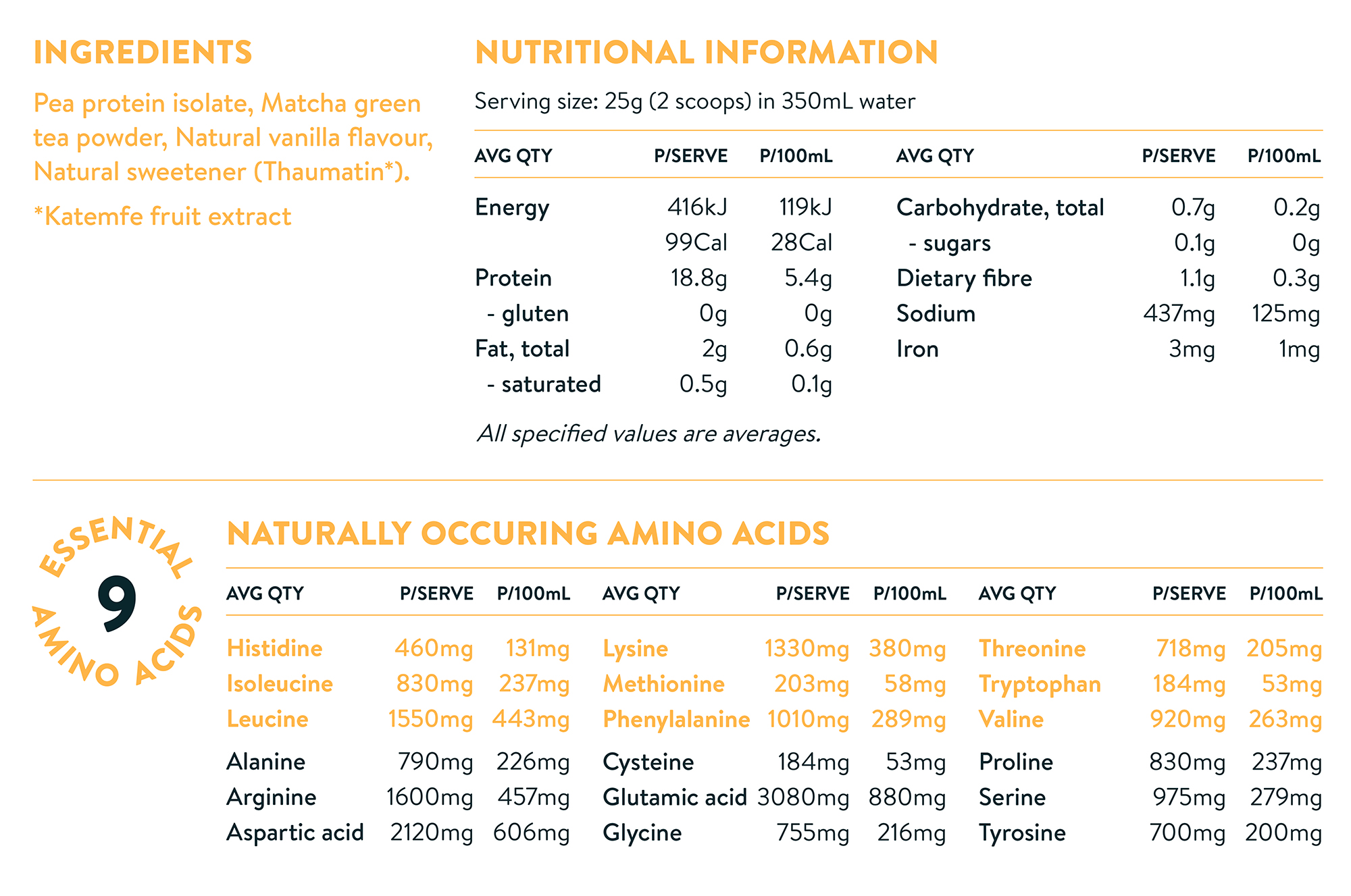 Shipping
 Local Singapore Delivery
Shipping is free within Singapore. Shipping is made J&T Express and can take between 2-5 working days.  We do not offer time based bookings or specific delivery timing requests right now.
**Please Note.  Durning events and around public holidays such as 11:11, Christmas, Easter and other occasions, we have found that our courier service may become overwhelmed.  Due to this there may be additional delays of 2-3 days.
Questions about your parcel shipment/ delivery should go to:
Email:   Only if you notice a 'return to sender' on your tracking - cs_sg@jtexpress.sg
J&T Customer Support phone number for tracking is: 69396399
International deliveries
All international deliveries are packed by J&T express and then delivered by DHL.  We do not have an automated service to update your DHL tracking but you can request for this via an email following instructions below.
International duties and taxes are not included in the purchase price of the Nuzest products and will need to be paid upon arrival into the destination country.
Orders may take approximately 15 days, sometimes longer if the package is delayed at Customs.  
For DHL tracking codes email:   
cs_sg@jtexpress.sg  and also admin@nuzest.sg 
If you have multiple 'miss-send' attempts, please contact admin@nuzest.sg or Scott on +6596498436.   Note:  I can only view your tracking code on the same link as you have been provided above.
WHY TAKE NUZEST CLEAN LEAN PROTEIN
Protein requirements increase as you age due to a decline in skeletal muscle. This decline can be worsened by poor diet or inactivity. Accordingly, it is important to consume sufficient high-quality protein (particularly rich in leucine) to maintain muscle mass and strength, which is vital for mobility and to reduce the risk of injury and falls.
Peas are a sustainable crop that use less water and less land to produce than other protein sources. They also put nitrogen back into the soil! In addition to this, our peas are transported by barge to reduce our carbon footprint. All water used during processing is recycled and any waste goes to animal feed and biofuel. Even our tubs are 100% recyclable.
Protein is essential for the recovery and repair of muscle and body tissue. Clean Lean Protein contains all 9 essential amino acids and is particularly high in glutamine – an amino acid that is essential for post-exercise recovery and the prevention of muscle loss as we age.
Clean Lean Protein has a 98% digestibility rating, making it gentle on your stomach. Free from lectins and low in phytates, Clean Lean Protein won't cause the bloating and digestive upset commonly associated with other types of protein supplements.
Clean Lean Protein is allergen-free and great for the whole family. No gluten, dairy, soy, nuts or eggs. No fillers, additives or preservatives. No added sugar or artificial sweeteners. Just clean, lean, European Golden Pea Protein with delicious natural flavours.
With a naturally mild, sweet taste, Clean Lean Protein's light profile results in a smooth texture that makes it easy to shake, blend or bake into your favourite recipes.
HOW TO USE Clean Lean Protein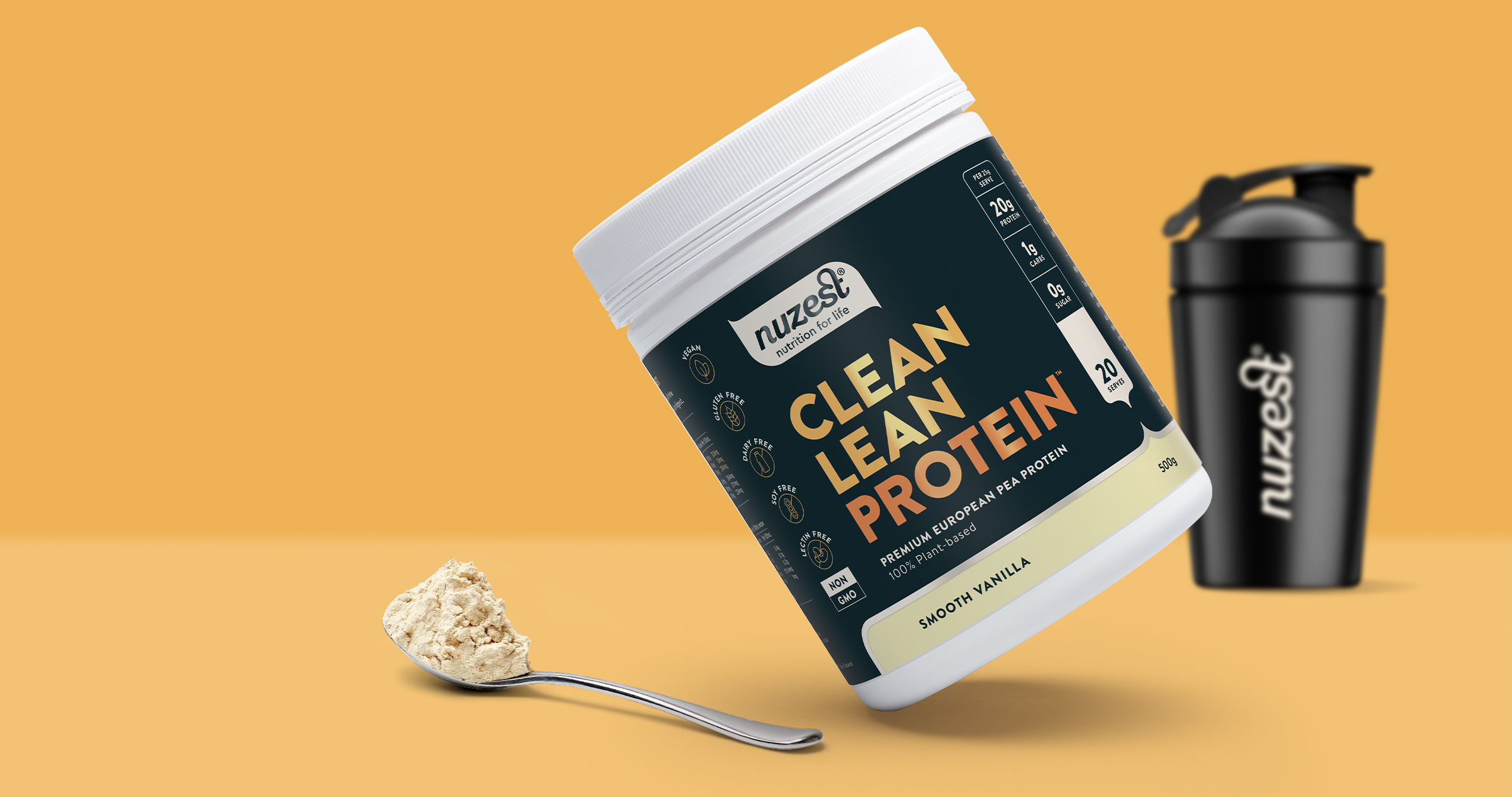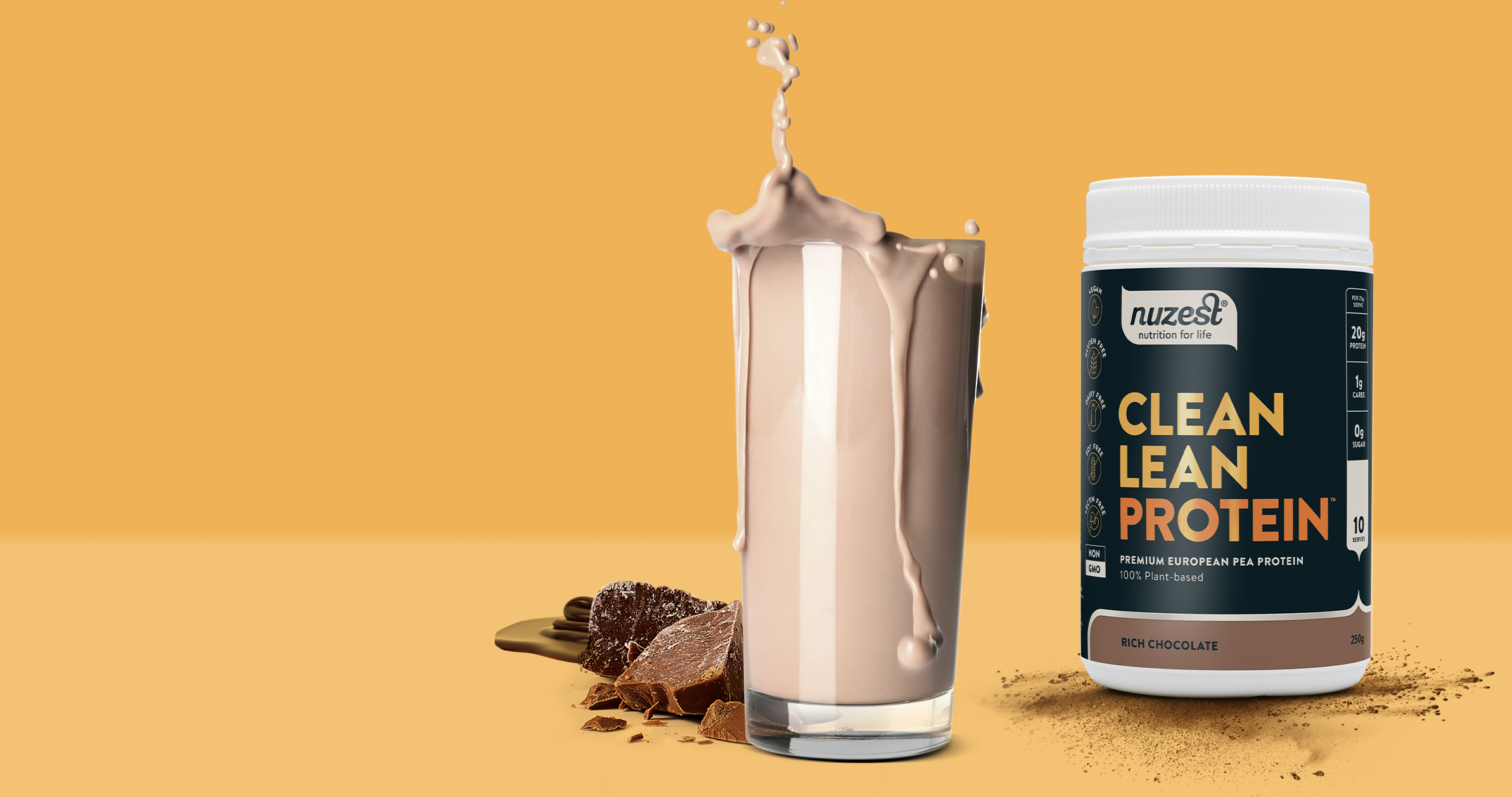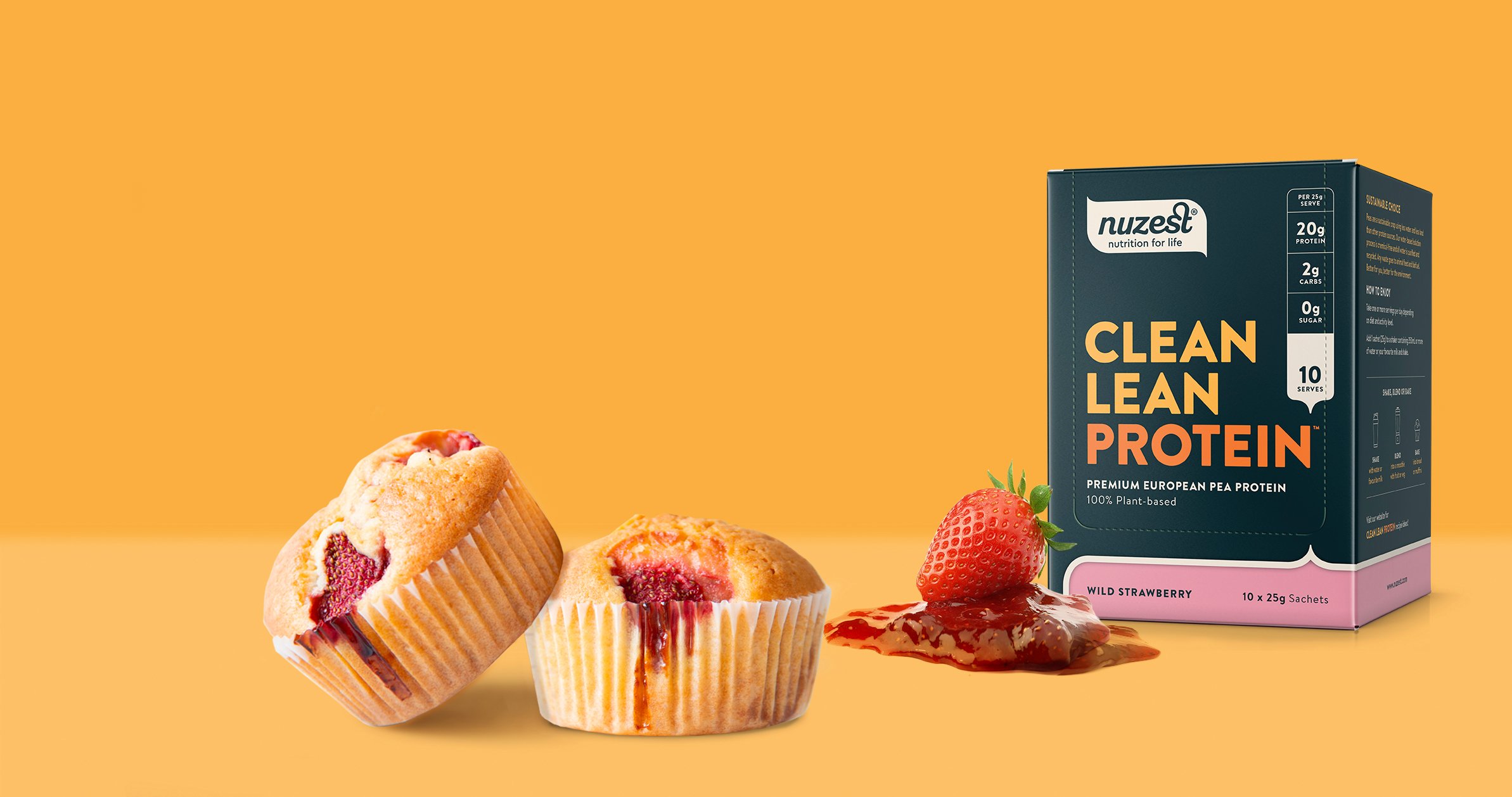 Clean Lean Protein FAQS
What is the pH level of Clean Lean Protein?
If you follow or are considering following an alkaline diet, then Nuzest Clean Lean Protein is an ideal choice to add to your daily food intake. Nuzest Clean Lean Protein, made from golden pea protein isolate, is the world's ONLY alkaline protein with a pH reading of 7.8!
Where do you source your peas for the pea isolate and where is the powder is manufactured?
We have deliberately chosen pea protein and to source that protein from Europe. The soil, air and water quality of Northern France are generally regarded to be very safe for growing and the process used for isolation is completely free of chemicals. Consumers can feel confident they are selecting a safe vegan protein, rather than fear they are ingesting a protein powder tainted with contaminants.
Are there any sweeteners in any of your protein powders?
Clean Lean Protein is naturally sweetened with a fruit protein derived from a West African plant called the Katemfe Fruit (African Serendipity Berry). The protein is known as Thaumatin. Thaumatin is a protein, but it is classified as a natural sweetener. It is digested in your body just like any other protein.
Is Clean Lean Protein ok for people with Crohn's disease or Ulcerative Colitis?
Due to the absence of FODMAPs, anti-nutrients, allergens, and gastric irritants, Clean Lean Protein is the perfect protein for people with Crohn's Disease.
How much protein should I be taking after a workout?
This depends on the length of your workout, what your workout consisted of, and your physical size, along with your dietary structure and goals. As a rough rule of thumb, around 1/2 gram of protein per kilogram of body weight consumed within 30 minutes will help encourage recovery and repair of muscle tissue.
Is Clean Lean Protein vegan?
Yes, it is vegan. The peas used in Clean Lean Protein are a vegetable source and the natural flavourings are all plant derived, making Clean Lean Protein 100% vegetarian and vegan.
Is Clean Lean Protein certified organic?
Our peas are grown in France and under strict conditions, and covered to reduce the risk of environmental damage and contamination. Unfortunately, due to local regulations, this means they cannot be certified organic. You can rest assured though that the product is pesticide, herbicide and GMO free. The only certified organic pea proteins available at this time are of uncertain quality and so for the time being we consider Clean Lean Protein to be 'better than organic'.