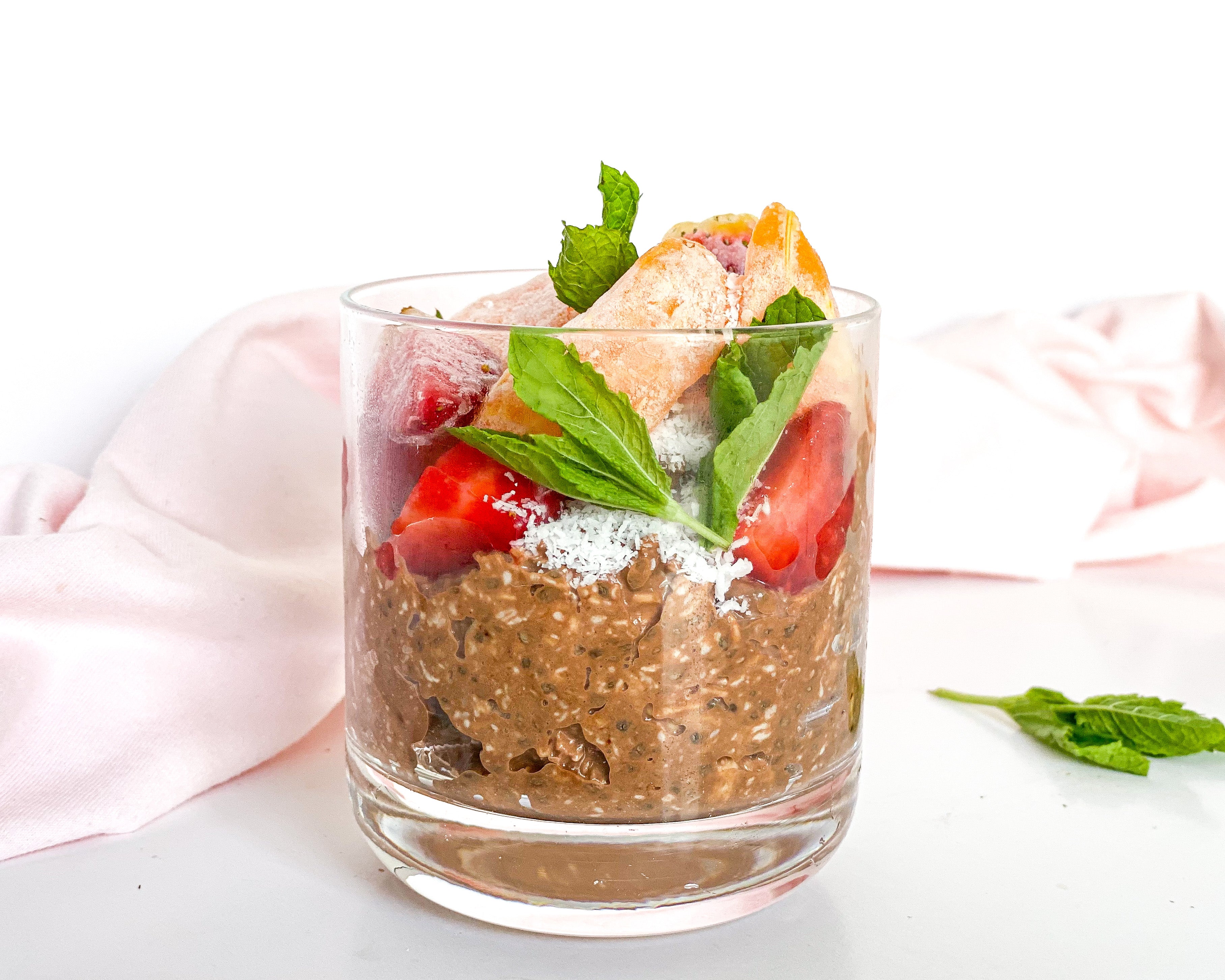 1 min read
ZESTY CHOCOLATE OVERNIGHT OATMEAL
Posted By
Karim Youssef
Ingredients
100g Large Rolled Oats
200ml Hazlenut milk
2 Tablespoons of Chia seeds
1 Tablespoon of raw cacao powder
2 Servings of

Nuzest Rich Chocolate Clean Lean Protein

1 Teaspoon Vanilla extract
1/2 Medium Orange Juiced
1 Teaspoon of monk fruit powder
1 Tablespoon of unsweetened desiccated coconut
TOPPING:
Dollop of coconut yoghurt or almond butter **optional
Segmented orange
Cacao nibs
Sprinkles of desiccated coconut
Few mint leaves
Recipe by Charissa & Co
A Zesty burst of sunshine to your overnight porridge with added plant protein from Nuzest.
I used some juice from squeezing sweet orange, giving a delicious citrus blast to your usual morning oats.
Citrus fruits have a great amount of vitamins and minerals. Especially when it comes to our bodies functioning properly. Citrus also contains B vitamins, potassium, phosphorus, magnesium and copper.
Along with the rich plant compounds that provide anti-inflammatory benefits to the body along with providing the body with antioxidants.
The Chocolate flavoured protein from Nuzest marries really well with the orange zest.
The plant protein from Nuzest is great, especially when it comes to adding protein to your breakfast. Not only is it delicious in flavour it has all the essential amino acids that our bodies need. Plus it contains the much needed BCAA (Branch Chain Amino Acids) known as a must have amino acids when it comes to muscle growth, recovery especially for fit active individuals.
Nuzest Clean Lean Protein ➖ Vegan • Gluten free • Dairy free • Soy free • Lectin free • Non-GMO.
Clean Lean Protein provides the building blocks for vitality, repair, recovery and muscle growth. Nuzest's unique pea protein formula is 100% plant-based, low in allergens and extremely low in carbohydrates.
Method
For the overnight porridge. Keep in the fridge overnight once mixed or min 2 hours in the fridge before serving.
The next morning add your toppings!
Disclaimer: The information provided on Nuzest is for educational and informational purposes only. The information provided on this site is not, nor is it intended to be, a substitute for professional advice or care. Please speak to your qualified healthcare professional in the event that something you have read here raises questions or concerns regarding your health.