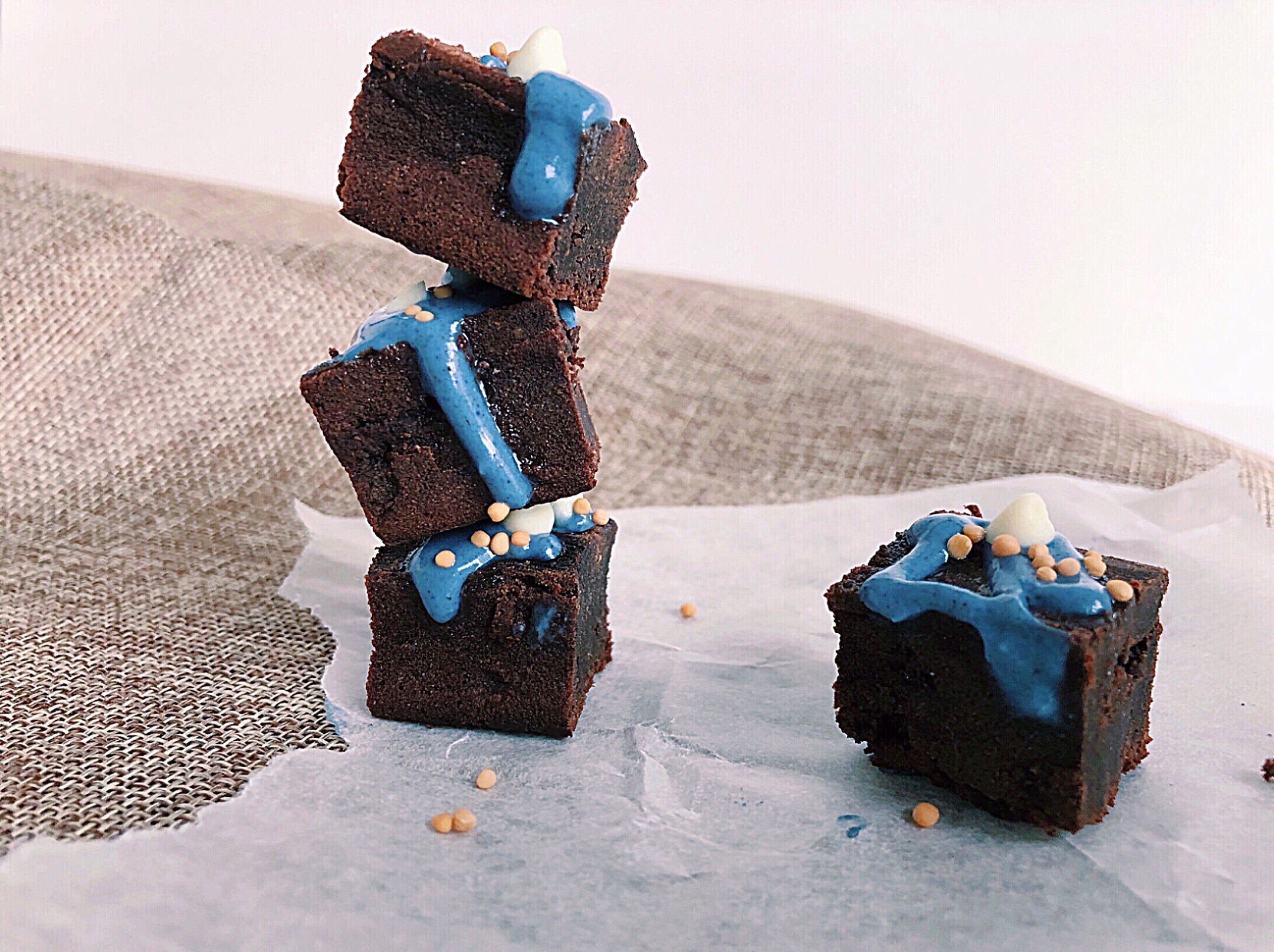 1 min read
WALNUT BROWNIES WITH BLUE LATTE DRIZZLE
Posted By
Karim Youssef
Ingredients
1 Cup of Dark Cacao beverage with beet juice

2 Servings of Nuzest Clean Lean Vanilla

1/2 Cup of Yacon Syrup

1/2 Cup of Date paste

1 Cup of Chopped Walnuts

1/3 Cup of coconut oil at room temp

1/4 Cup of almond butter

1/4 Cup of almond milk

3 eggs or use 3 flax eggs

1/2 Teaspoon of baking soda

Pinch of Salt

1/2 Teaspoon of ceylon cinnamon

1/3 Cup chopped raw dark choc ** optional
FOR THE FINAL DRIZZLE:
2 Teaspoons of Mermaid Latte powder
5 Tablespoons of Coconut yoghurt
1 Teaspoon of macadamia nut butter
**Blend well together untill smooth, scoop into your squeeze bottle for ease of drizzling.**
by @charissa_and_co_wellness
————————————————
Within this recipe I used Nuzest Clean lean Protein powder, it is really a product I can rely on as it promises quality, the vanilla flavour version, is certainly a must have for me when it comes to the protein powder, not only versatile in taste, but super easy to mix with my other Nuzest flavours to create a bit of a twist.
However, that being said, not only 100% natural, allergen-free, Premium European Golden Pea Protein for energy, recovery, repair and weight management. It is also super easy to mix into liquid, ideal for a post workout muscle recovery, or perhaps adding into some delicious baked brownies.
I have topped the brownies off with my favourite blue mermaid latte coconut dressing, but this is optional, use what you prefer.
Ps, please feel free to use my code "Charissa10" at checkout to receive 10% off your nuzest order, this is for free shipping Malaysia, Singapore and Hong Kong
Method
Preheat oven to 350 degrees F.
Allow to grease the 9 x 13 inch pan with coconut oil, then mix all of the dry ingredients into a bowl and mix well.
Add to the dry ingredient the almond butter, eggs, coconut oil, walnuts and nut milk, storing all the ingredients.
Once done, allow to pour your smooth batter into the greased pan covering all angles and corners of the pan.
Bake 30 minutes, perhaps less by using a knife to see if anything sticks to the knife, if so just bake a little longer.
Cool the brownies for 30 minutes before serving. The recipe makes approximately 8-10, depending on the size.


Disclaimer: The information provided on Nuzest is for educational and informational purposes only. The information provided on this site is not, nor is it intended to be, a substitute for professional advice or care. Please speak to your qualified healthcare professional in the event that something you have read here raises questions or concerns regarding your health.