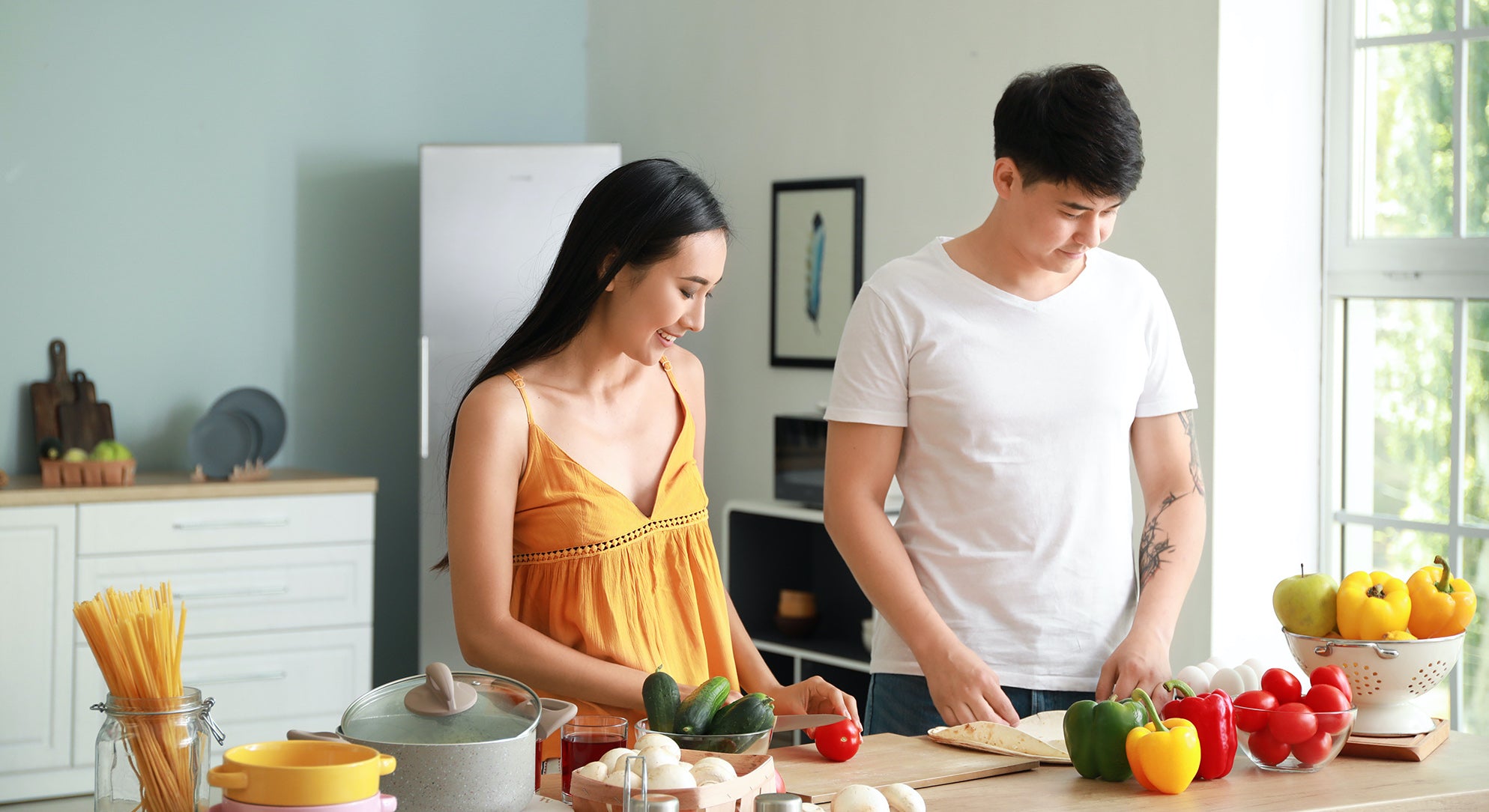 18 min read
Top 10 Protein Meal Ideas
Posted By
Karim Youssef
Have you been waiting for some mouth-watering, protein meal ideas? Thankfully we have pulled together some of our most popular high protein dinner recipes for you to try!
If you want to know why protein is so important for your body, check out our article all about protein here.
This is Singapore's top 10 list of protein meals that can be enjoyed as a quick protein snack or a complete meal.
High Protein Dinner Ideas
Sometimes you just want an easy meal. Particularly one, that feels like a 'cheat meal' but is secretly a high protein dinner, that is low calorie, but packing all the punch you need to drive into your next session!
From a background in Power Lifting, Dr Cliff Harvey, a world leading nutritionist, with a specific focus on metabolic reconditioning, puts together some of the tastiest and easiest protein-packed meals. As someone with a jaw-dropping workload, he understands the importance of convenience in a high-quality meal, and on top of being easy, he ensures his meals help support his training for energy, rest and recovery.
1. Sprouted Lentil Burgers
This quick and easy recipe makes a healthy vegan meal.
Ingredients
1 bunch sprouted lentils
1 clove garlic
1 small red onion
Olive oil
¼ tsp cumin
¼ tsp garam masala
¼ tsp oregano
¼ tsp turmeric
Method
Whiz lentils in a food processor.
Add chopped garlic, sliced red onion and a drizzle of olive oil.
Add cumin, garam masala, a little salt and pepper, oregano and turmeric and give it another whiz.<
Remove from food processor and fold in Clean Lean Protein until the mixture is slightly moist but can still be formed into patties.
Pan fry with just a little oil or brush with a tiny bit of oil and oven bake at 180°C until brown.
Pictured Serving Suggestion: Served with grated beetroot & carrot salad and a yoghurt sauce.
Aside from the power packed protein in this meal, it has been specifically engineered with other key ingredients to help with the recovery cycle post training.
-Turmeric and cumin act as anti-inflammatories, helping your muscles to repair faster!
-Beetroot and carrot carrot are both high in anti-oxidants, helping your body to quickly decrease its oxidative load from your session!
2. BLACK BEAN & SPINACH BURGERS
TIME: 30 MINS, SERVES: 4
These easy, low fat burgers are an excellent source of vegan protein, with the extra benefits of iron and Vitamin A!
These burgers come without all the saturated fats usually found in burgers. Even the biggest carnivores will devour this burger, so let's get cooking.
Ingredients
1 can rinsed black beans
2 baby peppers (½ cup chopped)
¼ cup chopped onion
1 tbsp light soy sauce
1 cup baby spinach, packed tightly
¾ cup oats
Method
Whiz black beans, peppers, onion, soy sauce, and spinach in a blender. The mixture shouldn't be completely smooth but still retain a few small chunks.
Combine the oats and protein and hand mix (with your hands!) through the mixture.
Form into patties.
Pan fry in a little oil or brush with oil and bake at 180°C for approx. 15-20min.
3. RAW TOMATO PASTA SAUCE WITH ZUCCHINI 'PASTA'
TIME: 30MIN, SERVES: 2
Sometimes you feel like a pasta hit. But if you are running on a low carb program, you may want to swap out that carb load, for a protein packed option that uses zucchini pasta instead. 
Ingredients
1 punnet or cherry tomatoes
¼ cup loosely packed basil leaves
5 olives
¼ cup sun dried tomatoes
½ clove garlic, finely grated
2-3 medium zucchini
Pinch of sea salt
1 tsp olive oil

Method
Using a vegetable peeler, peel each zucchini into desired sized ribbons and continue peeling until you reach the centre seeds (the centre is a little bitter, so you can discard this part).
Sprinkle salt and olive oil over zucchini and gently massage into noodles and set aside in a bowl.
Blend all remaining ingredients in a blender to desired consistency. 'Pulse or use a low setting so you can control the consistency a little easier. 'The olives and sun dried tomatoes should add salt to the sauce, but taste for seasoning and adjust if necessary.
Simply serve noodles topped with a few spoonful's of sauce.
Leftover sauce can be stored in fridge for about 5 days. Sauce can be used on pizza, as a dip or on regular pasta.
4. ZUCCHINI & FENNEL PROTEIN SOUP
TIME: 30 MINS, SERVES: 4
This healthy soup is low in fat and high in protein. A perfect light dinner option that is packed with nutritious and immune boosting herbs and vegetables.
Ingredients
1 medium carrot, diced
1 stalk of celery, diced
1 small onion, diced
1 clove of garlic, minced
2 cups vegetable stock
½ tsp fresh turmeric, grated
1 medium zucchini, roughly chopped
1 baby fennel bulb, roughly chopped
1 tbsp finely chopped parsley
1 tsp coconut oil

Method
Heat coconut oil in a saucepan.
Add carrot, celery, onion and a pinch of salt, and saute for about 5 minutes until the onions soften and become translucent.
Add garlic, turmeric, fennel, zucchini, and another small pinch of salt and stir for another 2 minutes.
Add stock and allow to simmer for a further 5 minutes.
Remove from heat and add to a blender along with Clean Lean Protein, parsley and a pinch of cracked pepper. Blend on low to desired consistency.
Serve with some sprouted grain or gluten free toast for a wholesome, filling meal.
5. PERFECT SOFT TACO SHELLS
Did someone say Mexican!
Take 'Taco Tuesday' to a new level with these protein-packed, gluten free soft taco shells. This recipe makes tender tortillas, yet strong enough to hold your favourite taco fixings (makes approximately 6 taco shells).
Ingredients
2 Eggs
1 cup almond milk
1 Tablespoon avocado oil
¾ cup tapioca flour
3 Tablespoons coconut flour
¼ Tablespoon salt
Method
Heat 8' skillet on medium low while making the batter.
Place all ingredients in a high speed blender in the order listed. Blend on medium speed until a thick, smooth batter is produced.
Pour cup batter onto griddle, swirl the skillet to form circles.
Flip tortilla after 2-3 minutes when small bubbles form.
Cook another 4-5 minutes.
Remove to plate. Add desired taco fixings and enjoy!
PROTEIN SNACK FOR THE QUIET BITE
Being based in Singapore you sometimes get the urge to let go for a day and dig into some saturated fat filled Old Chang Kee or a deep-fried Youtiao. But we have a better idea.
These are some quick and easy, protein snacks that can be ideal for you and your family.   
6. ZUCCHINI AND SUN-DRIED TOMATO FRITTATA
Ingredients
3 medium zucchini
1 medium red onion
6 eggs
¼ cup plain yoghurt
¼ cup grated parmesan cheese
¼ cup crumbled feta
1 tbsp fresh thyme
4 - 5 large sun-dried tomatoes sliced into small pieces
Salt and pepper
Olive oil cooking spray


Method
Preheat oven to 200°C (180°C fan forced)
Chop zucchini and onion into medium sized pieces and place onto a lightly sprayed baking dish. 
'Sprinkle with a little salt and pepper, spray with a little more cooking spray and toss until evenly coated.
Place in the oven for 30 mins, stirring halfway through to ensure even cooking. 'Once cooked, remove from the oven and place in a separate bowl to cool.
In a large bowl, add eggs, protein and yoghurt and whisk together. 'Add half the feta and half the parmesan cheeses, sun-dried tomatoes, thyme and a pinch of salt and pepper. 'Stir to combine.
Lightly grease a medium baking dish with cooking spray and line with baking paper. 'Add zucchini and onion and pour over egg mixture. 'Top with remaining feta and parmesan.
Bake for 30-35 mins or until top is golden. 'Allow to cool for 5-10 mins before serving.
7. SPINACH & FETA PROTEIN MUFFINS
TIME: 40 MINS, SERVES: 6
These spinach and feta protein muffins are full of protein and plant foods. As a snack or breakfast or on-the-go, these muffins are perfect for satisfying your hunger pangs.
Ingredients
1 large egg
200ml low fat milk
2 tbsp flavourless oil
¼ cup cooked spinach, chopped
½ cup cottage cheese
¼ cup crumbled feta
2 tbsp chopped fresh herbs
½ cup wholemeal flour + ½ cup plain flour
¼ tsp salt
4 tsp baking powder
Method
Preheat oven to 210°C (200°C fan bake) with the rack just below the middle
Add eggs and milk to a bowl and whisk to combine. 'Add oil, spinach, cottage cheese, feta and herbs to combine.
In a separate bowl, all dry ingredients and stir a few times to evenly distribute.
Add the wet ingredients to the dry ingredients and stir to combine. 'The mixture will be lumpy and should drop from a spoon easily. 'Add a little more milk if mixture seems a little dry.
Spoon into 6 greased muffins tins & bake for 15 minutes or until golden brown & a skewer inserted comes out clean.
Remove from the oven & leave to cool in their pans for 2-3 minutes before tipping out & cooling on a rack.
8. SPELT AND PROTEIN SCONES
Ingredients
1½ cups plain spelt flour
4 tsp baking powder
30g butter
1 tsp coconut sugar
¾ cup milk
Method
Preheat oven to 220°C (200°C fan forced)
Sieve flour, protein and baking powder into a bowl. 'Rub butter into sifted ingredients until mixture resembles fine breadcrumbs.
Add coconut sugar and milk and combine until mixture is soft but not sticky (mixing with hands is best but a spatula will also work)
Turn dough out on a lightly floured board and knead into shape until just smooth. 'Try not to overwork the mixture or the scones could become tough. 'Flatten dough out to about 4'cm and use a round cutter to cut scones starting from the centre and working your way out. 'Cut slightly higher rounds from left over dough.
Place rounds on a lined oven tray with sides just touching. 'Brush tops with a little milk before placing them in the oven for 12-15 mins or until golden.
Serve with jam and cream or ricotta.
9. PARMESAN SHORTBREAD WITH ROSEMARY AND SEA SALT
TIME: 90 MINS, SERVES: 12
Savoury treats that are packed with Clean Lean Protein and perfect for entertaining. Easy to make, this recipe can be adapted with whatever herbs and spices you have in the garden.
Ingredients
¾ cup plain flour
100g unsalted butter, softened
75g finely grated, good quality parmesan cheese
1 egg yolk
½ tsp finely chopped fresh rosemary
¼ tsp fine sea salt
Method
Add all ingredients to a bowl and mix by hand or with an electric mixer until a golden dough is formed.
Turn dough out onto a dry surface and knead for about 30 seconds until smooth.
Divide dough in two and roll each half into a 3cm diameter cylinder, pressing the ends onto your work surface to flatten. 'Wrap rolls in cling film and store in fridge for about 45 mins to rest and set.
Preheat oven to 180°C (160°C fan forced)
Remove dough from fridge and slice into 1cm thick discs.
Bake on a lined baking tray for 15-20 mins or until a pale golden colour.
10. ROASTED GARLIC AND ZUCCHINI HUMMUS
TIME: 60MIN, SERVES: 2
Ingredients
1x 400g can organic chickpeas
1 large zucchini, chopped into large chunks
4 garlic cloves, unpeeled*
2 tbsp unhulled tahini
1 serve Nuzest Just Natural Clean Lean Protein
Juice of ½ medium sized lemon
1 tsp cumin powder
½ tsp ground coriander
3 tbsp alkaline or spring water
1 tbsp olive oil, plus a little extra for roasting
Salt and pepper to taste
Method
Preheat oven to 180°C
Toss zucchini and garlic in a little olive oil and sea salt and place on a baking tray. 'Bake for about 30 mins or until they start to get a bit of colour. 'Remove from the oven and leave to cool.
Once cooled, squeeze garlic cloves out of skin and add with zucchini and all other ingredients to a blender and blend until smooth and creamy. 'You may need to scrape the sides a couple of times to help everything combine.
Taste for seasoning and add adjust if necessary. 'If mixture is too dry, add a little more lemon juice or water.
Store in an airtight container in the fridge for 5-7 days.
Clean Lean Protein
Made from the highest quality European golden peas, Clean Lean Protein is the environmentally friendly choice. Complete with all nine essential amino acids, it is a natural source of iron, tasty and easy to digest.