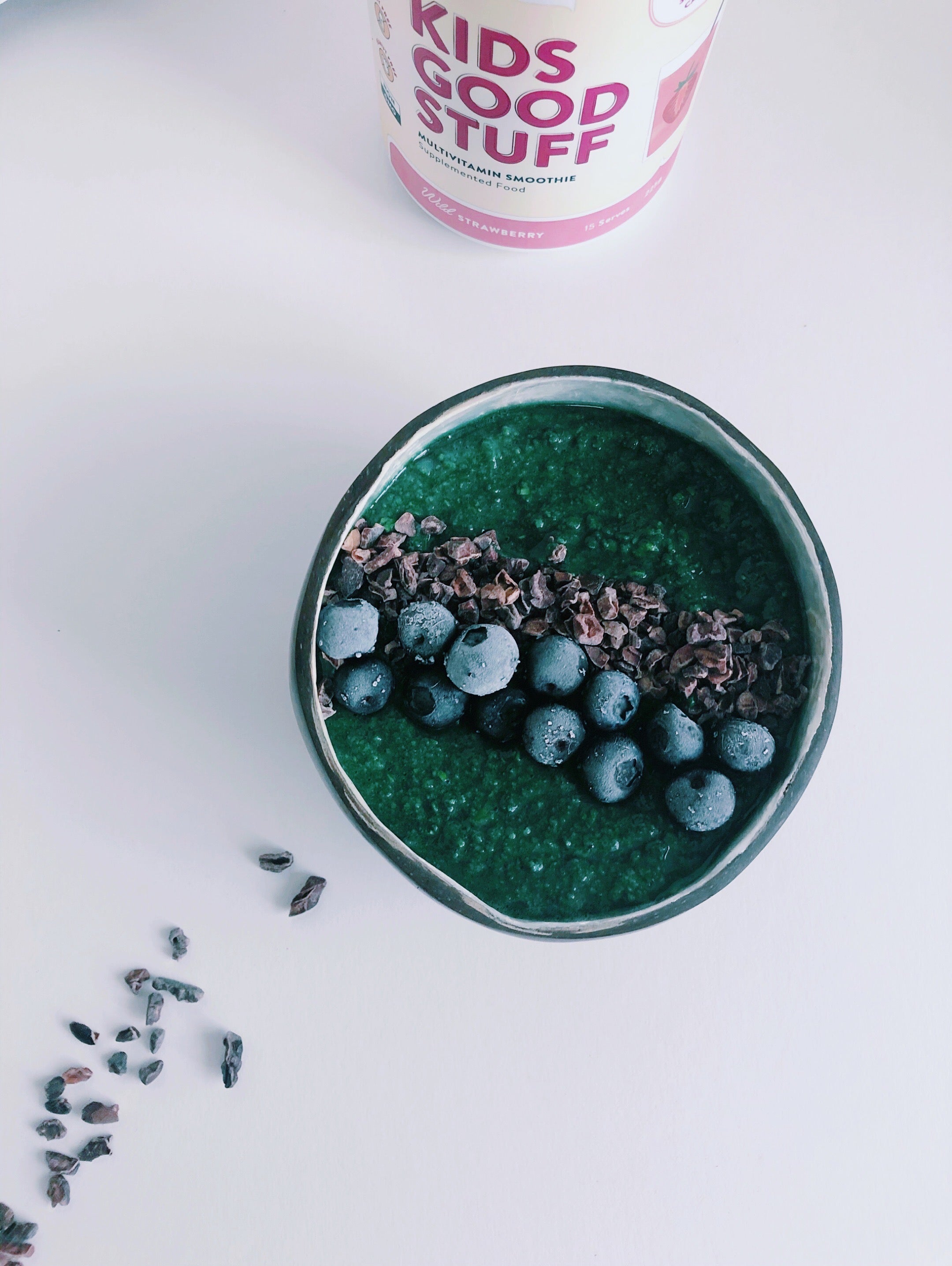 1 min read
SUPERFOOD BOWL
Posted By
Karim Youssef
Ingredients

This could be shared as a meal between two (depending on their age)
2 Handfuls of Baby spinach

1 Frozen Banana

1 Cup of Frozen Peas

2 Fresh Berries (Strawberries)

1 Serving of Kids Good Stuff, I used the Strawberry

1 Cup of Almond Milk

1 Tablespoon of Chia seeds

*Optional 1/2 teaspoon vanilla extract
by @charissa_and_co_wellness
———————————————————
Often parents find it challenging to get the kids to enjoy an abundance of nutrients from fruits and vegetables, with Kids Good Stuff, it is a way to allow their bodies to receive some good natural "no junk" nutrients, delivering vitamins, minerals therefore making a delicious smoothie with or for the kids, it is especially something you won't just find in a basic cafe with sugar loaded smoothies that has no nutrients whatsoever, often getting the kids involved in their healthy meal prep, can also get them to understand the process of what good healthy food looks like and tastes like at a young age.
Kids Good Stuff, contains, veggies, berries, protein, digestive enzymes probiotics as well as probiotics.
———————————————————
Think a daily dose all in one of added Vit B12, Magnesium, Fruit and Veg, along with protein, Vit D and calcium good for bones. Strengthens the immunity by adding Vit C, Selenium and Zinc to their diet.
Good for eye health thanks to the added antioxidants - fighting off free radical damage to the eye area.
Ps, please feel free to use my code "Charissa10" at checkout to receive 10% off your nuzest order, this is for free shipping Malaysia, Singapore and Hong Kong
Method
First soak the chai seeds with almond milk and vanilla extract. (5 min).

Then add all ingredients to blend in a high speed blender, Option to blend until it is smooth, I left mine with a bit of chunk to it and made it thick.

SPRINKLE:

Whatever you have, I used some blueberries and raw cacao nibs for extra crunch.


Disclaimer: The information provided on Nuzest is for educational and informational purposes only. The information provided on this site is not, nor is it intended to be, a substitute for professional advice or care. Please speak to your qualified healthcare professional in the event that something you have read here raises questions or concerns regarding your health.