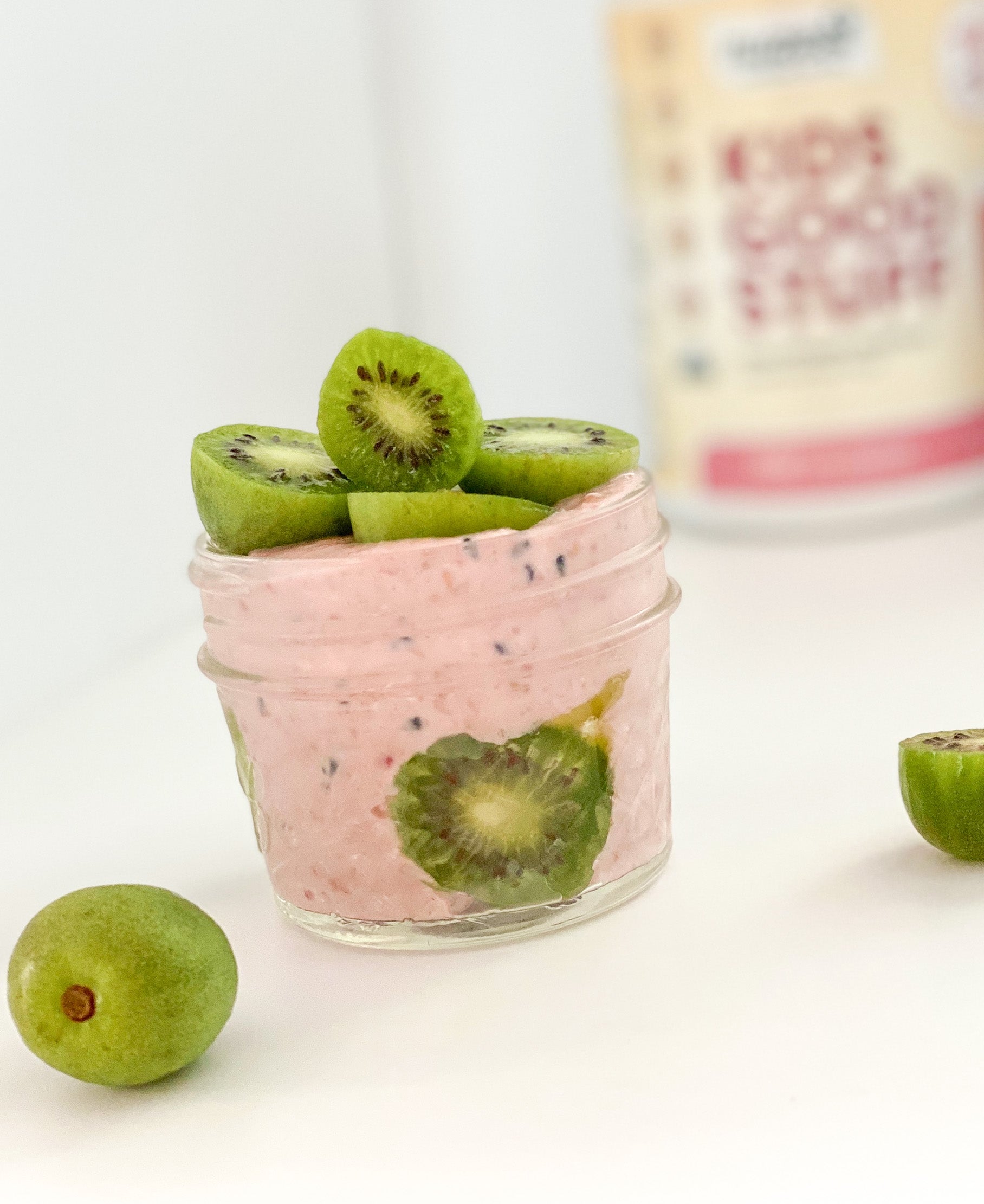 1 min read
Strawberry Kiwi Vanilla Porridge
Posted By
Karim Youssef
Ingredients
1/2 Cup of Fresh coconut flesh
1/2 Cup of frozen strawberries
1 Large ripe Kiwi
1/2 Cup of coconut yoghurt
1/3 Cup of white chia seeds
1/2 Cup of nut milk
1 Serving of Nuzest Clean Lean Vanilla Protein Powder or for Kids version, Kids good stuff in Vanilla Strawberry
What is your favourite simplest way to start the day, or perhaps post- workout? We want to savour the effort we have put into our workout and therefore it is key to replenish our bodies with the correct Macro's. 

This simple quick breakfast is easy to make and great as a post-workout meal. Coconut yoghurt and the flesh, is a great combo to use within this meal plan. Coconut flesh is rich in fiber and MCTs, high in manganese, this is an excellent source to add as it helps with the metabolism of carbs, protein, fats. 
Delicious strawberries are chock full of vitamins, dietary fiber, antioxidants. Together with this combo with the added delicious Clean Lean Protein from nuzest, they make a quick and nutrition-dense meal that will satiate your hunger in a jiffy. 
It is always key to remember that eating a protein-packed meal with fresh veg/fruit is a great option post-workout as "protein consumption after weight training is usually synthesized for up to 48 hours after the workout is complete, according to some studies.
Method
Soak white chia seeds in the nut milk while you are blending the rest of the ingredients until smooth, once smooth take the chia porridge and mix with the entire blend, this is a delicious thick creamy low-sugar breakfast.
Disclaimer: The information provided on Nuzest is for educational and informational purposes only. The information provided on this site is not, nor is it intended to be, a substitute for professional advice or care. Please speak to your qualified healthcare professional in the event that something you have read here raises questions or concerns regarding your health.