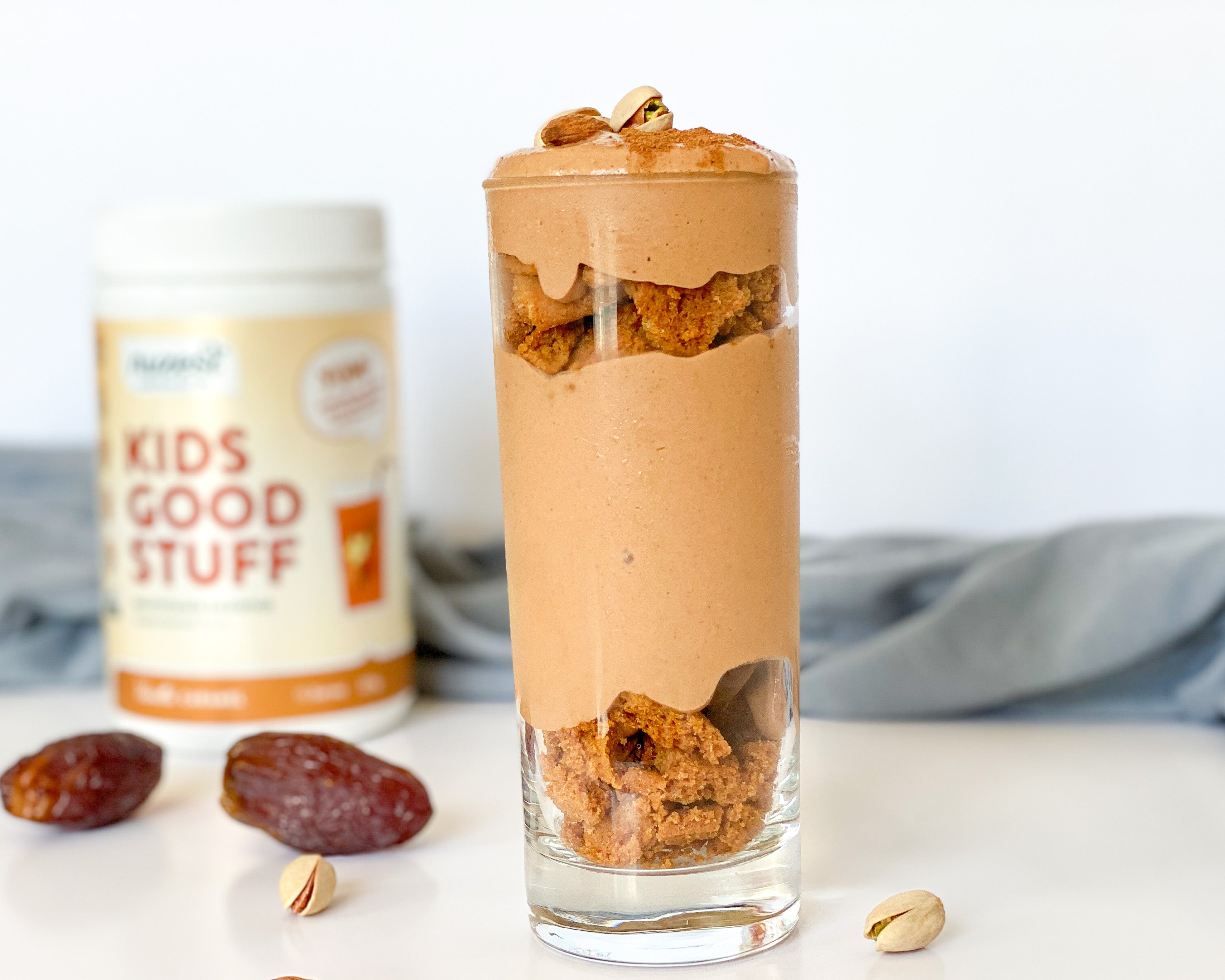 1 min read
SALTED CARAMEL COOKIE CRUMBLE MOUSSE
Posted By
Karim Youssef
Ingredients
1 Frozen banana
1/2 Avocado
3 Large Medjool dates
2 Servings of Nuzest Vanilla Caramel Kids Good Stuff
5 Ice-cubes of hazelnut milk
1 Teaspoon of vanilla extract
1 Tablespoon of Almond butter
1 Tablespoon of raw cacao powder
1 Cup of Hazelnut or Almond milk
Pinch of Cinnamon
Pinch of Pink Salt
2 Gluten-free from ginger cookies from Live Zero
Recipe by Charissa & Co.


Move over pudding, try this delicious yet #healthy pudding alternative for the whole family.
Nuzest Kids Good Stuff is not only delicious, but so great to incorporate into most meals. Kids Good Stuff comes in three delicious flavours, one of them I will be using today.
SUPPORTS HEALTHY BONES
With 200mg calcium per serve, and 8g of plant-based protein to aid growth and development
FOR HAPPIER INSIDES
With pre-and probiotics for good digestion and gut support
LONG LASTING ENERGY
Includes 11 different fruits and vegetables to help them live, learn, grow and play!
Method
Blend until smooth. Layers in-between with a little cookie crumble. Enjoy!
Disclaimer: The information provided on Nuzest is for educational and informational purposes only. The information provided on this site is not, nor is it intended to be, a substitute for professional advice or care. Please speak to your qualified healthcare professional in the event that something you have read here raises questions or concerns regarding your health.