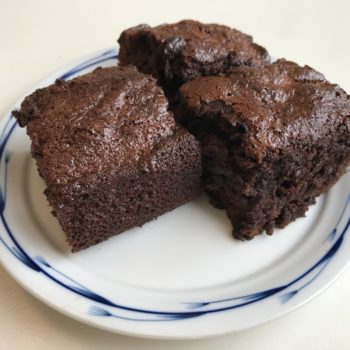 1 min read
Vegan Protein Brownie
Posted By
James LaBove
Ingredients
1 pack Brownie Mix (552g)
1/2 Crushed Dark Chocolate (50g)
1-2 scoops Clean Lean Protein Vanilla Matcha
1-2 scoops Clean Lean Protein Coffee Coconut ️
1-2 cups Unsweetened Soy Milk
100-150g Honey
1-2 Eggs
1-2 tablespoon Olive Oil
As a frequent traveller who enjoys eating homemade food, all my recipes are travel-friendly, that means:
The ingredients used can be easily obtained, otherwise easily replaced by something else from your local grocery store.
The amounts of the ingredients used are estimated and should be modified to personal preference.
Some notes worth taking in this brownie recipe:
I love dark chocolate, ideally, I would have used 100% cacao but it did not make sense to buy the entire pack of cacao for this so I used 86% cacao dark chocolate instead as it was the highest % cacao chocolate I could find.
Nuzest's protein can be used to thicken the texture of your brownie paste in case of too much dilution (in this case caused by my love for soy milk).
Eggs can be used to either make your brownie more fudge-like (pastier) or more cake-like (fluffier). When more eggs are used, your brownie will turn out more cake-like. Also, the bake time is longer for cake-like brownie.
Eggs can be replaced with an egg substitute/replacer for vegans.
---
This recipe was contributed by the amazing'Theng Tyng Follow her on Instagram at
@thengtynggoh
Method
Baking time and temperature: 30-40 mins at 165-175 C Please follow the recommendations on your brownie mix. Method: Beat eggs first, and mix everything else in to create a paste-like texture before baking. Once done, bring your brownie out and let it cool. For people who enjoy having their brownie warm, you may serve before it is completely cooled.
---
This recipe was contributed by the amazing'Theng Tyng Follow her on Instagram at
@thengtynggoh
Use her discount code'
TTG10'
on your next Nuzest order