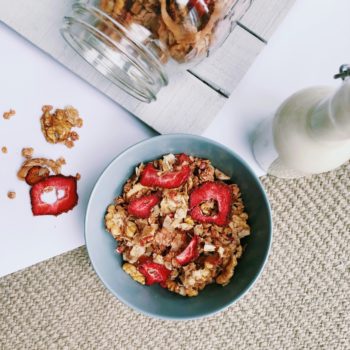 2 min read
GRAINFREE GRANOLA & DIY ALMOND MILK
Posted By
James LaBove
Ingredients
1 1/2 Cup unsweetened coconut flakes
1/2 Cup finely chopped fresh coconut flesh *optional
2 Cups of pre-soaked walnuts (6-8 hours soaked)
1 Cup of pre-soaked Almonds
1 Cup of thinly sliced strawberries
1 Tablespoons of flaxseeds
1 Tbsp flaxseed meal
1 1/2 tsp ground cinnamon
2 Tablespoons of date paste
1/4 tsp sea salt
1 Tablespoon coconut oil
2 scoops Clean Lean Protein
GRAINFREE GRANOLA & DIY ALMOND MILK @charissa_and_co_wellnes This granola is One of my favourites to make! Deliciously Nutty, Crunchy,
Perfect'sweetness to it, Hearty & truly satisfying, being Nutrient-rich, plus it is simple, quick & easy to make.
Please also feel free to customise it to your needs, especially when it comes to your own preference of nuts that you mostly enjoy.
WALNUTS: Omega-3 fat source, ideal for our health, walnuts contain (ALA) Alpha-Linolenic-Acid, a must have fat as it is part of the essential fatty acids, therefore these fats need to be added to our lifestyle from consumption of whole foods, walnuts are also ideal in supporting the health of your gut microbiota & heal your gut by freeing inflammation, the walnuts feed the bacteria in your gut that produce a needed fat known as (butyrate) this results in supporting a healthy gut by nourishing the digestive system.' Making walnuts not only the brain food, but the ideal morning super nut.
YACON SYRUP (A dietary source of fructans, making it a soluble dietary fiber): This is my favourite go to replacement for any added sweetener apart from dates, yacon root is ideal in supporting the gut health, it is a pre & pro-biotic & is known to be low in GI, a large part of the 'sugars' known as fructans that are not digested by the body, are moved to the large intestine feeding the friendly bacteria within the digestive system.
CLEAN LEAN PROTEIN: From @nuzest is delicious in the wild strawberry, this plant based protein compliments the strawberries within this recipe, this protein is not only free from gluten, dairy, soy and GMOs, but high in protein yet low in carbs, sugar and fat. It's 100% vegetable & high in easy digestible protein
Use promo code "Charissa_W10' to get 10% off your order:'https://www.nuzest.sg
Method
Once nuts are soaked, strain & rinse, pat dry.
Then start by placing the nuts into a large mixing bowl, then mix in the coconut flakes & flesh.' Mix with your hands, then add the date paste, mix well.
Once you have mixed those well, then add in the other dry items, flaxseeds * flax meal, salt & coconut oil, mix again & then finally add the yacon syrup, mulberries & strawberries, by only lightly mixing those in, make sure the strawberries are not squashed.
Splay all out on a tray' lined with parchment paper, bake in the oven on either 50 degrees for 8 hours, or for speed, 180 degrees for 30 - 35 min, or ideally dehydrate in your dehydrator below 45 Degrees for 11 to 12 hours, this will preserve all the natural enzymes & nutrients by slowly dehydrating it.
Baked version: Once ready & still slightly moist & sticky, then sprinkle your @Nuzest clean lean wild strawberry plant protein powder, mix well.
Dehydrated version: You can add your Nuzest protein powder before dehydration as this won't effect the nutrient value as its under 45 Degrees (dehydrating).