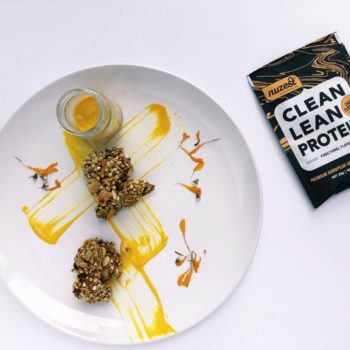 1 min read
GOLDEN TURMERIC MACA CINNAMON GRANOLA CLUSTERS
Posted By
James LaBove
Ingredients
2 Cups of Pre-soaked Buckwheat groats
1 1/2 Cup raw almonds (split in 1 Cup for Pre-soaking & 1/2 Cup for grinding into almond meal.
1/2 Cup raw shelled sunflower seeds (pre-soaked)
1/4 Cup hemp seeds (optional or replace sesame)
1/2 Cup creamy unsalted almond butter
2 Tablespoons of date paste or Yacon syrup
1/3 Cup coconut oil
2 Teaspoons pure vanilla extract
1 Serve Nuzest Functional Flavour Clean Lean Protein Chai Tumeric + Maca
1 Teaspoon ground cinnamon
1 Teaspoon turmeric
By @charissa_and_co_wellness
Nuzest Functional Flavour Clean Lean Protein Chai Tumeric + Maca, is the 'ideal premium plant-based protein, ideal for your morning routine, especially whereby it is even more so balanced with a bit of a breakfast feel, combined with the homemade healthy granola, free from refined sugars, trans fat like most of the store-bought granola clusters, this is, therefore, the ultimate superfood breakfast bowl.
The turmeric within this recipe is a'powerful anti-inflammatory used for centuries in India for its medicinal benefits. Whereby the maca root: Nutrient-dense and claimed to enhance fertility and energy.
These clusters are made using the same method as most of my buckwheat granola recipes shared in the past.
The only difference with these is that I grounded a 1/2 cup of almonds to bind the clusters together a bit more and I also find that the turmeric marries really well with the sweet almond taste.
Method
1. First grind half the almond cup into meal, once done, then mix all the ingredients together with your hands in a large mixing bowl.
2. Bake in the oven at 275F and line a large baking tray with parchment paper.
3. Splay ingredients out on the tray, bake for 15 minutes, rotate the pan back-to-front, and bake another 20 to 26 minutes.
4. The granola is ready when it's has a golden toasted scent, the top is a very light golden-brown, and it feels firm but not too crisp.
Please Note: Granola doesn't become crisp and crunchy until it's had a chance to cool, so once ready leave them to cool or dehydrate in the dehydrator for 15 hours at 45 degrees.