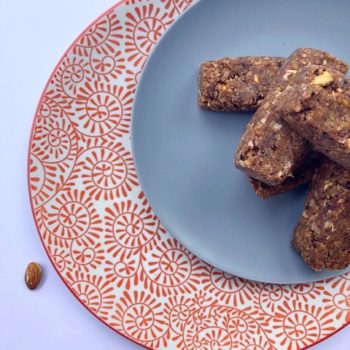 1 min read
Clean Lean No Bake Protein Bars
Posted By
James LaBove
Ingredients
50g Almonds (activated)
50g Pistachio (activated)
⅔ Cup Hempseed
1 Cup Coconut Flakes
1/2 Tablespoon Yacon syrup
1 Tablespoon Coconut Oil
1 Serving Nuzest Clean Lean Protein Powder
10 Dates (Medjool) (these are the large ones)
1/2 Cup dehydrated/freeze dried blueberries
1/2 Cup Dark raw cacao nibs
½ Cup Flaxseed (grounded)
CLEAN LEAN NO BAKE PROTEIN BARS by @charissa_and_co_wellness With the sticky base within these bars, I used dates, dates are high in antioxidants, therefore antioxidants  free radical damage to the bodies cells. Some of the antioxidants within dates are responsible for decreasing inflammation within the body. You can enjoy these bars as your alternative to the processed 'protein bars' you often come across at health clubs or grocery stores, most of these bars contain trans fats along with sugar.
Within this recipe I added some cacao plant-based protein powder, this is a very simple protein powder from @nuzest. The protein blend from @nuzest boasts, they are not only allergen-free but great for the whole family. Containing No gluten, dairy, soy, nuts or eggs. No fillers, additives or preservatives. No added sugar or artificial sweeteners. Just clean, lean, European Golden Pea Protein with delicious natural flavours. 
Method
Blend all the above in your food processor. You can use moulds to shape them in bars, or lay it out on a tray and cut bar shapes, make sure you cover them, place it in the freezer for two hours before serving.