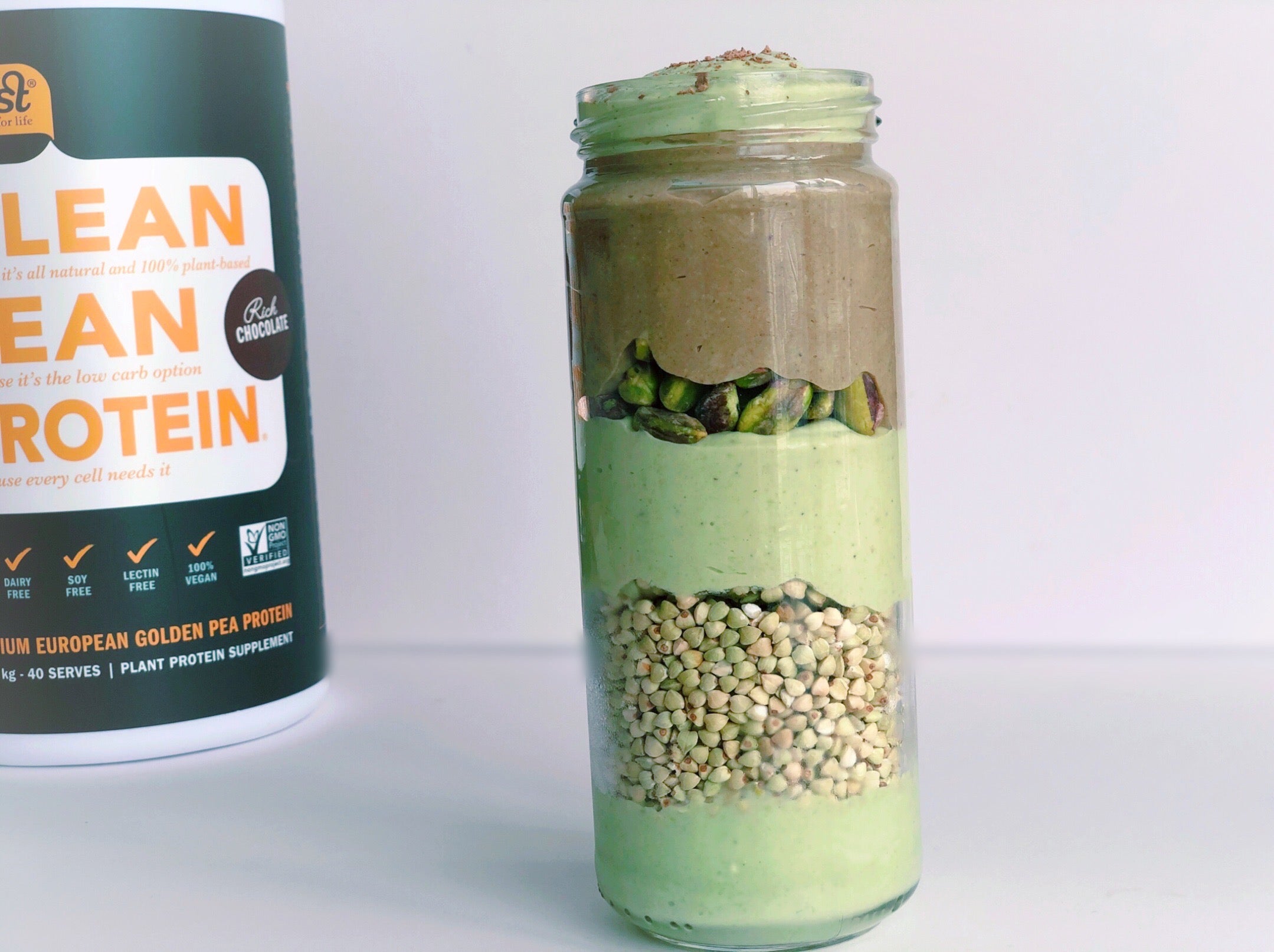 1 min read
PISTACHIO CHOCOLATE LAYERED SMOOTHIE
Posted By
Karim Youssef
Ingredients

PISTACHIO LAYER:
1/2 Cup Macadamia milk

1 Tbsp pistachio nut butter or macadamia nut

2 Tbsp Raw pistachio nuts

1 Serving of Clean Lean Protein Vanilla

1 Handful of baby spinach

1 Tbsp of white chai seed meal

1 Teaspoon of Yacon syrup

1/4 cup ice Optional or optional add 1/2 frozen banana


CHOCOLATE LAYER:
1/2 Cup Hazelnut milk

1 Tbsp hazelnut butter

1 Tbsp Raw cacao powder

1 Serving of Clean Lean Protein Chocolate

1/4 Avocado

1 Teaspoon of Yacon syrup

1/4 cup ice Optional or opt for 1/2 frozen banana

IN BETWEEN LAYERS:
Buckwheat Groats (pre-activated)

1 Teaspoon of Yacon syrup
by @charissa_and_co_wellness
—————————————
It's a layered heaven of pistachio nuts - high in antioxidants, consists of healthy fats, fibre / protein.
—————————————
Pistachios are rich in your B6 Vit, B6 is linked to regulating sugar levels, but also with the formation of haemoglobin, this helps to carry oxygen to the red blood cells.
—————————————
The antioxidants within the pistachios are also key for our eye health, with constant exposure to blue lights etc, that damage our eyes, it is key to include these antioxidants into our bodies, reducing the age related macular degeneration to our eyes. 
—————————————
High in Fibre, as they promote healthy gut bacteria, increasing a number of bacteria that produce short-chain fatty acids, one of which is butyrate.
—————————————
Relax the blood vessels, thanks to the nitric oxide, this acts as a vasodilator, allowing for good blood flow.
—————————————
Method
Using your high-speed blender or food processor, start with the pistachio blend first, once done scoop out and set aside in a bowl inside the freezer to set, whilst you make your chocolate blend.

If you wan the smoothie a bit thicker, option to add a little more chopped frozen banana or for sugar free, chai seed meal, as it will set and make the smoothie thick almost like a pudding.


Remove your pistachio mix from the freezer once you're done with the chocolate mix, taking a large spoon you can start scooping out the layers and layering it into your glass jar.
Disclaimer: The information provided on Nuzest is for educational and informational purposes only. The information provided on this site is not, nor is it intended to be, a substitute for professional advice or care. Please speak to your qualified healthcare professional in the event that something you have read here raises questions or concerns regarding your health.