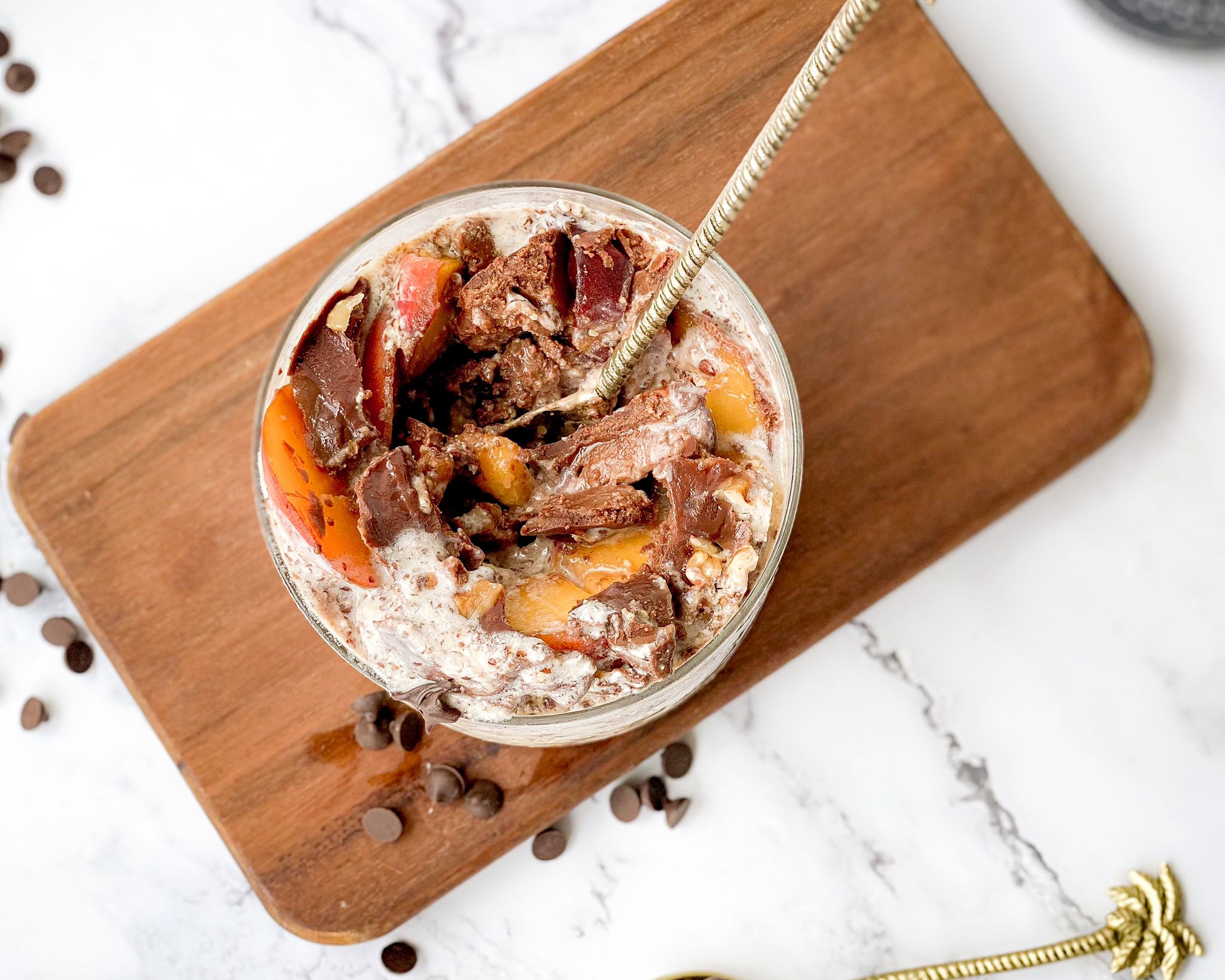 1 min read
OVERNIGHT KETO PORRIDGE
Posted By
Karim Youssef
These Keto Overnight Oats are an easy make-ahead breakfast.
Ingredients
1/3 Cup raw mixed nuts (Brazil, walnuts + almonds)
2 Tbsp flaxseed meal
1 Tsp Lion's Mane mushroom powder
1 Serving Nuzest Smooth Vanilla Clean Lean Protein
1 Tsp cinnamon powder
1 Packet of coconut power crunch
1/3 Cup raw macadam nuts
2 Tbsp monk fruit syrup
1 Cup almond milk
1 Whole peach
1/2 Cup melted chocolate (Keto friendly) **optional
Recipe by Charissa & Co.
I always aim to share healthier food swaps, especially by replacing high sugar foods with low to no sugar alternatives. With this overnight breakfast I wanted to keep two things in mind! One being no refined sugar or fast releasing sugars, therefore this recipe does not spike blood sugar levels due to the use of SMART ingredients. Secondly, I wanted a keto friendly overnight breakfast that is different to the usual overnight oats, chia or weetbix porridge people now seem to do. Another benefit to this porridge, is that it is hormone friendly with oestrogen boosting (stabilising) ingredients.
Flaxseed may stabilize blood sugar levels + it promotes healthy blood sugar levels.
My hormone balancing recipe is usually 2 Tbsp of ground flax seeds per day, although some studies suggest that whole flax seeds can work too.
I do however recommend storing your flax seeds in the fridge to preserve the healthy oils, as flaxseeds are heat sensitive and it can go rancid if temperatures are too hot.
Method
Start by layering your mixed nuts, then sprinkle 1 Tbsp of flaxseed meal, followed by your powders. On top of that sprinkle your toasted coconut crunch, adding the macadamia nuts on top. Add your syrup, milk and the remainder (1 tbsp flaxseed meal) to the top. Allow to stand for 10min. Thereafter lightly dab the mixture with a spoon. Layer your mixture with the peach, then drizzle with dark melted chocolate. Keep in the fridge overnight.
Disclaimer:
The information provided on Nuzest is for educational and informational purposes only. The information provided on this site is not, nor is it intended to be, a substitute for professional advice or care. Please speak to your qualified healthcare professional in the event that something you have read here raises questions or concerns regarding your health.