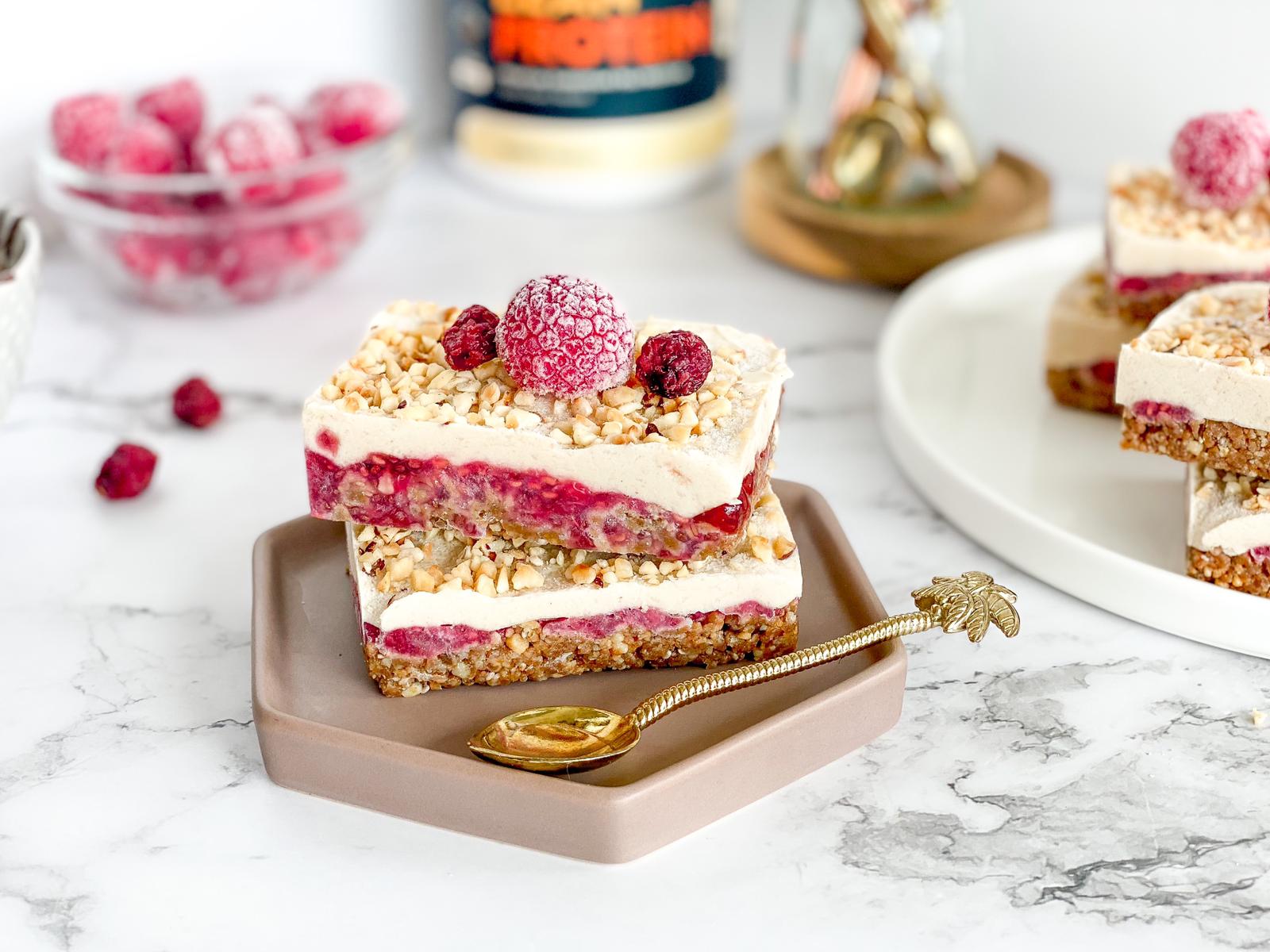 1 min read
LEMON VANILLA RASPBERRY CHEESECAKE
Posted By
Karim Youssef
This easy to make summer cheesecake has a hint of lemon, sweetness from the coconut and of course a subtle taste of vanilla.
Ingredients
Base:
Raspberry layer:
1 Cup raspberries
1/3 Cup chia seeds
1/3 Cup water
2 Tbsp Monk fruit syrup
Cheesecake layer:
1/2 Cup tahini paste (runny)
1 Tbsp coconut oil
1/2 Cup coconut cream
1-2 Tbsp Monk Fruit Syrup
1 Whole lemon juiced
Recipe by Charissa & Co
Berries are my favourite, especially raspberries. Not only are they delicious, sweet and tart at the same time, but they come packed full of nutrients.
Hence why, I decided to make a easy fuss free 'no bake' summertime "cheese-less cake".
This easy to make summer cheesecake has a hint of lemon, sweetness from the coconut and of course a subtle taste of vanilla.
I also made my own raspberry inspired "jam" by adding chia seeds and monk fruit syrup.
Chia seeds are not only packed with fiber but known to be one of the best plant-based sources of omega-3 fatty acids, which have numerous health benefits. They're also loaded with quality protein.
This summertime cheese-less cake is for low in sugar, free from dairy, free from trans fats, paleo, vegan friendly and completely gluten-free.
Using monk fruit syrup is my go to when I need to add some sweetness. Reason being is the fact that it does not spike blood sugar levels.
Let's get down to business.
Method
First start by adding the raspberry jam layer ingredients to a small bowl. Mix and set aside allowing for the chia seeds to soak.
Then start by adding all the base ingredients to your food processor and blend until a crumbly dough-like consistency.
Spread the base mixture into your square tray or non stick molds. Press the base down firmly.
Then add your second layer (Raspberry jam layer) once done, you can cover the mixture and place it in the freezer for 20min whilst making your "cheesecake layer".
Add all the ingredient for the cheesecake layer to a bowl, mix evenly untill a smooth runny paste.
Finally remove the molds from the freezer and add your final cheesecake layer. Place the molds back into the freezer and allow to set for 1 hour before serving.
When you remove the cakes from the molds, you can drizzle a little dark chocolate and chopped nuts.
Disclaimer: The information provided on Nuzest is for educational and informational purposes only. The information provided on this site is not, nor is it intended to be, a substitute for professional advice or care. Please speak to your qualified healthcare professional in the event that something you have read here raises questions or concerns regarding your health.