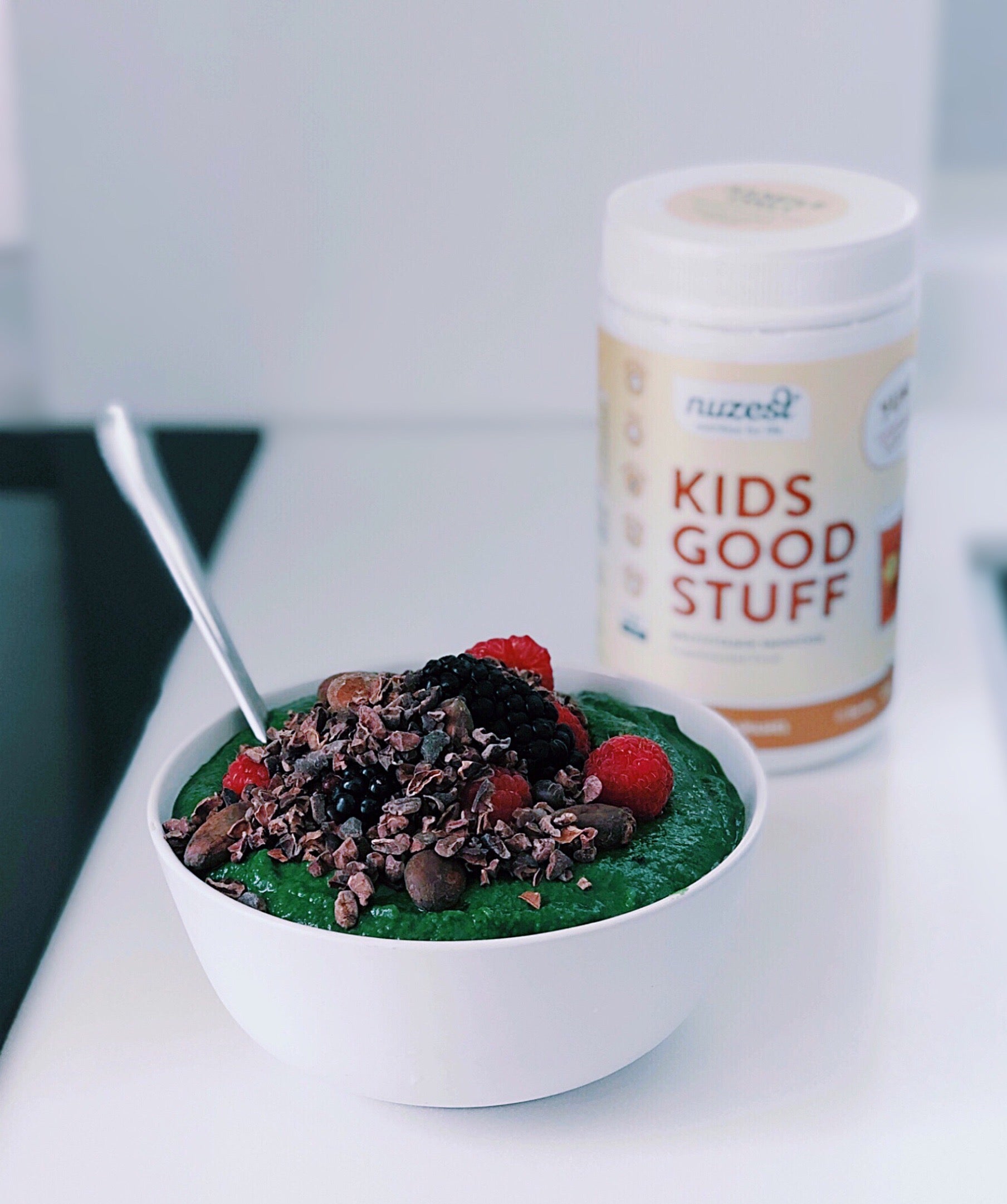 1 min read
KIDS GREEN CARAMEL SMOOTHIE
Posted By
Karim Youssef
Ingredients
Smoothie bowl:
3 Handfuls of baby spinach
1 Green Apple sliced
1 Frozen Banana
2 Pitted large medjool dates
1 Large tablespoon of Hemp Seed or sesame seed butter
1/4 Teaspoon of cinnamon
1 Cup of Almond Milk
1 Tablespoons of DIY Caramel Sauce (see below)
DIY CARAMEL SAUCE (RECIPE) ** this is enough to use a few times drizzled into smoothies, or onto your breakfast, so therefore keep the extra in a glass jar in the fridge.
1/4 Cup of coconut oil
1/4 Cup of yacon syrup
3 Tablespoons of Almond butter
1 Teaspoon vanilla extract
Pinch of cinnamon
2 Servings of Nuzest Kids Good Stuff (Caramel flavour)
Method
Blend the Ingredients of the vegan caramel sauce first, ensure it is smooth, once done, scoop into your glass jar and keep aside, you will only use one tablespoon of this inside the green smoothie blend.
Blend all the ingredients of the green smoothie, once smooth, add one tablespoon of the caramel sauce and mix into the smoothie.
______________________________________
Ps, please feel free to use my code "Charissa10" at checkout to receive 10% to receive discount on your nuzest order, this is for free shipping Malaysia, Singapore and Hong Kong.
__________________________________________
Disclaimer: The information provided on Nuzest is for educational and informational purposes only. The information provided on this site is not, nor is it intended to be, a substitute for professional advice or care. Please speak to your qualified healthcare professional in the event that something you have read here raises questions or concerns regarding your health.