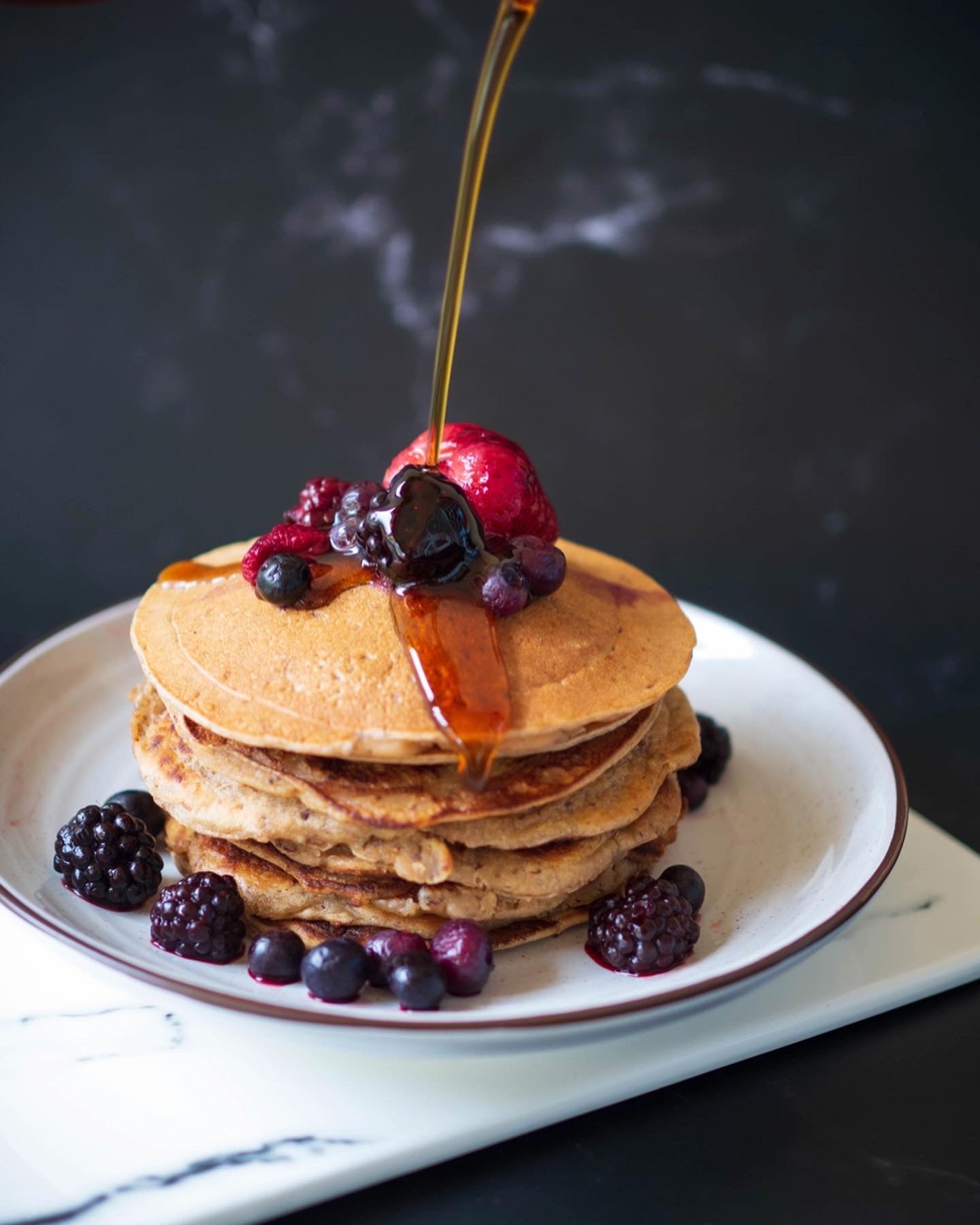 1 min read
Gluten-free Summer Berries Strawberry-Protein Pancake
Posted By
Karim Youssef
Ingredients
1 cup (136g) Red Mill's Gluten-Free All Purpose Baking Flour
1/4 cup @nuzest_singapore Strawberry Clean Lean Protein Powder
2 Tbsp White Sugar
1 Tbsp Baking Powder
1/4 tsp Salt
1 cup (240ml) 137 degrees Almond Milk*
1 Flax Egg (1 Tbsp Ground Flaxseed Meal + 3 Tbsp Hot Water) - see stories for instructions!
2 Tbsp Olive/Coconut Oil
Toppings: Frozen OOB organic mixed berries
Method
• Sift flour and protein powder
into bowl, add sugar, baking powder & salt
• Prepare flax egg - let water set for 1 min to become gloopy like egg white texture
• Add almond milk, vanilla, oil and flax egg
• Whisk pancake mix briefly using hand whisk to remove lumps
• Heat up frying pan with a little olive oil until hot. Spoon out 1/4 cup worth of batter (1 pancake)
• Cook until edges start to look dry and there are bubbles on top before flipping and cooking on the other side.
• Cook until brown on both sides.
• Serve with berries of your choice and best paired with maple syrup



Disclaimer: The information provided on Nuzest is for educational and informational purposes only. The information provided on this site is not, nor is it intended to be, a substitute for professional advice or care. Please speak to your qualified healthcare professional in the event that something you have read here raises questions or concerns regarding your health.