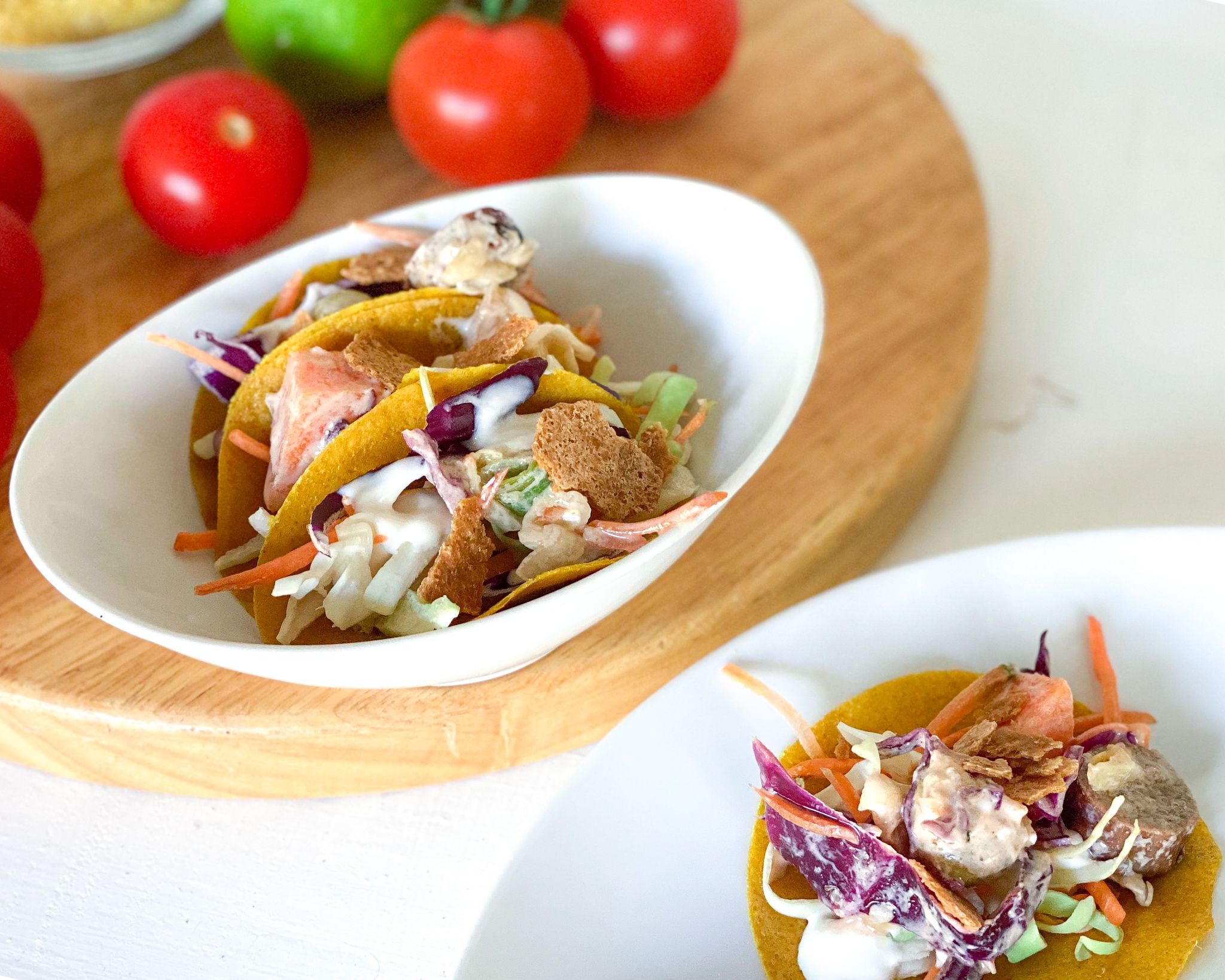 1 min read
Easy Vegetarian Tacos
Posted By
Karim Youssef
Here's an easy meatless taco recipe that is sure to impress any taco lover. ⁠
Ingredients
2 Sheets of @cocobynuco turmeric wraps cut into circles
CASHEW CREAM
¾ Cup raw cashews, soaked for at least 3 hours and drained
3 Tbsp lemon juice
Splash apple cider vinegar
Pinch sea salt
1 Serv Nuzest Smooth Vanilla Clean Lean Protein
3 Tbsp of filtered water, plus extra if necessary
SPICY WALNUT MEAT
1 Heaped cup mixed raw nuts and seeds (I used walnuts, almonds + sunflower seeds)
1 Serve Nuzest Chia Turmeric + Maca Clean Lean protein
Pink salt, ground black pepper, to taste
1 Tbsp taco seasoning
1 Tsp avocado oil
1 Tsp liquid amino's
Recipe by Charissa & Co.
Here's an easy meatless taco recipe that is sure to impress any taco lover. ⁠
Method
Make the cashew cream: drain the cashews and place them in a blender pitcher. Add all of the other ingredients and blend on high until a smooth paste is achieved.
You may have to scrape down the sides a couple times and add some extra water.
Once the mixture is smooth without any lumps. Pour the mixture into a squeeze bottle and store in the fridge.
To make the spicy nut and seed crumble: throw all of the ingredients in a food processor and pulse the mixture until a chunky paste forms. Season it to your liking, scrape into a bowl and set aside.
Fill your taco wraps with your favourite raw chopped veggies, like cabbage etc. Along in adding your meatless walnut filling and cashew cream dressing. **Optional a few slices of cooked sodium, soya free vegan sausages for additional flavour.
Enjoy!
Disclaimer: The information provided on Nuzest is for educational and informational purposes only. The information provided on this site is not, nor is it intended to be, a substitute for professional advice or care. Please speak to your qualified healthcare professional in the event that something you have read here raises questions or concerns regarding your health.