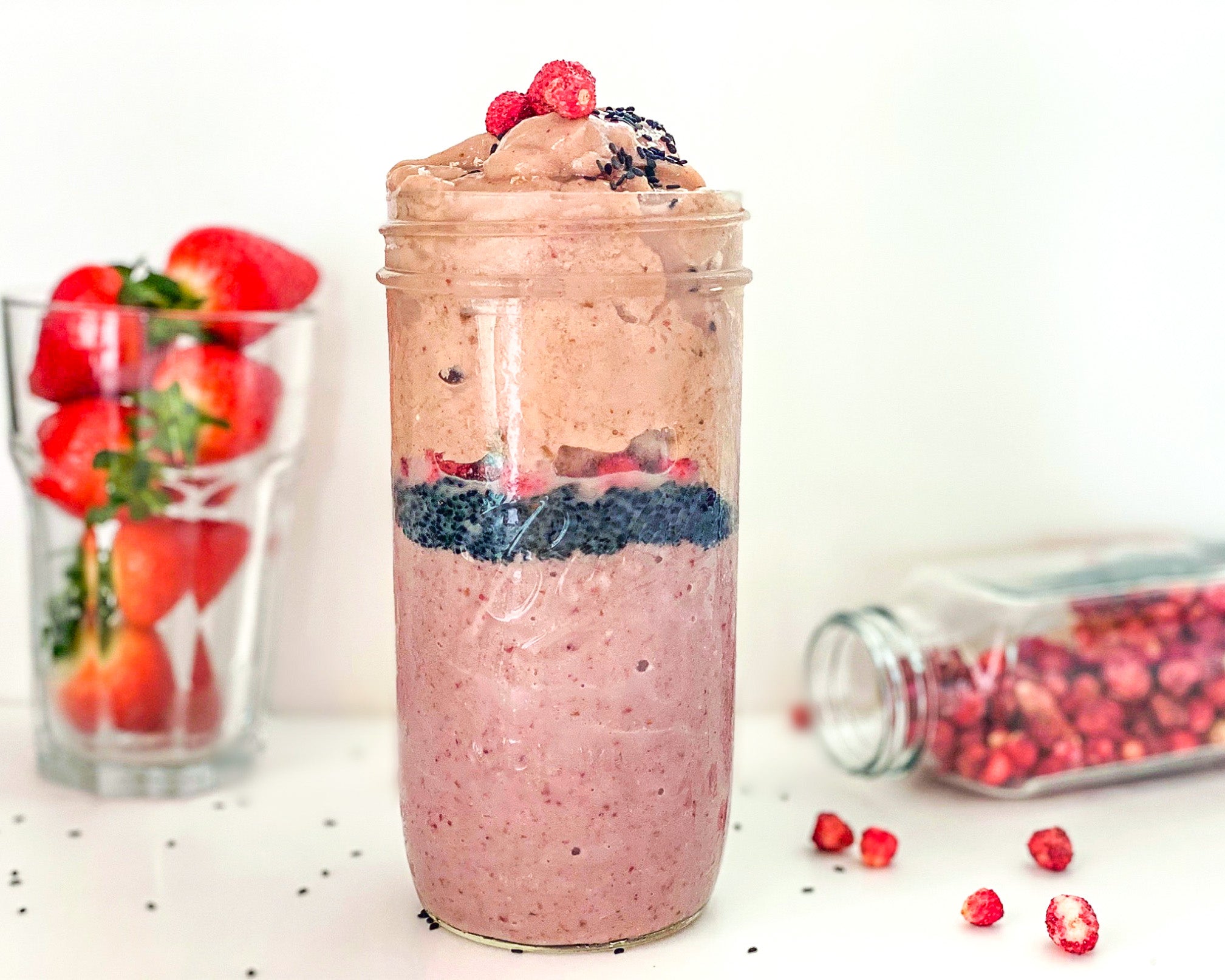 1 min read
DOUBLE BERRY SMOOTHIE
Posted By
Karim Youssef
Ingredients
BASE LAYER:
1/2 Cup of Gluten free Oats, or quinoa flakes
1/2 Cup of Nut milk
3/4 Cup frozen blackberries
1/3 Cup of coconut yoghurt
1/2 Serving of Nuzest Vanilla Clean Lean Protein
1/2 Cup of fresh coconut flesh
SECOND LAYER:
Recipe by Charissa & Co

What is your favourite nut milk? Almond? Trying out unsweetened almond milk is usually naturally low in sugar, making it suitable for those reducing their sugar intake.
However, many varieties are sweetened, so it is still important to check the nutrition label.
This is a double layered smoothie, therefore i have married two berry blends with your morning porridge, a gluten-free breakfast smoothie with added fibre and a great deal of quality protein, by the use of Nuzest protein powder.  Nuzest is such an easy protein to add to your lifestyle.
It is not only delicious in taste, but it has all the much needed essential amino acids that our bodies need.
Having a good breakfast with protein is a good way to start the day as it keeps you fuller for longer and prevents sugar spikes.
Method
Blend each layer individually, then separate with a bit of crunch in between, either cocoa nibs or some sesame seeds, or even a bit of chia seeds.
Disclaimer: The information provided on Nuzest is for educational and informational purposes only. The information provided on this site is not, nor is it intended to be, a substitute for professional advice or care. Please speak to your qualified healthcare professional in the event that something you have read here raises questions or concerns regarding your health.