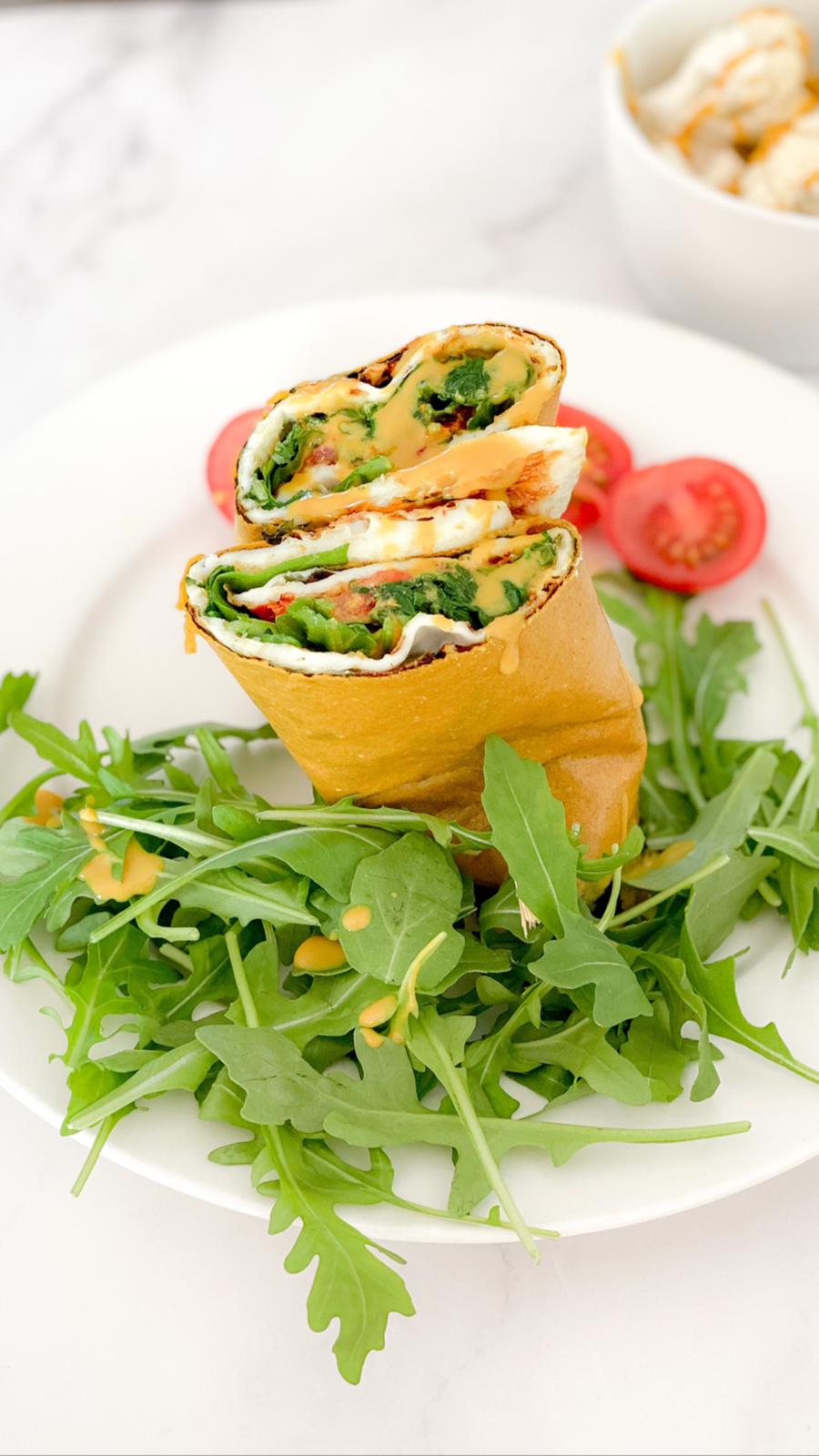 2 min read
COCONUT OMELETTE WRAP
Posted By
Karim Youssef
This easy to make wrap will definitely give you the idea that healthy meals can be simple and delicious.
Ingredients
For the wrap
2 Sheets of coconut wraps
2 Sheets of Nori
6 Egg whites and two yolks **
For the dressing
1 Cup nutritional yeast
1/4 Cup liquid aminos
1/3 Cup lemon juiced
1 Tsp organic mustard
1 Tbsp tahini paste
1 Scoop Nuzest Smooth Vanilla Clean Lean Protein
1 Tsp bone broth powder @nutraorganics
2 Tbsp water
Filling
Crunchy lettuce with a few slices of Avocado or peppers.
Recipe by Charissa & Co.
Healthy eating starts by making your food at home.
We all love convenience when it comes to meals, but one of the simplest ways to improve your health is by preparing more home-cooked meals. Hence why it is important to make it simple and easy, especially if you're not fond of spending too much time in the kitchen.
We can all agree often finding the time and energy to prepare home-made meal can seem like a daunting task.
Especially at the end of a hectic day, eating out or ordering in might feel like the quickest, easiest option.
But convenience and processed food can take a significant toll on your mood and health.
Most convenience packaged food is typically high in chemical additives, hormones, sugar, salt and unhealthy fat, along with those hidden calories, all of which can adversely affect your brain and outlook.
It certainly can leave you feeling tired, bloated, and irritable, and exacerbate symptoms of depression, stress, and anxiety.
When you prepare your own meals, you have more control over the ingredients. By preparing food for yourself, you can ensure that you and your family eat fresh, wholesome meals. This can help you to look and feel healthier, boost your energy, stabilize your weight and mood, as well as improving your sleep and resilience to stress.
Cooking at home doesn't have to be complicated. The best way to look at it, is to eat food that is as close as possible to the way nature made it.
Taking small simple steps by replacing processed food with real food whenever possible and eating plenty of vegetables and healthy sources of protein.
It doesn't mean you have to spend hours in the kitchen combining hundreds of different ingredients or slavishly following elaborate recipes. In fact, I find the most simplest meals are often the tastiest.
This easy to make wrap will definitely give you the idea that healthy meals can be simple and delicious.
Method
Once you have blended the egg whites with the yolk, divide the mixture into two as you would need to make two small omelettes for the filling.
Once the omelettes have been made, set them aside to cool while making your dressing and cutting your veggies for the filling.
Once the dressing is made and the veggies cut, you can start layering your wraps.
First place the coconut wraps down, then followed by the nori sheet, then the mini omelettes, fill your wraps with he veggies of your choice, once done, drizzle with the homemade dressing.
Disclaimer:
The information provided on Nuzest is for educational and informational purposes only. The information provided on this site is not, nor is it intended to be, a substitute for professional advice or care. Please speak to your qualified healthcare professional in the event that something you have read here raises questions or concerns regarding your health.