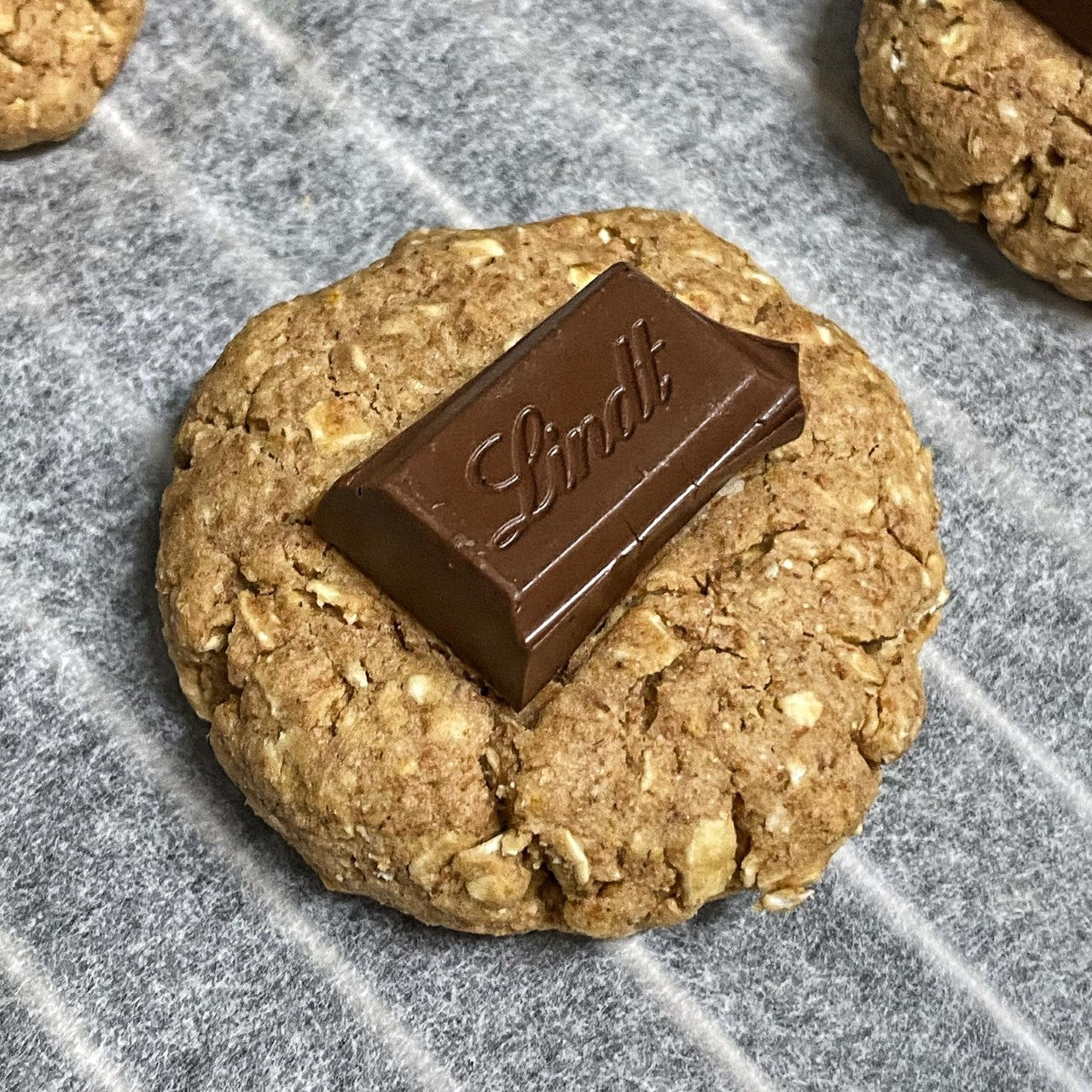 1 min read
Chocolate Topped Nuzest Oatmeal Cookies
Posted By
Karim Youssef
Ingredients
100g Quick Oats
90g Organic Wholemeal Self-Rising flour OR whole wheat/ gluten-free flour
25g coconut oil or unsalted butter, melted and cooled slightly
1 large egg, room temperature
100ml honey or agave
Dark Chocolate of choice as a topper ;)




-Must be Quick Oats, no rolled oats or instant oatmeal from the brown paper packets.
-You can use flour that doesn't self-rise. We simply used what we had in our pantry :)
-You can use just one pack of Clean Lean Protein Sachet, we just used both for extra flavor and protein!
Recipe by Kaity and Adrian
We've been making these cookies in the past but added Nuzest and it took things to another flavorful level! These are only sweetened with honey and Nuzest, and are deliciously soft when straight out of the oven. 
What we do is cool them and place them into the fridge for fuel. The recipe only uses two tablespoons of coconut oil/butter so they're quite compact(a nice way to say dry heh). We usually eat them while we hydrate pre-workout. This is one way to make sure you don't end up eating the cookies non-stop haha.
However, they do the trick for quick fueling as one cookie is quite filling! Best for when you don't have time to whip up oatmeal or even make toast before work/a workout.
Method
1. Preheat oven to 350F or 180C
1. Mix all dry ingredients together (oats, flour, Clean Lean Protein)
2. Whisk together wet ingredients (Egg, coconut oil/butter, honey/agave)
3. Fold the wet mix into the dry ingredients.
4. The mixture should be just wet enough to form cookies. If it is too dry to form cookies, add water or almond milk on tablespoon at a time until proper consistency. Our recipe formed 18 two-inch (5cm)cookies.
5. Break chocolate into small squares and press one square onto each cookie as a topper.
6. Bake at 350F/180C for 10-14mins (cookies will look light brown)
7. Enjoy out of the oven or place in the fridge as fuel for future workouts!


Disclaimer: The information provided on Nuzest is for educational and informational purposes only. The information provided on this site is not, nor is it intended to be, a substitute for professional advice or care. Please speak to your qualified healthcare professional in the event that something you have read here raises questions or concerns regarding your health.