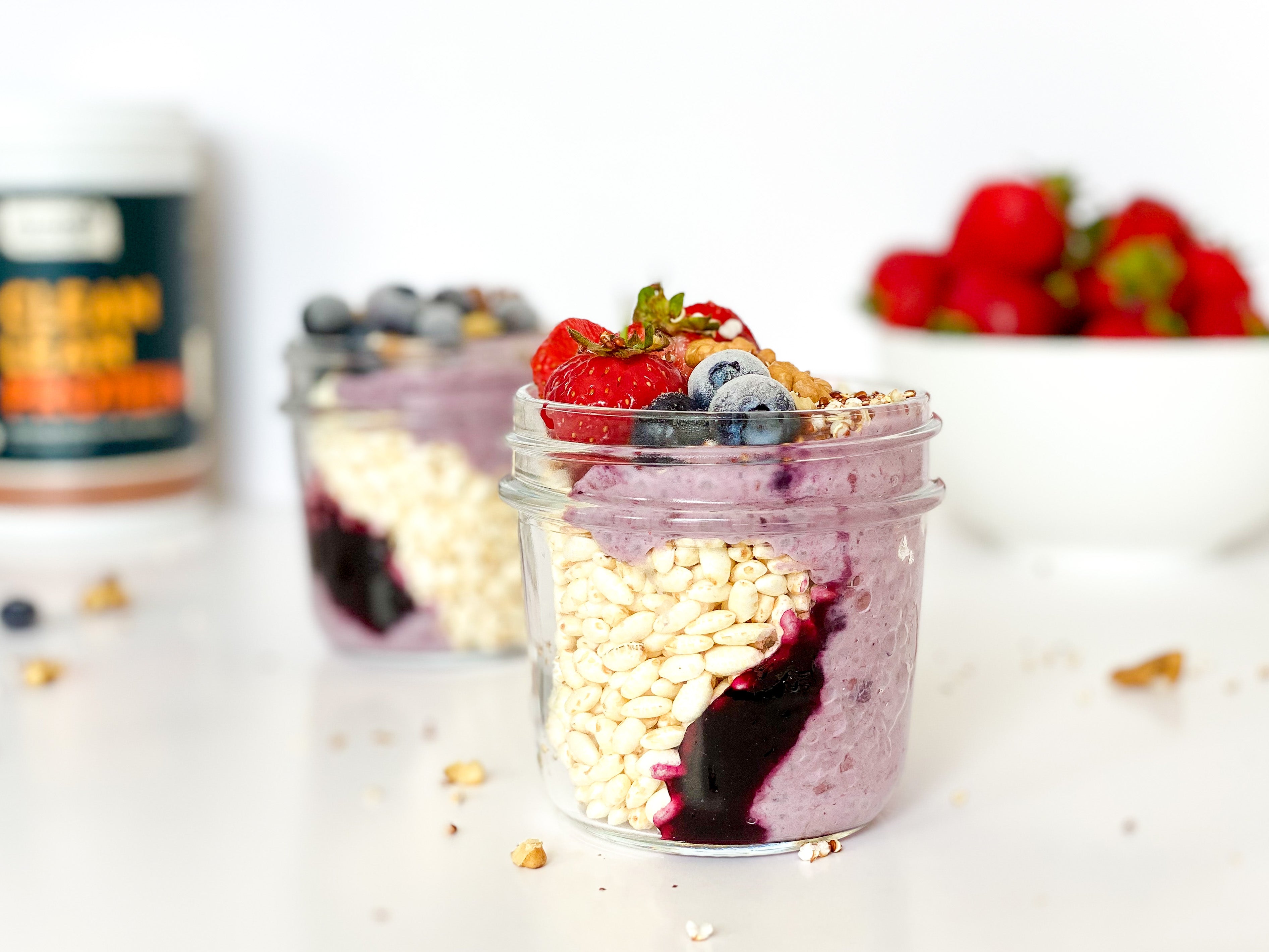 1 min read
CHOCOLATE BLUEBERRY ALMOND YOGHURT
Posted By
Karim Youssef
Ingredients
ALMOND YOGHURT:
2 Cups of almond milk
1/2 Cup (pre-soaked) almonds
2 Tablespoons of lemon juice
2 Sachets of Monk Fruit powdered sweetener (or 1 Teaspoon)
2 Powder sachets of probiotics (or Vegan yoghurt starter)
1 Teaspoon of Vanilla extract


BLUEBERRY-CHOC YOGHURT:
Recipe by Charissa & Co.
A thick and creamy yoghurt with added protein by using Nuzest Clean Lean protein, this is a unique yet delicious Almond Yoghurt with a less fussy process.

When it comes to healthy meal plans, we don't have to spend hours in the kitchen, nor do we have to be chefs, it is all about food education and understanding what foods are best to combine along with what our bodies need and recognise, therefore not only providing us with nutrients, but quality ingredients, that our bodies can digest and recognise without inflammatory causing markers we find in most processed foods.
Method
ALMOND YOGHURT INSTRUCTIONS:
Blend the above ingredients together, pour out into a jar and cover with a cheesecloth, leave overnight on the counter (room temperature) the next morning the yoghurt would have set to a yoghurt texture.

BLUEBERRY-CHOC YOGHURT INSTRUCTIONS:


Blend the above ingredients together (apart from the chia seeds) until smooth, once blended add your chia seeds, mix well and set aside for 8-10min in the fridge before serving, or leave in the fridge as an overnight porridge for later or the next day.

Option to layer it between some puffed quinoa cereal (brown rice cereal) and blueberry purée, sprinkle with nuts and fruit.

The extra almond yoghurt you can keep in the fridge for 4 days, use it in smoothies, or even make a vanilla flavoured yoghurt by adding some of Nuzest's Vanilla Clean Lean Protein.
Disclaimer: The information provided on Nuzest is for educational and informational purposes only. The information provided on this site is not, nor is it intended to be, a substitute for professional advice or care. Please speak to your qualified healthcare professional in the event that something you have read here raises questions or concerns regarding your health.