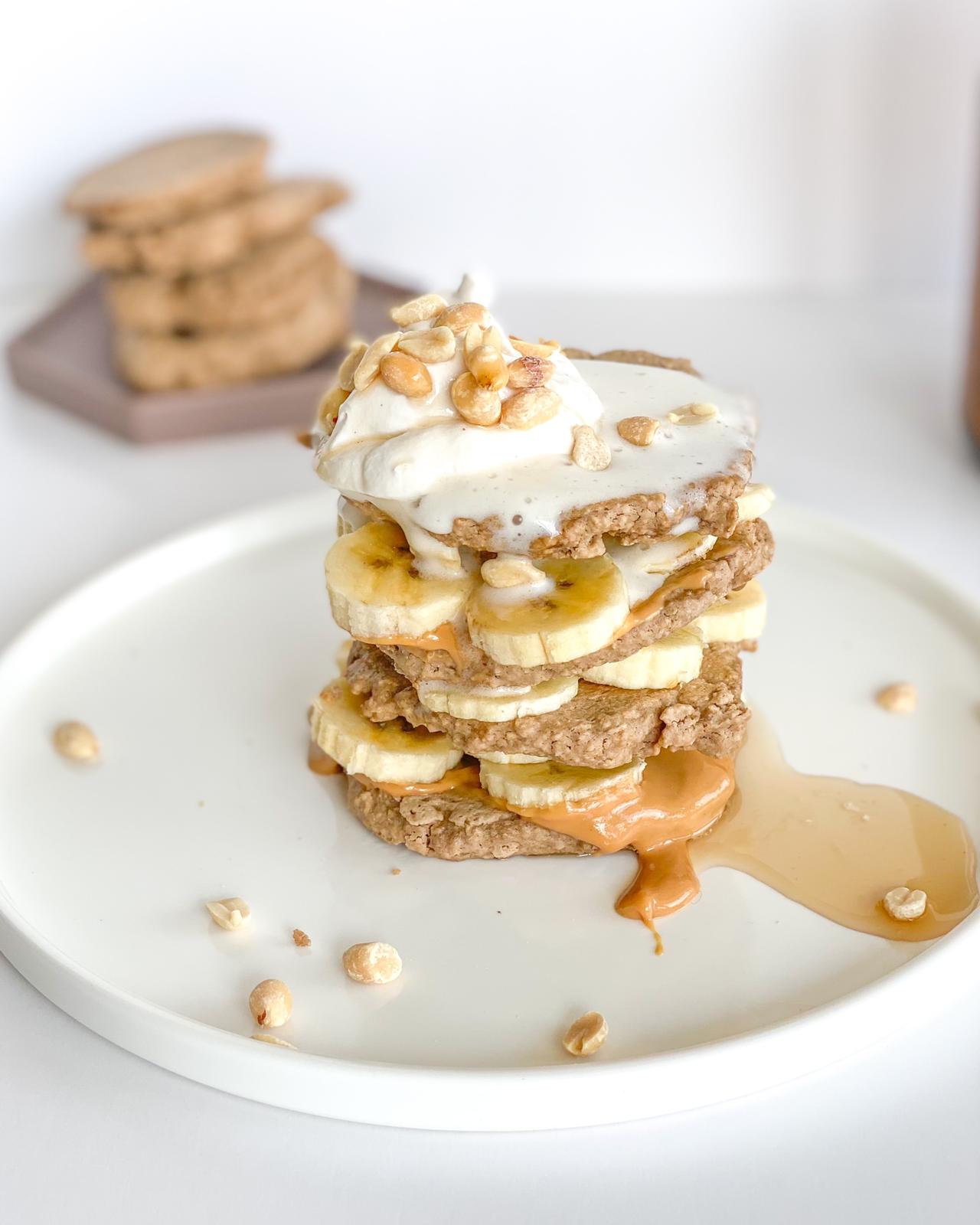 1 min read
CHOCOLATE BISCUIT PANCAKES
Posted By
Karim Youssef
Light and fluffy on the inside but slightly toasted on the outside.
Ingredients
1 Cup organic rolled oats
1 Whole large egg or 2x flaxseed eggs
1 Serv of Nuzest Rich Chocolate Kids Good Stuff
1/3 Cup chopped peanuts or macadamia nuts
2 Tbsp organic coconut oil
1/2 Cup nut milk
1/2 Ripe banana
Recipe by Charissa & Co.
Light and fluffy on the inside but slightly toasted on the outside.
A bit of a hybrid between old school oatmeal biscuits with a pancake twist. Of course free from any additives or processed ingredients.
All you need is a few simple basic ingredients.
Method
Blend all the ingredients together until a runny dough like consistency.
On a stove top, heat your non stick pan. Grease your pan with a little coconut oil to prevent the batter from sticking.
Using a tablespoon to pour the batter into the pan once the pan is at a medium heat. Each biscuit pancake will be thicker than the usual pancake and it will also be a bit firmer.
Allow each side of the biscuit pancake to cook for 3min.
When cooked, keep them warm in the oven on a flat oven tray allowing them to slightly toast on the outside, whilst you are still making the rest of your biscuit pancakes.
Have the oven on a low 50degrees grill.
Once all the mix has been used, keep them in the oven whilst you quickly clean up and get the plates ready with the toppings.
When they come out of the oven they are nice and warm and ready to be coated with your favourite toppings.
I used a peanut butter, monk fruit syrup banana coconut cream combo.
These work well with the biscuit pancake base.
_________


Disclaimer: The information provided on Nuzest is for educational and informational purposes only. The information provided on this site is not, nor is it intended to be, a substitute for professional advice or care. Please speak to your qualified healthcare professional in the event that something you have read here raises questions or concerns regarding your health.