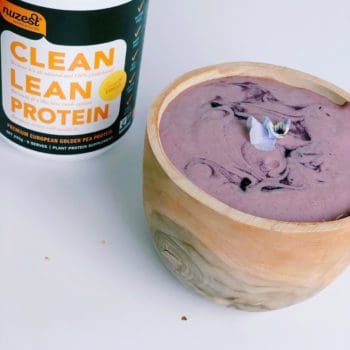 1 min read
BLACKBERRY VANILLA MILKSHAKE IN A BOWL
Posted By
Freelancer Login
Ingredients
1 Cup frozen blackberries
1/2 Cup coconut cream or **opt for coconut water
1/2 Frozen Banana or **opt for 1/2 cup fresh coconut flesh for less sugar
1 Zucchini peeled and chopped
2 Servings of nuzest Clean Lean vanilla
2 Soaked figs in boiling-water (until they soften)
 by @charissa_and_co_wellness
Ran out of #postworkout or breakfast ideas.
Why not just start the day with this delicious blackberry milkshake, starting with Blackberries, yes so delicious & yet so full of goodness! Kickstart you're morning to a delicious bowl of antioxidant boosting properties thanks to the beautiful dark blackberries, along with the added quality Plantbased protein from Nuzest, containing all the essential amino acids that our bodies need for muscle recovery, endurance, the growth of both lean muscle & mass, increased collagen production along with the health of our skin, hair and nails!
Our bodies are made up of 20% protein the essential amino acids are the building blocks of the protein.
—————————————
An ounce of figs have about 3 grams of fiber. Yip, Fiber may help alleviate constipation and keep you feeling full longer. Figs are a good source of calcium, they are also a good source of many enriching vitamins, antioxidants, and minerals. Improving your overall health often balances your skin and helps with your circulation. If you feel like your skin is better when you eat more figs, enjoy! Your body will thank you, and your skin might, too.
Method
Blend all in your blender until smooth.