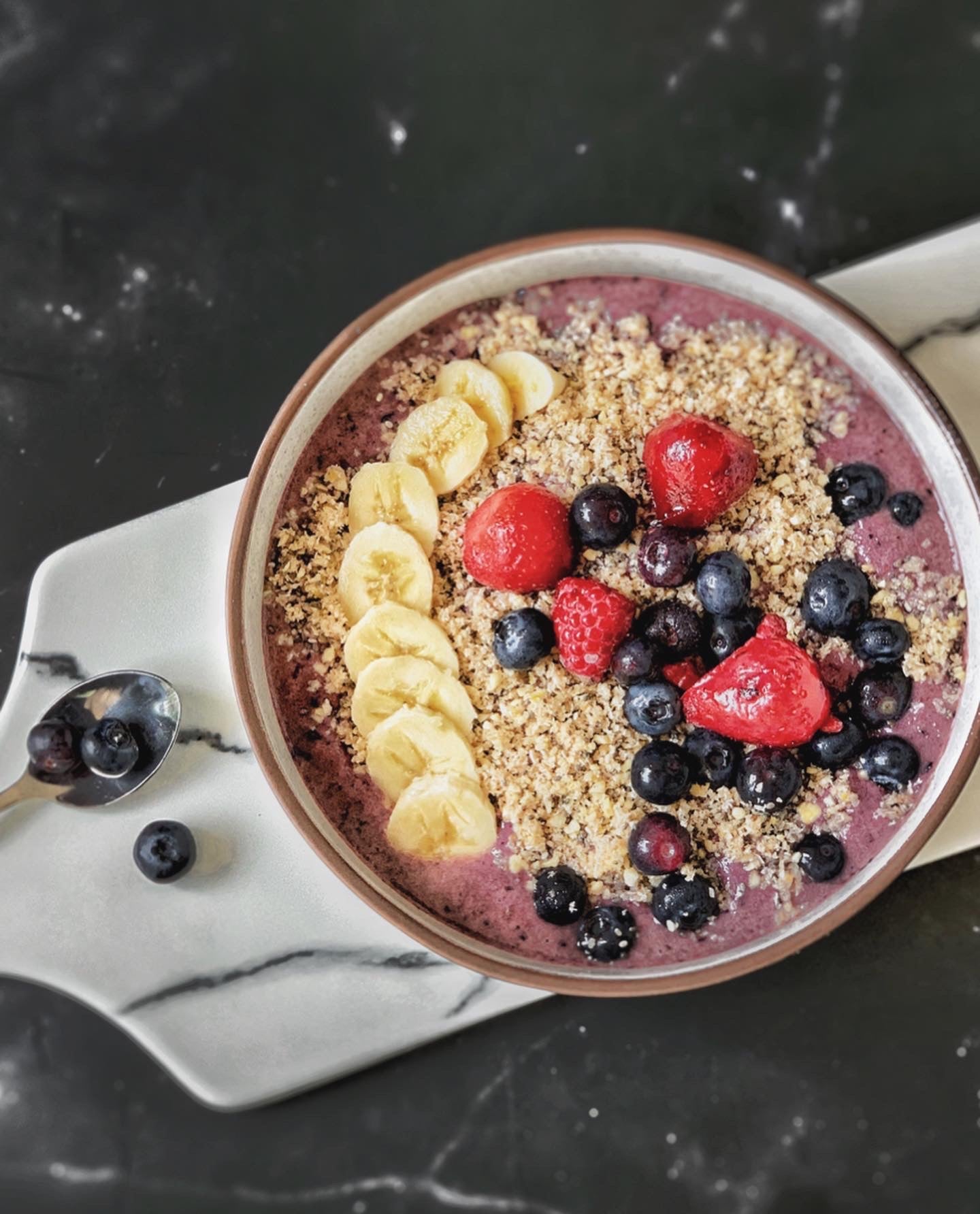 1 min read
5-ingredient Mixed Berries Banan'ice Cream
Posted By
Karim Youssef
Ingredients
5-ingredient Mixed Berries Banan'ice Cream
4 ripe bananas, peeled, sliced and frozen (14oz)
2 cups organic frozen OOB mixed berries (available at Fairprice finest)
1 tsp vanilla extract
2 tbsp freshly squeezed lemon juice
3 tbsp @nuzest_singapore wild strawberry clean lean protein powder (vegan friendly! 🌱)
Grain-free Chia Rawnola 🥄
1 cup big flake coconut
1 cup raw cashew
3tbsp Chia seeds
1tsp ground cinnamon
1/4tsp sea salt
1tsp vanilla extract
1-3 tbsp maple syrup - to taste
Method
For 5-ingredient Mixed Berries Banan'ice Cream -
• Add all ingredients except CLP powder into food processor.
• Process until mostly smooth and creamy stopping at least 4-5 times scrapping down the sides ~ 5mins.
• When it is starting to look like ice cream, slowly start to add in @nuzest_singapore CLP powder until it is completely incorporated.
For Grain-free chia rawnola:
• To make rawnola put all ingredients except maple syrup to food processor and process till desire texture is reached and mixture starting to clump.
• Add maple syrup to taste. Store and seal to have your rawnola for other pairings!
• Rawnola keeps in the refrigerator for 4-5 days/frozen for at least a month


Disclaimer: The information provided on Nuzest is for educational and informational purposes only. The information provided on this site is not, nor is it intended to be, a substitute for professional advice or care. Please speak to your qualified healthcare professional in the event that something you have read here raises questions or concerns regarding your health.