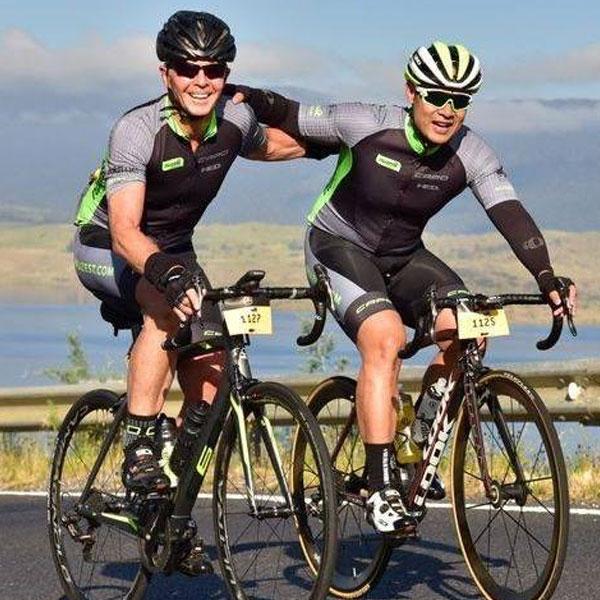 3 min read
The Steve Waugh Foundation's, The Captain's Ride
Trevor Bolland, Nuzest's founder and CEO is three months shy of participating in The Captain's Ride; an annual 6 day, 800km bike tour of Tasmania in support of the Steve Waugh Foundation.
The Steve Waugh Foundation exists to champion the stories, provide life changing support and improve the quality of life for children and young adults (0-25) living with a rare disease. The Captain's Ride is as beautiful as it is grueling, covering an expansive range of terrains over the distance.
Trevor is no stranger to committing his time, money and efforts into doing what he can in the hopes of improving the lives of others, in fact he has built his Sydney-based, globally reaching company on the premise of aiming to do just that.
His foray into the health industry was catalyzed in 2005 when his 23-year-old daughter was diagnosed with Multiple Sclerosis - an autoimmune disease of the central nervous system for which modern medicine is yet to find a cure. Not satisfied with the bleak prognosis they were given they looked to experts all over the world for advice - from neurologists and scientists, to naturopaths and everyone in between.
The knowledge and insight they gained over those years was life changing and resulted in careers in the health industry for both, planting the seeds for what is now Nuzest - Nutrition for Life.
Armed with a team of world-renowned health professionals they developed Nuzest - a nutritional platform based on efficacy without compromise; bringing together the best of nutritional science and natural medicine
Nuzest products are designed to offer complete nutritional support to those suffering with chronic disease, those affected by dietary restrictions and people seeking to deal with weight problems. It aims to fill the nutritional gaps caused by consuming nutrient-deficient food, our modern stressful lifestyles and poor eating habits.
The Captain's Ride is another opportunity for Trevor to continue his path of simply wanting to do what he can to help. Whilst each participant is set to raise a minimum of $10,000, Trevor has set his sights on $15,000, which he hopes will make a big difference to the lives of these courageous young people.
If you'd like to support Trevor in achieving his goal and contribute to putting rare diseases on the map any donation big or small will be so appreciated.
Link to Trevor's fundraising page: https://www.stevewaughfoundation.com.au/events/fundraiser-dashboard?memberId=3917
If you'd like any further information on the event please see the website link: https://www.stevewaughfoundation.com.au/the-captains-ride/
And here's a look at the 2016 ride: https://vimeo.com/208577694