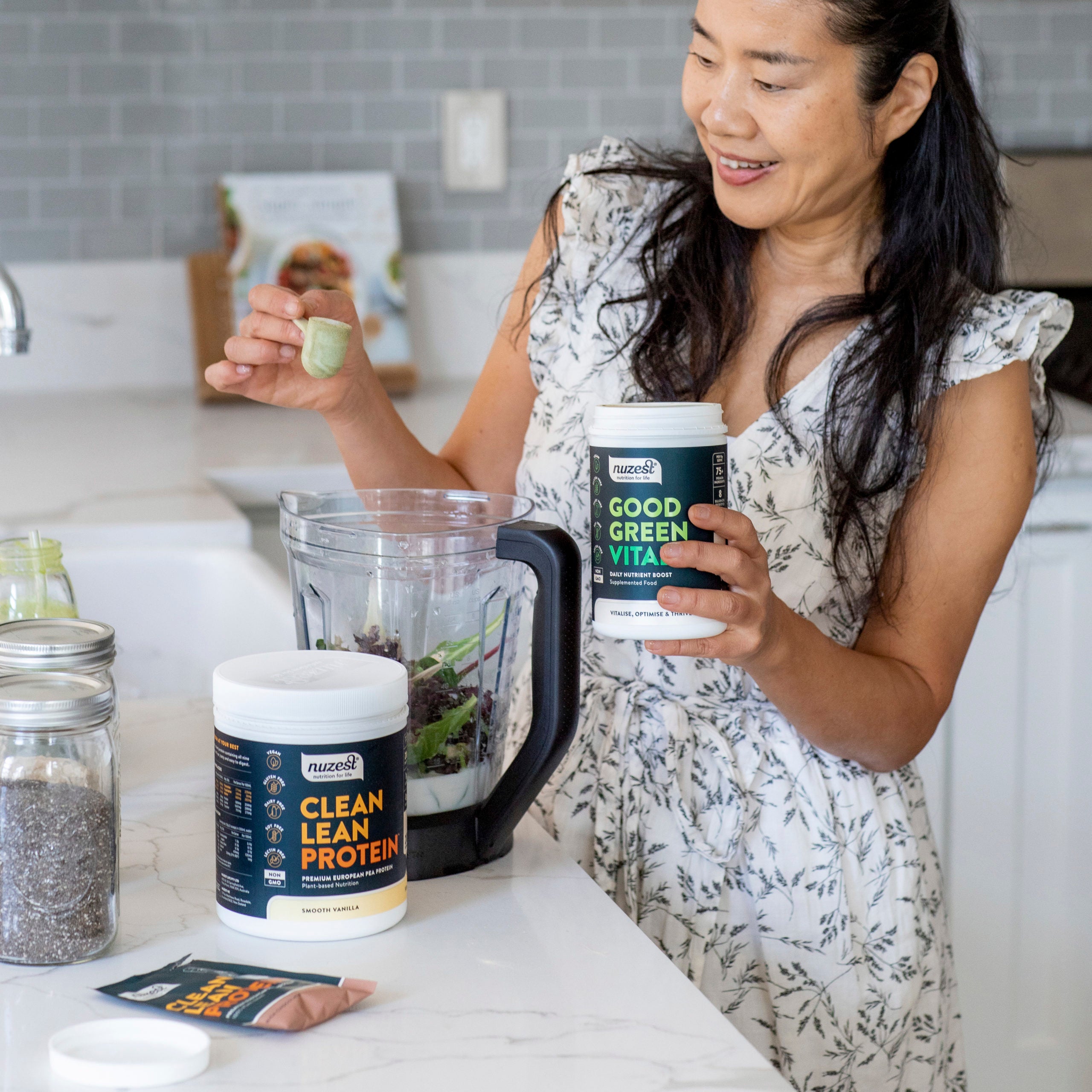 9 min read
Nuzest's Green Smoothie With Protein Powder: Your Vitamin And Protein Boost In One!
Do you need to boost your green smoothie's taste and nutrient quality? Are you thinking of adding protein powder but feel unsure if that kind of combination works? It's great news to know that you can actually do it!
Not everyone enjoys a platter full of leafy greens. Therefore, a healthy and delicious green smoothie would help solve this problem! Adding protein powder to your green smoothie is a fantastic way to boost your drink's overall nutrition profile!
Read on to learn more about green smoothies and protein powder and discover exciting ideas on how to enjoy them.
A green smoothie is a delicious and healthy drink made from a variety of green vegetables and other nutritious components. Many health-conscious people would make this drink to get more of the vitamins and minerals they need in their diet.
In fact, green smoothies are an excellent way to get protein powder, green powder, spirulina, and another powdered nutritional formula.
Nuzest's Good Green Vitality is a nutritious formula of greens, superfoods, fruits, and veggies that have been fortified with probiotics, vitamins, and other goodness. It contains up to seventy-five ingredients that work together to support immunity, cognition, vitality, and digestion. This is also an excellent way for you to fill your nutritional gaps.
Green powders are available in many different brands, each with its own unique composition and nutritional profile. Here's what you can get from Nuzest's Good Green Vitality:
Vitamins A
Vitamin B complex
Ascorbic Acid
Vitamin D3
Vitamin E
Vitamin K
Selenium Iodine
Chromium
Calcium
Copper
Magnesium
Manganese
Phosphorous
Potassium
Selenium
Zinc
Furthermore, you can get an abundant source of antioxidants from green powders as well! These have been shown to have positive effects on health. 
It's simple! For your daily consumption of our Good Green Vitality, mix 1 scoop (10g) into 250ml water or juice and enjoy!
Give ½ scoop (5g) for children 4-14 years of age. Note that this is not suitable for children under 4 years old.
How About Some Protein Powder In The Green Smoothie?
Green smoothies made with protein powder are delicious and even more nutrient dense! Adding a protein powder will provide you the following health benefits:
Facilitate muscle growth and restoration.
Controlling your appetite to help you lose weight.
Improve cardiovascular and renal function
Aid digestion and bowel movement
Meet your daily nutritional targets.
Moreover, adding protein powder to your green smoothies makes for a great beverage to help you recover from your active lifestyle.
What Type Of Protein Powders Can You Mix With Green Smoothies?
These days, the supplement market offers a diverse selection of protein powders to choose from. Most protein powders fall into one of two categories: those derived from either plants or dairy.
So, how do you decide which type of protein powder you should use?
The most widely consumed protein powders are dairy-based powders made from milk proteins. These are the (1) whey protein and (2) casein protein.
Plant-based protein powders are an excellent option for those who choose not to consume dairy products. The available ones are pea protein, hemp protein, rice protein, or soy protein.
Try Our Good Green Vitality and Clean Lean Protein Smoothies!
Need some protein powder green smoothie recipes? Nuzest got them for you!
You can count on us to offer helpful suggestions about how to prepare them.  We recommend you be mindful of your ingredient choices, use only whole, natural ingredients, and focus on eating smart!
Try as many of our healthy and tasty recipes as you like. Make sure to have fun with our Good Green Vitality and Clean Lean Protein recipe combo! 
#1 Green vitality smoothie
Get vitalized with this tasty smoothie made of macadamias, zucchini, baby spinach, dates, berries, flaxseeds, and cinnamon! Grab the recipe here.
#2 Coconut green smoothie
Looking for a refreshing burst of tropical goodness? This green coconut smoothie is naturally sweetened with frozen fruits and topped with homemade granola and almond butter. It's great for boosting your immune system! Grab the recipe here.
#3 Mango greens smoothie
You'll love this smoothie of mango, baby spinach, coconut water, zucchini, and flaxseed as part of your breakfast. Grab the recipe here.  
#4 Mango blueberry good green smoothie
Enjoy this nutritious smoothie every morning for a protein and vegetable boost. The spinach adds some iron and fiber, while the blueberries add some antioxidants. This refreshing smoothie is just what you need to start fresh in the morning. Grab the recipe here.
#5 A double protein builder
A very simple, easy-to-make green and blueberry layer smoothie that you can enjoy as a breakfast, post-workout, or even lunch. You can take this as a meal on its own. Grab the recipe here. 
#6 The green-sprouted smoothie
Here's another tropical flavor combo with a green bean sprouts twist! Feel free to blend it with coconut cream for a delicious and creamier texture! Grab the recipe here. 
#7 Avocado greens smoothie bowl
This vegan and nutritious smoothie bowl are ideal for a quick morning meal or afternoon pick-me-up. This refreshing summer smoothie is packed with the goodness of avocado, broccoli, zucchini, baby spinach, strawberries, coconut water, and chia seeds. You'll love it! Grab the recipe here. 
#8 Greens mango choc-passion fruit smoothie
Mango is an excellent addition to this smoothie because it not only tastes great but also has a wide variety of health benefits. Combining it with Nuzest's Rich Chocolate Clean Lean Protein not only makes for a delicious and filling meal replacement but also ensures that you're getting all the amino acids you need to build muscle. Grab the recipe here.
When Should You Take Smoothies?
Energy-boosting smoothies can keep us going all day. They have a wonderful flavor and are also a fantastic source of nutrients you can take any time of the day. You can choose to take it
as part of your breakfast
before and after a workout
as your morning or afternoon snack
as your lunch-on-the-go
before going to sleep.
Smoothies are a fast and easy way to replenish your body's supply of vitamins, minerals, and other nutrients. Athletes often consume protein drinks after a workout, but protein isn't the only thing your body needs to repair itself and build muscle. Micronutrients, which aid in repair and restoration after exercise, can be quickly absorbed by the body through foods like fruits and vegetables.
Clean Lean Protein
From seed to tub, we use only the ingredients you need, and the cleanest processing required to bring them to you.
Good Green Vitality
Complex nutrition made simple with Good Green Vitality. This nutritional superblend is carefully formulated to address all aspects of health.
Disclaimer:
Disclaimer: The information provided on Nuzest is for educational and informational purposes only. The information provided on this site is not, nor is it intended to be, a substitute for professional advice or care. Please speak to your qualified healthcare professional in the event that something you have read here raises questions or concerns regarding your health.