Kids Variety Bundle
Kids Good Stuff is a great way to help your kids get all the nutrients they need to keep them happy and healthy from the inside out. 
Made from real fruit and veg, with protein, calcium, probiotics and more, it's the all-in-one nutritional support their growing bodies need. Plus, there's absolutely zero bad stuff! It's quick, easy, healthy and delicious.... YUM! 
Low sugar • Vegan • Gluten free • Dairy free • Nut free • Non-GMO
KIDS VARIETY BUNDLE
Please note - you can select the flavours you would like to receive by using the dropdown menu.
Bundle includes: 3 tubs of the 225g Kids Good Stuff 
Options will appear if they are in-stock.  The full range is:
Wild Strawberry Kids Good Stuff 225g Tub
Rich Chocolate Kids Good Stuff 225g Tub
Vanilla Caramel Kids Good Stuff 225g Tub
The shaker has been updated to the NEW Nuzest Black Shaker Bottle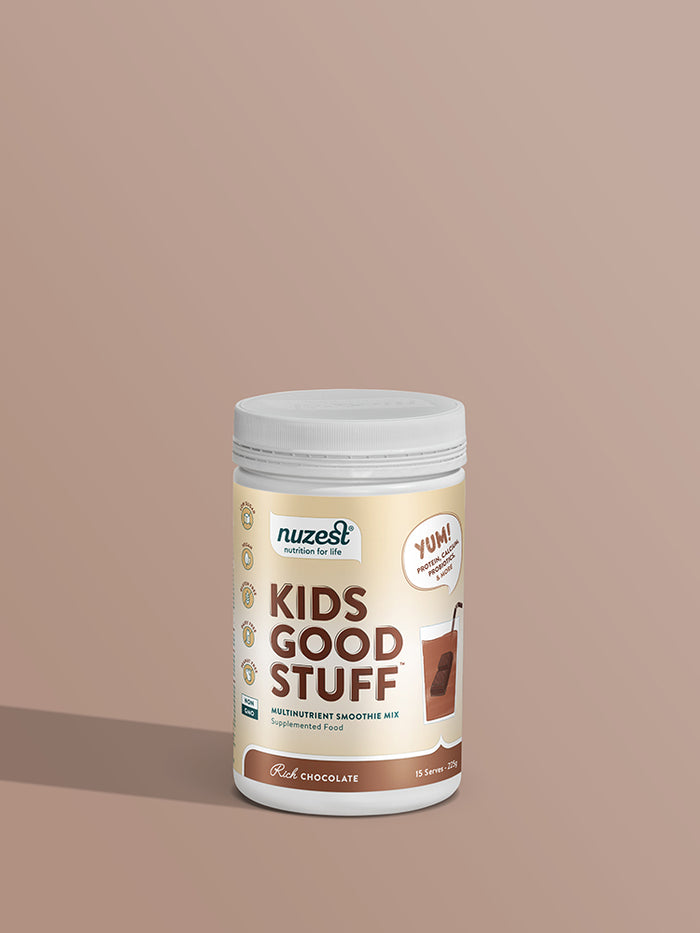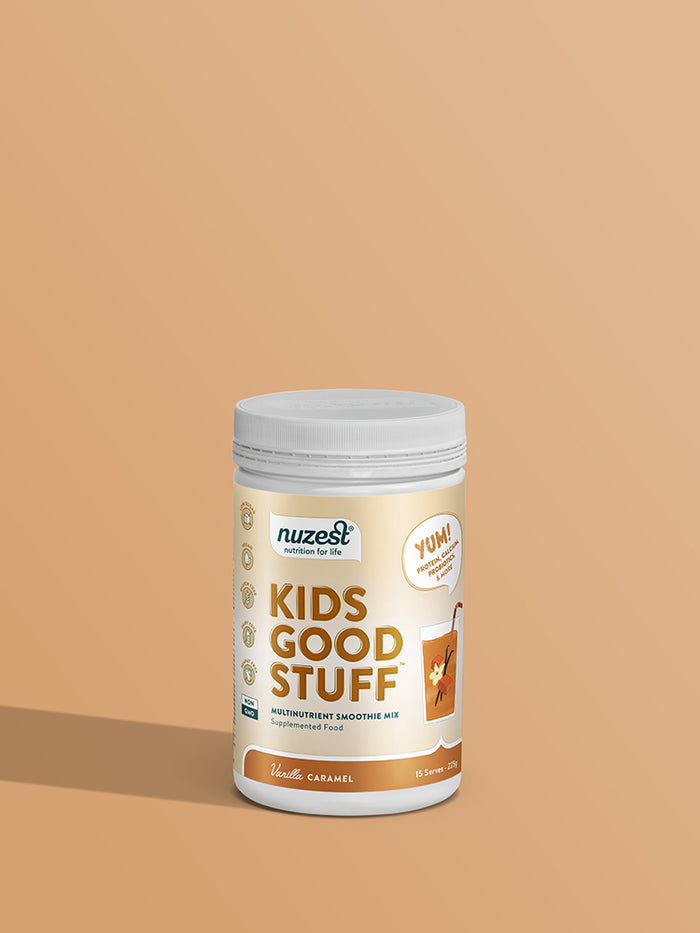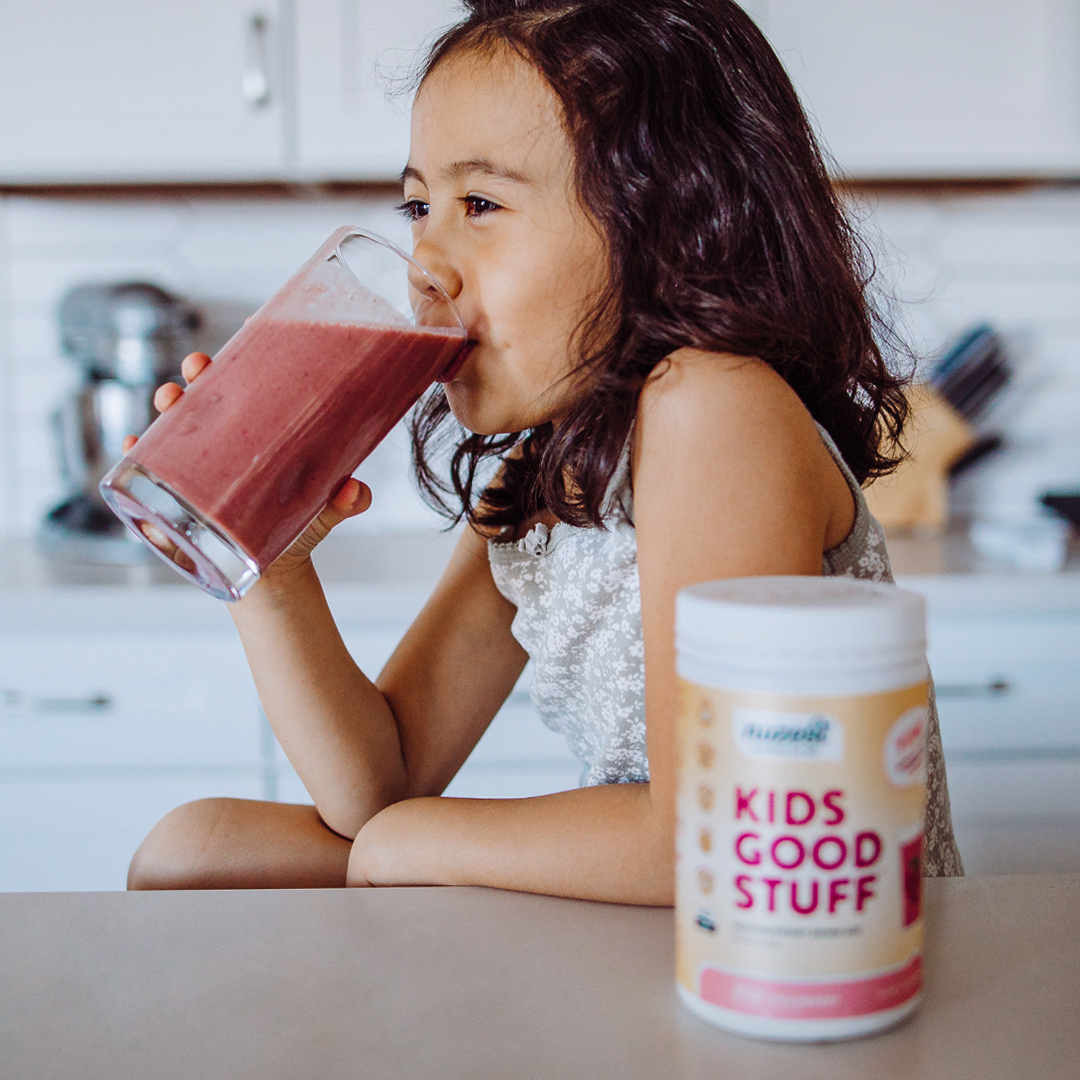 Kids are what they eat
IMPROVED IMMUNITY
Fill in the nutrient gaps by boosting vitamin & mineral intake.
HEALTHY BONES
With 200mg of calcium,8g of plant-based protein, and vitamins D3 and K2, every serve is supporting your child's growth and development.
HAPPY TUMMIES
With microbiotics, fibre and dietary enzymes for good digestion and gut support.
Go ahead, read the fine print
Give your kids a nutritional start to life with a delicious healthy shake the will love.
ALL-IN-ONE
A clean and simple base of 11 different fruits and vegetables, protein, 20 vitamins and minerals and much more to help fill nutritional gaps from fussy eating or food intolerances.
JUST GOOD STUFF
Real food with vitamins and minerals in their most bioavailable forms. No added sugar, no fillers or preservatives, no artificial flavours. Everything their growing bodies need, and nothing they don't.
EASY TO DIGEST
We only use ingredients that their bodies can easily digest and absorb and add dietary enzymes to assist the process.
HYPOALLERGENIC
Kids Good Stuff is free from gluten, peanuts, and other major allergens. Feed your kids with peace of mind.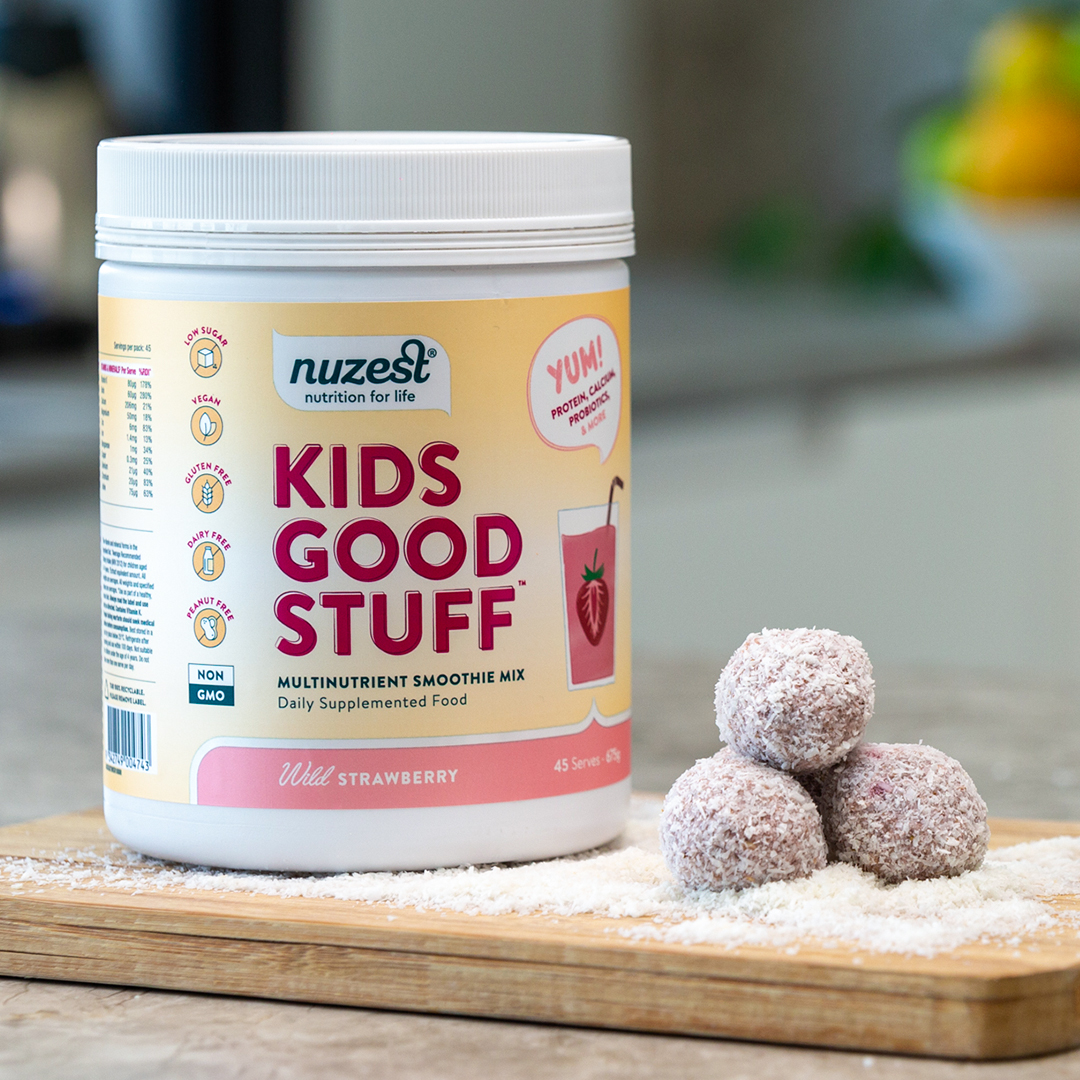 The best the planet has to offer
Led by nature and backed by science, the power of Nuzest nutrition products lies in the fact that we use the best and most bioavailable forms of ALL ingredients (not just one or two), in meaningful quantities, for meaningful results.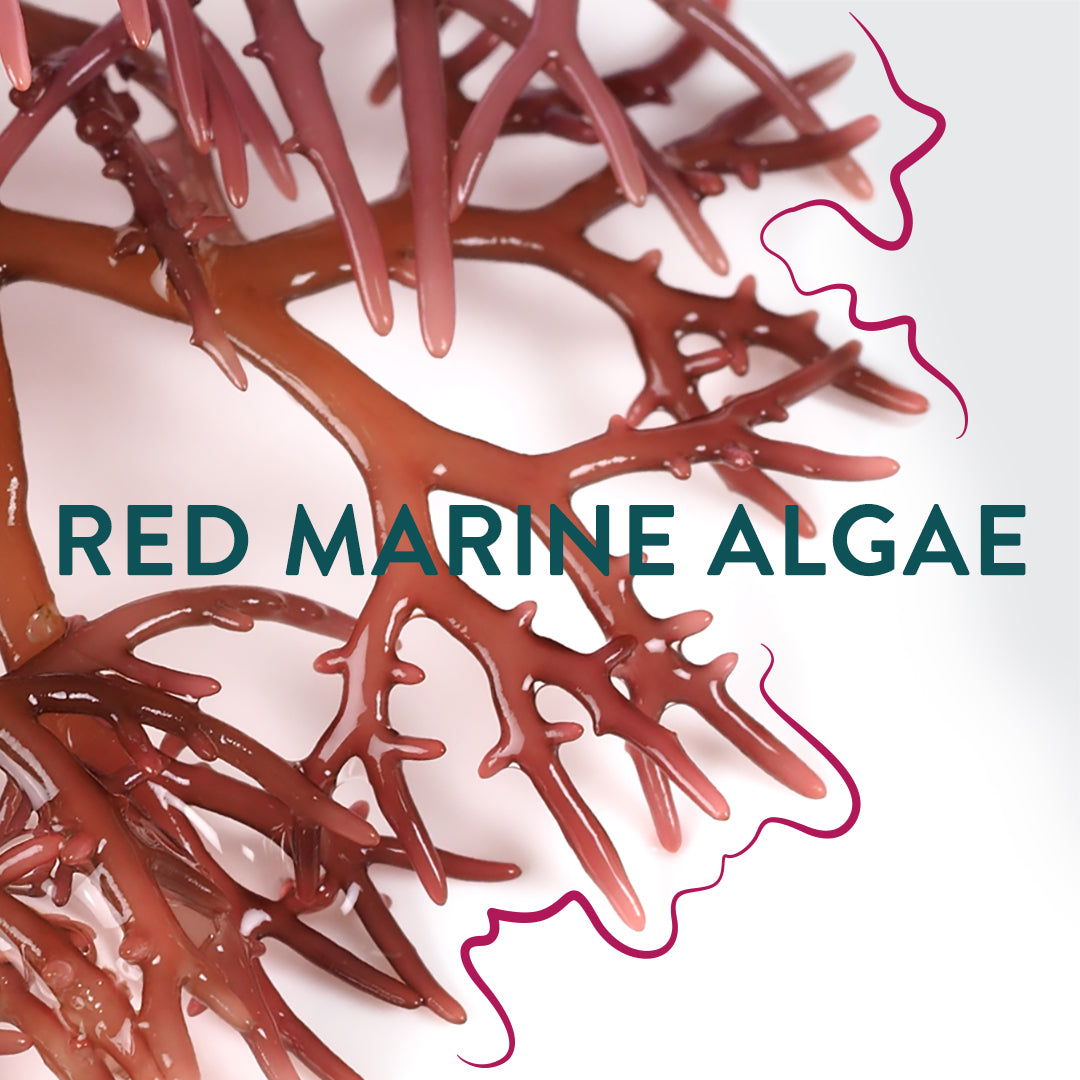 Red Marine Algae 2
Aquamin®F: 485mg
Red marine algae (Lithothamnion calcareum), harvested from the North Atlantic, is our primary source of natural calcium, as well as a complex supply of synergistic minerals and trace nutrients supporting overall health. Calcium is critical to the formation and growth of strong, healthy bones and teeth.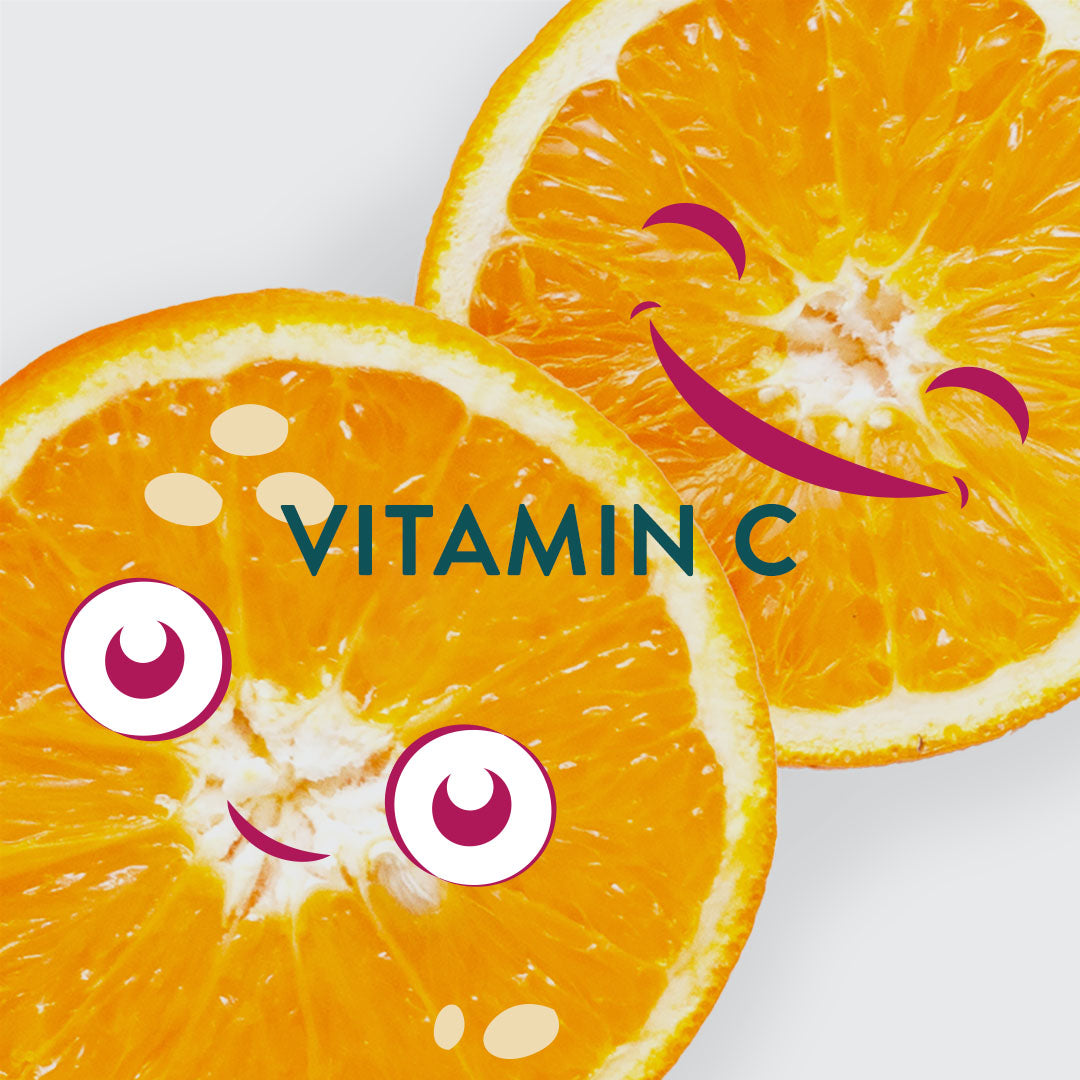 Vitamin C
L-ascorbic acid: 100mg
The human body does not make vitamin C, so consuming it is essential. L-ascorbic acid is the gold standard for supplementation. Vitamin C is an essential nutrient involved in the repair of tissue, the formation of collagen, and the production of certain neurotransmitters. It has strong antioxidant effects and plays a crucial role in wound healing and immunity.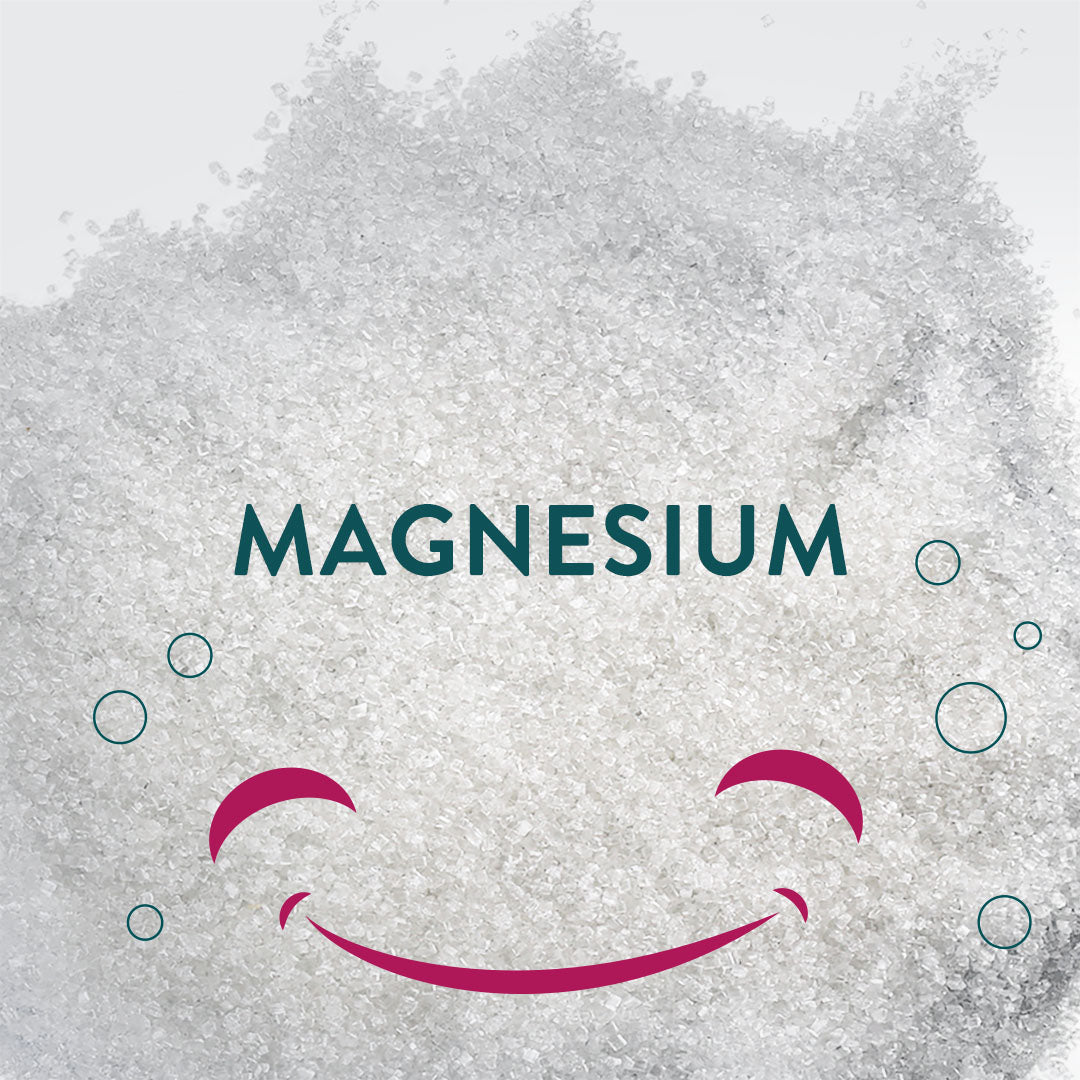 Magnesium 2
Citrate & bisgycinate: 50mg
Magnesium plays many crucial roles in the body, including the support of muscle and nerve function and energy production. It is estimated that 42% of young adults have a magnesium deficiency, which can be linked to inadequate consumption of this essential mineral in childhood. Magnesium citrate and bisglycinate are regarded as the most bioavailable forms of magnesium when supplementing.
Vitamin K
1 & 2 (Phylloquinoine and MK-7): 80mcg
Vitamin K plays an important role in blood clotting, calcium metabolism and heart health. Whilst K1 is the main dietary form, K2 is reported to be responsible for moving calcium from our blood to the bones and teeth. It is therefore particularly important for bone health in growing children.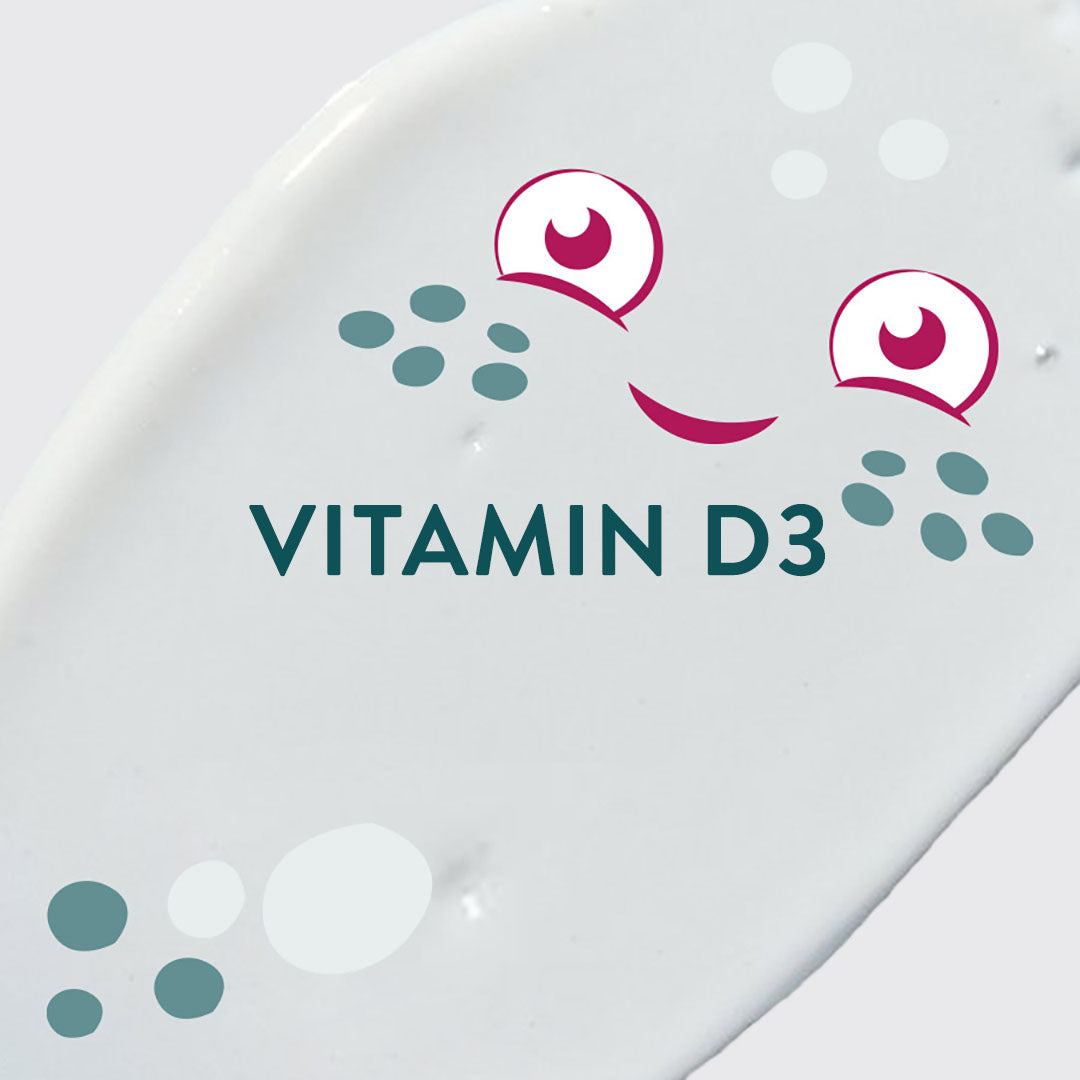 Vitamin D
Cholecalciferol from Lichen: 20mcg
Whilst D2 is commonly used in vegan supplements, the evidence shows it is D3; the active form synthesised in our bodies when our skin is exposed to sun, that promotes better health. D3 from lichen, a photosynthesising organism was discovered as a solution. Adequate vitamin D status positively impacts every body system; it helps us absorb both calcium and phosphorus, and plays a role in endocrine regulation, neurological function and supports a healthy immune response.
Kelp 2
Fucus vesiculosus extract: 195mg equiv.
Kelp is our natural source of Iodine, a mineral that is essential for the creation of thyroid hormones which are important for the growth of bones and nerves, and for how proteins, fats and carbohydrates are used in the body. It is essential in babies and young children for the development of the brain and nervous system.
See More
The Inside Scoop
Amazing smoothie - just often out of stock!
We LOVE this smoothie for our son. It's packed with goodness. We have it on subscription. Our only upset is it is almost always out of stock & we have to go weeks without it.
Love this stuff!
I have both the strawberry and vanilla flavours, but to be honest both of my children prefer the vanilla! They're still quite small and go through phases of just not really wanting to eat so this eases my mind and helps me to know they're what they need each day. Fingers crossed each flavour comes back in stock soon!
Reviewed by laura f., from New Zealand
Verified Reviewer
I recommend this product
Strawberry
Our eldest son has long covid and was rapidly losing weight, this is the only supplement he will happily take, I add banana, ice cream and milk to make it extra filling for him. thanks so much