Good Green Stuff Sachet Box Is Loved by Customers
100%
of reviewers would recommend this product to a friend
Reviewed by Clare B., from Australia
Verified Buyer
I recommend this product
Product Standouts
Digestability
Ease of use
Blendability
Nutritional profile
Best way to get the greens when not a fan!
Not a fan of anything green really, so this is a great easy way to get them
VITALITY, BODY BALANCE & HEALTHY WEIGHT

Designed to keep the spring in your step with herbs to help boost metabolism, fat breakdown, and detoxification.

IMPROVED IMMUNITY

Contains a wide range of ingredients that encourage a healthy inflammatory response, and support your immune system

EASY TO DIGEST & ABSORB

Powdered, real-food base. We only use ingredients your body is designed to absorb

REDUCES STRESS & IMPROVES MEMORY

Nutrients to feed the mind and adaptogenic herbs to help you cope with stress, aids concentration and memory
The
Ultimate
Nutrient
BOOST!
Ingredients

Plant Foods

Probiotics

Plant-based
Good Green Stuff gives you body huge variety of nutrients-dense plant foods in each 10g serve. It includes over 75 ingredients, each one selected to support all 12 body systems, including digestion. Every serve contains 21 different plant foods and another 21 concentrated plant extracts.
These include gut support power houses like ginger and liquorice root, plus slippery elm, turmeric, dandelion, and burdock. You'll also get 550g of apple fibre and 6 billion dairy-free probiotics in every serving.
Nutritionals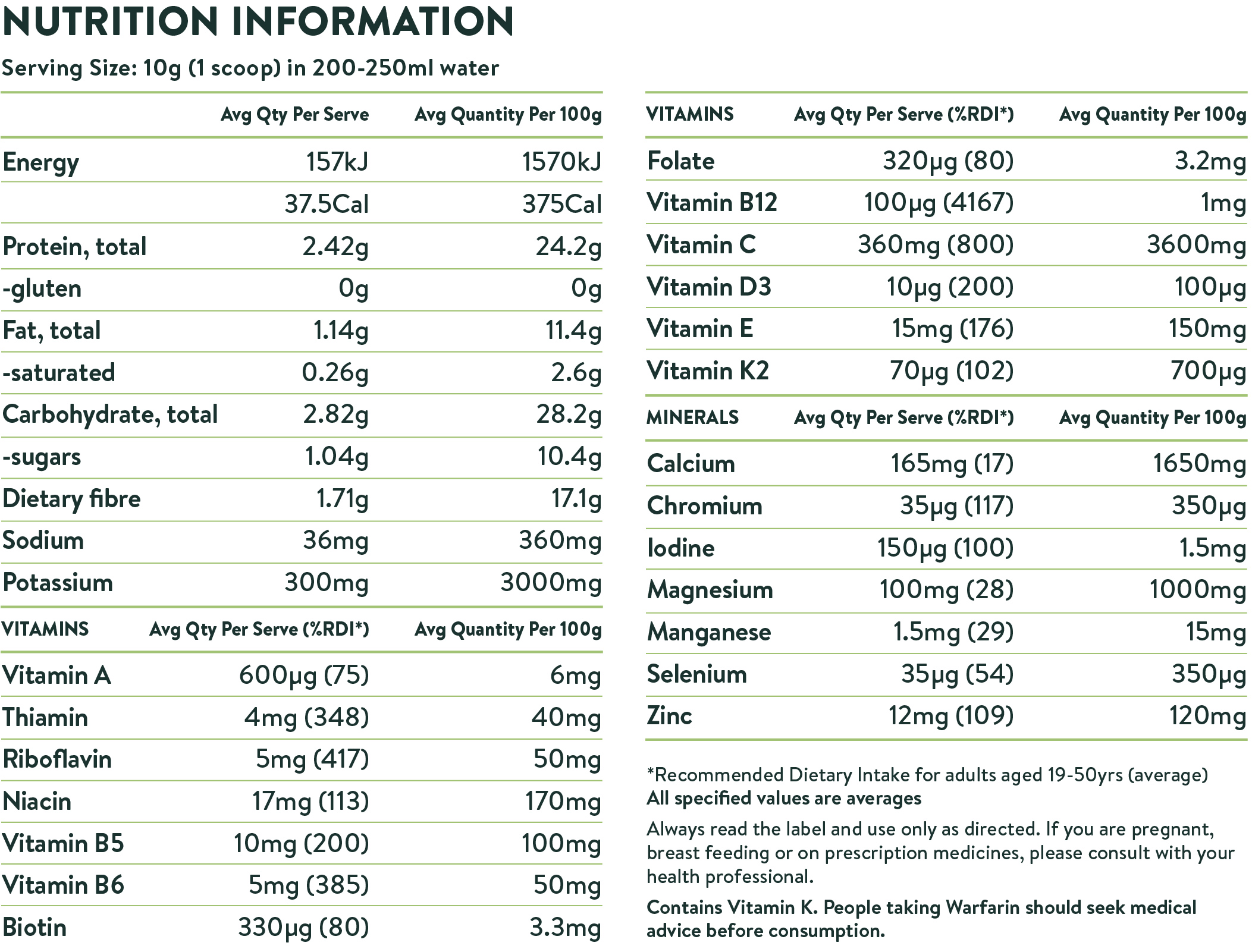 Ingredients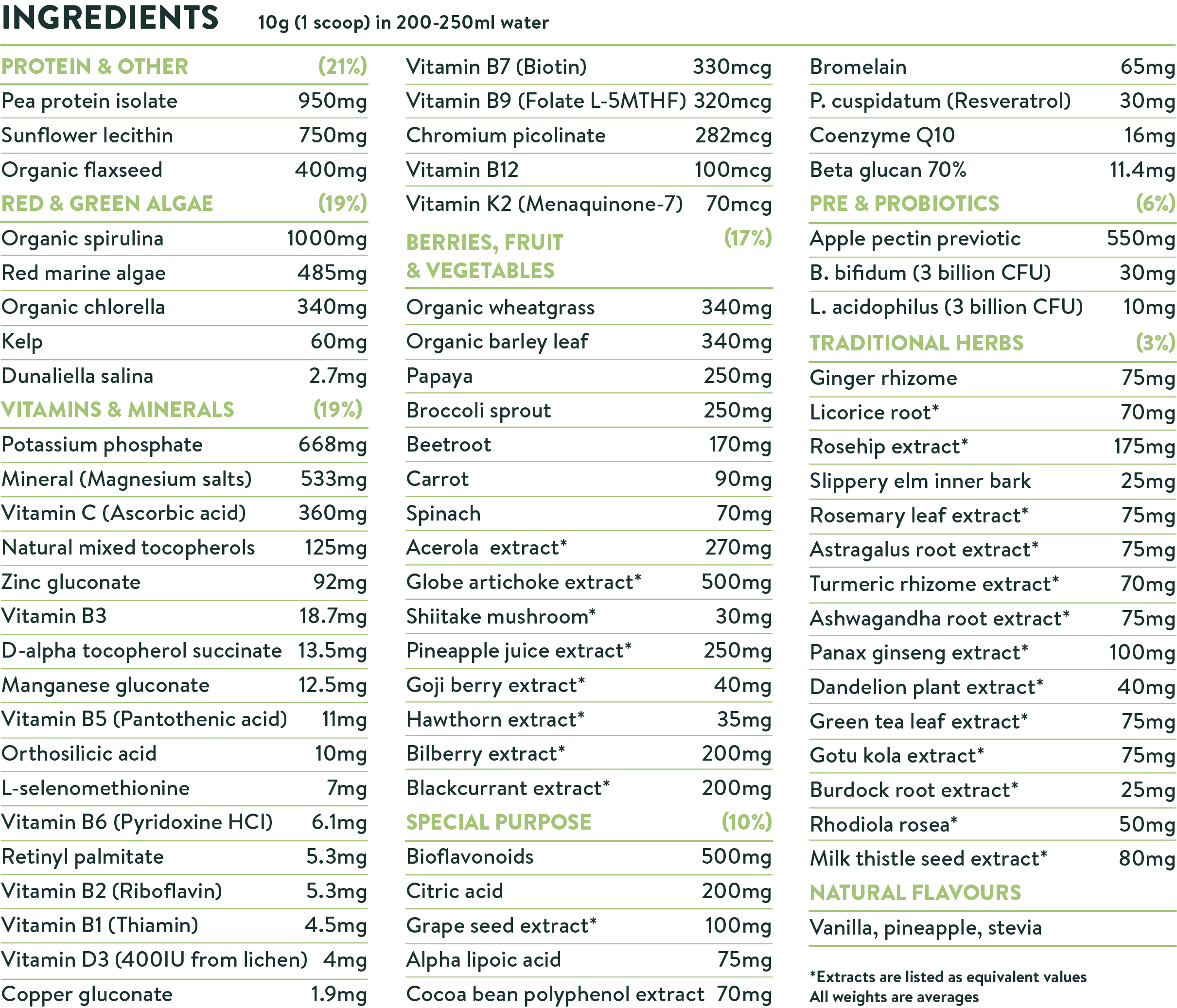 Shipping
 Local Singapore Delivery
Shipping is free within Singapore. Shipping is made J&T Express and can take between 2-5 working days.  We do not offer time based bookings or specific delivery timing requests right now.
**Please Note.  Durning events and around public holidays such as 11:11, Christmas, Easter and other occasions, we have found that our courier service may become overwhelmed.  Due to this there may be additional delays of 2-3 days.
Questions about your parcel shipment/ delivery should go to:
Email:   Only if you notice a 'return to sender' on your tracking - cs_sg@jtexpress.sg
J&T Customer Support phone number for tracking is: 69396399
International deliveries
All international deliveries are packed by J&T express and then delivered by DHL.  We do not have an automated service to update your DHL tracking but you can request for this via an email following instructions below.
International duties and taxes are not included in the purchase price of the Nuzest products and will need to be paid upon arrival into the destination country.
Orders may take approximately 15 days, sometimes longer if the package is delayed at Customs.  
For DHL tracking codes email:   
cs_sg@jtexpress.sg  and also admin@nuzest.sg 
If you have multiple 'miss-send' attempts, please contact admin@nuzest.sg or Scott on +6596498436.   Note:  I can only view your tracking code on the same link as you have been provided above.
WHY TAKE NUZEST GOOD GREEN STUFF?
So much more than just greens, Good Green Stuff is a potent blend of carefully selected fruits, vegetables and herbs - with added vitamins, minerals, probiotics, antioxidants and other essential nutrients. It packs a punch with over 75 of the very best ingredients for optimum health.
Independently formulated by a team of global health experts. The form of every ingredient is specifically selected for maximum bioavailability and efficacy. Regularly reviewed, and blended in world-class facilities. Every batch is tested before release.
Easier to digest than tablets or capsules and made from a base of real food, the nutrients in Good Green Stuff are supplied in the forms most easily recognised and used by your body. Every form of vitamin and mineral has been carefully chosen for maximum absorption.
Nutrients to feed the mind and adaptogenic herbs to help you cope with stress Aids concentration and memory with specific B-Vitamins, essential minerals, phyto-nutrients and herbs specifically chosen to support cognitive function and boost the adrenals in times of stress.
A strong digestive system reinforces your body's immune system and defence against disease. Good Green Stuff contains a wide range of ingredients that encourage a healthy inflammatory response, support your immune system and promote gut and bowel health
CoQ10 and B-Vitamins for energy production and distribution, along with countless nutrients and phytonutrients to make you glow from the inside out. With herbs to help boost metabolism, fat breakdown, and detoxification, Good Green Stuff helps you look and feel your best every day.
No supplement can replace a healthy diet, but Good Green Stuff helps to offset poor dietary choices, the decline in food quality and environmental toxins. Think of it as nutritional insurance to help fill the gaps in your diet.
Free from all common allergens. No gluten, dairy, eggs, nuts, soy or corn. No GMO ingredients. No nasty chemicals, artificial preservatives or fillers. Just concentrated, real-food ingredients with a multi-vitamin boost.
HOW TO USE Good Green Stuff Sachet Box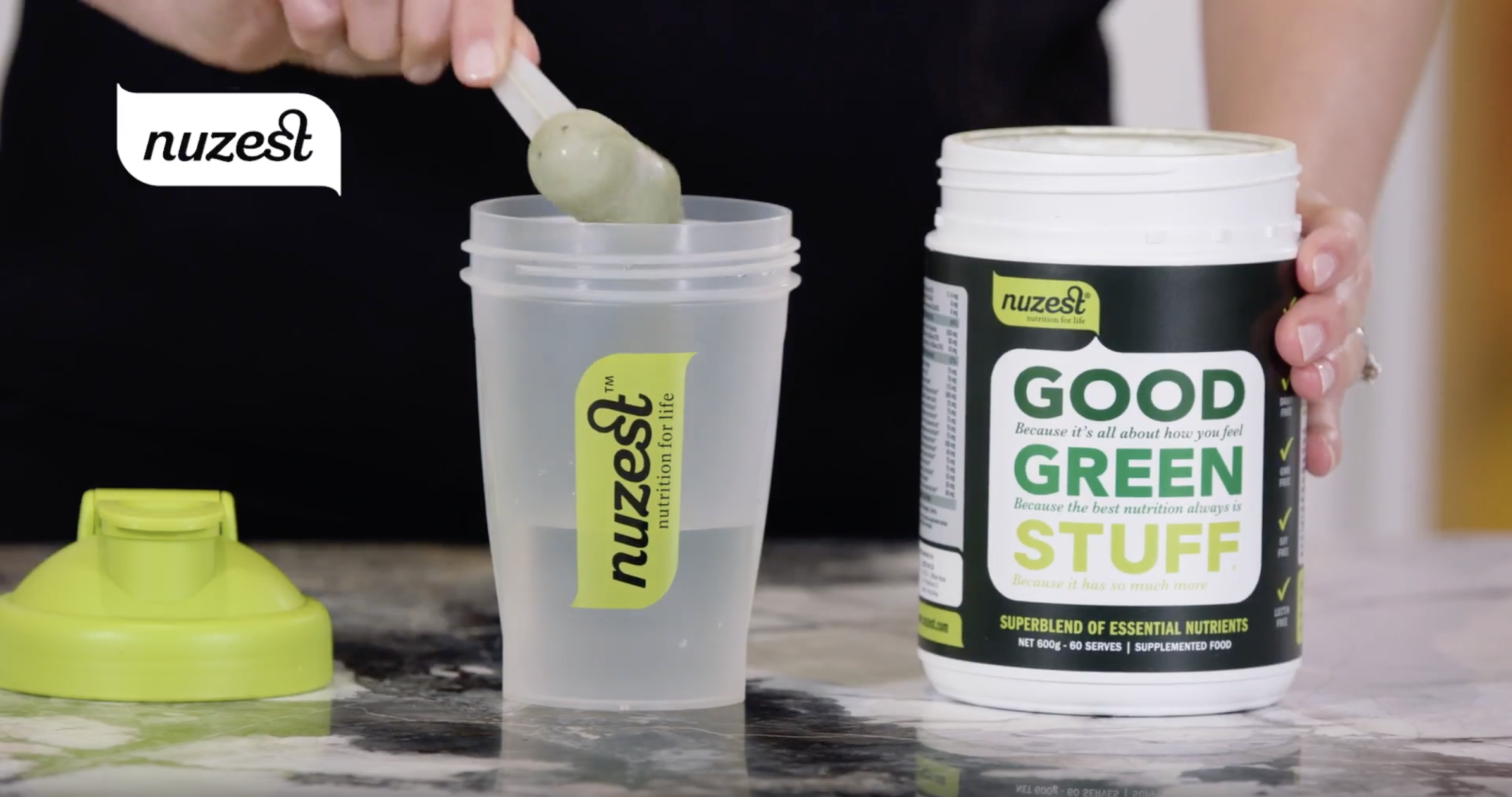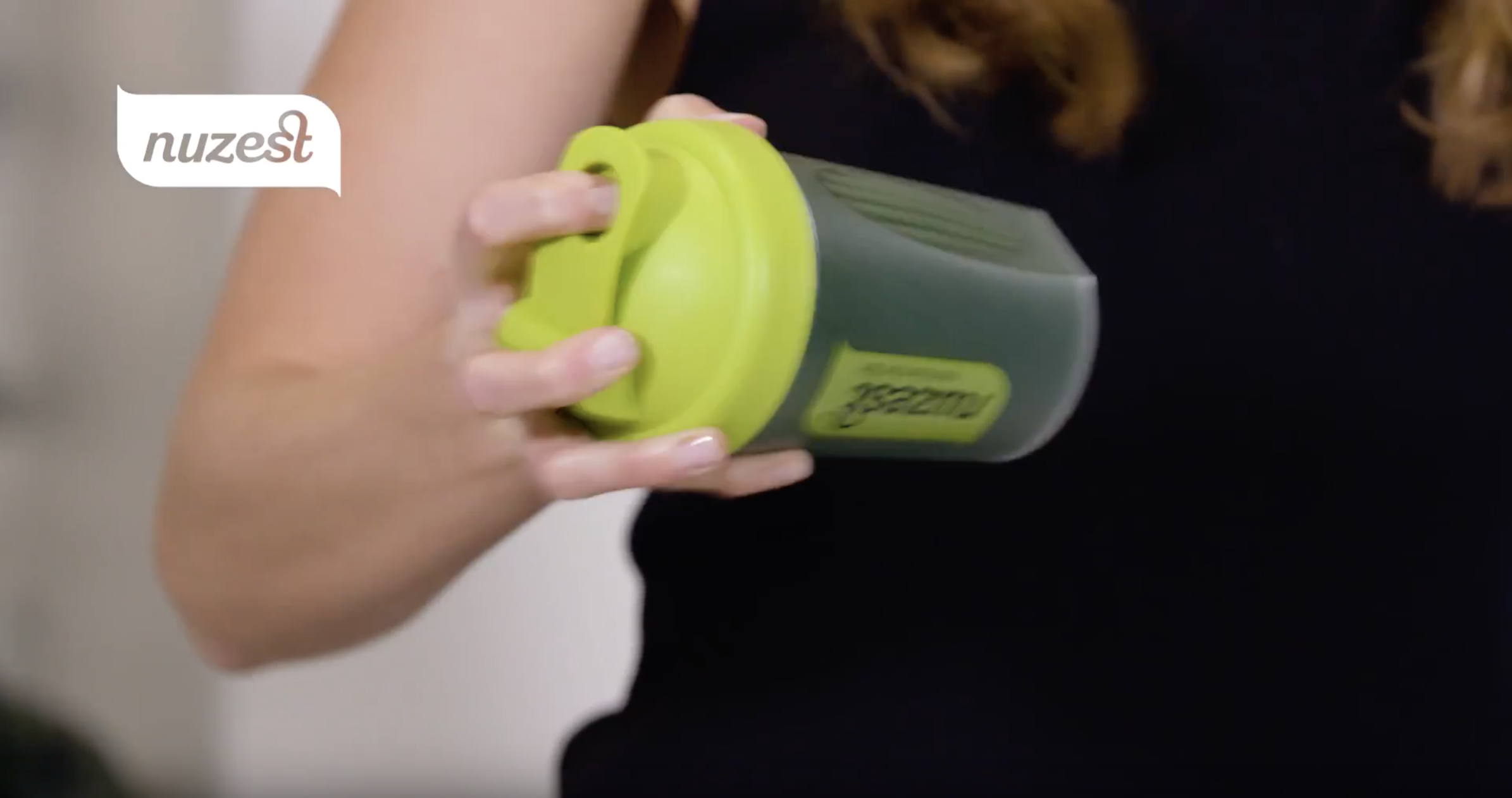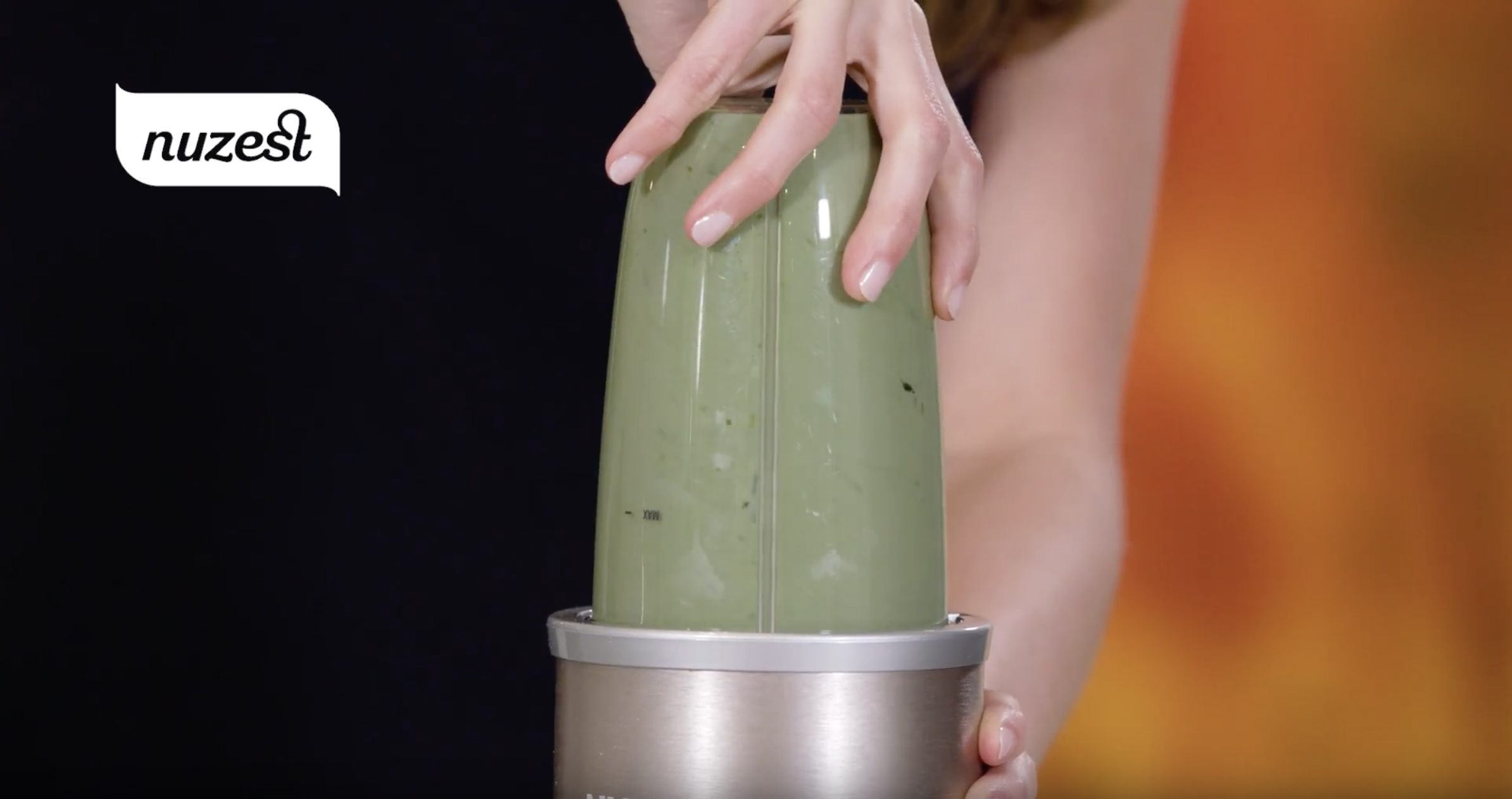 Good Green Stuff Sachet Box FAQS
Is Good Green Stuff suitable for coeliacs and vegans?
Yes, Good Green Stuff is suitable for both coeliacs, vegetarians and vegans. None of the ingredients in Good Green Stuff are derived from animal products and it is certified gluten free.
Is Good Green Stuff safe for children?
According to Australian and New Zealand regulations, Good Green Stuff is suitable for children aged 4 and over. However the dosage for children aged 4 - 14yrs is half that of an adult (1/2 scoop). Regulations may vary from country to country but, in any event, we do not recommend Good Green Stuff for anyone under the age of 4. Kids Good Stuff is a better alternative for children as the formula was developed specifically for early childhood development.
Is Good Green Stuff safe for diabetics?
Good Green Stuff is completely safe for diabetics. There are less than 3 grams of carbohydrates per serve so the effect on blood glucose is minimal; and, at around 40 calories per serve, any effect on insulin in type 2 diabetics (and those with metabolic syndrome and pre-diabetic disorders) is almost nil. Good Green Stuff may even help those with diabetes due to the inclusion of ingredients such as chromium and green tea extracts that aid glycaemic control and improve insulin sensitivity.
How is Good Green stuff labelled 'gluten free' when it contains barley and wheat grass?
The barley and wheat grass in Good Green Stuff are the growing portion of the plant, not the grain. The grain is the part that contains gluten. Every batch of Good Green Stuff is tested for gluten and is certified gluten-free.
How is Good Green Stuff different from other greens products?
Firstly it's not just a 'greens' product. Many 'greens' products are simply powdered foods without any fortification of essential vitamins and minerals, or probiotics, bioflavonoids etc. Powdered food blends are OK for a little 'boost' in your smoothie but without taking significantly more than the recommended teaspoon or two, they really do not offer significant supplementation. Of those 'greens' products that do strengthen their powdered foods with added vitamins, minerals, probiotics etc., you will find that Good Green Stuff has significantly higher levels of nutrients than most, if not all, products available in this category. Most importantly however are the forms of those ingredients. Good Green stuff uses the most bioavailable, 'body-friendly', and effective forms available; many of which are not used by ANY of our competitors. It makes for a more effective, more efficient, and in some areas safer, formula to your health and wellbeing.
Why do I need Good Green Stuff (or any supplement)?
For nutritional insurance - to help plug the gaps in your diet due to poor food quality, soil depletion and imperfect dietary choices; and because of the demands our bodies make for extra nutrients due to environmental toxins and our high-stress modern lifestyles. Nothing should replace a balanced diet of real food - supplements simply help fill the gaps.
I have several health conditions and am taking a lot of medications. Is it OK for me to take Good Green Stuff?
There can often be drug-herb and drug-food interactions with poly drug use. We always recommend that anyone with a pre-existing condition, and those taking medication, consult with a suitably qualified health practitioner before using any nutritional supplement.
THE BEST POWERED BY NUZEST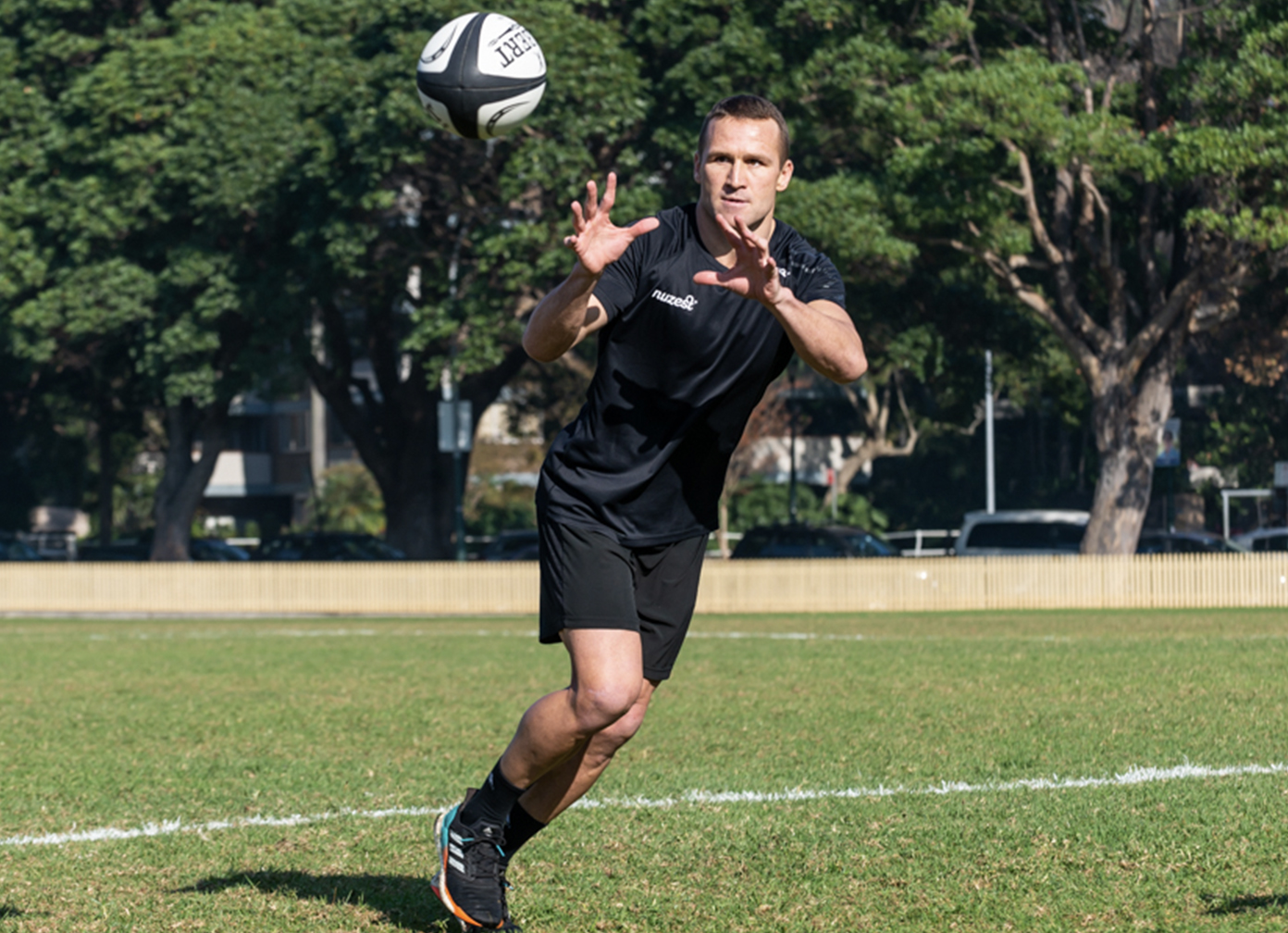 Matt Giteau - Rugby Union Player
"Since taking Nuzest I've felt great, lot of energy on the field, off the field. My recovery, general health and body feels good."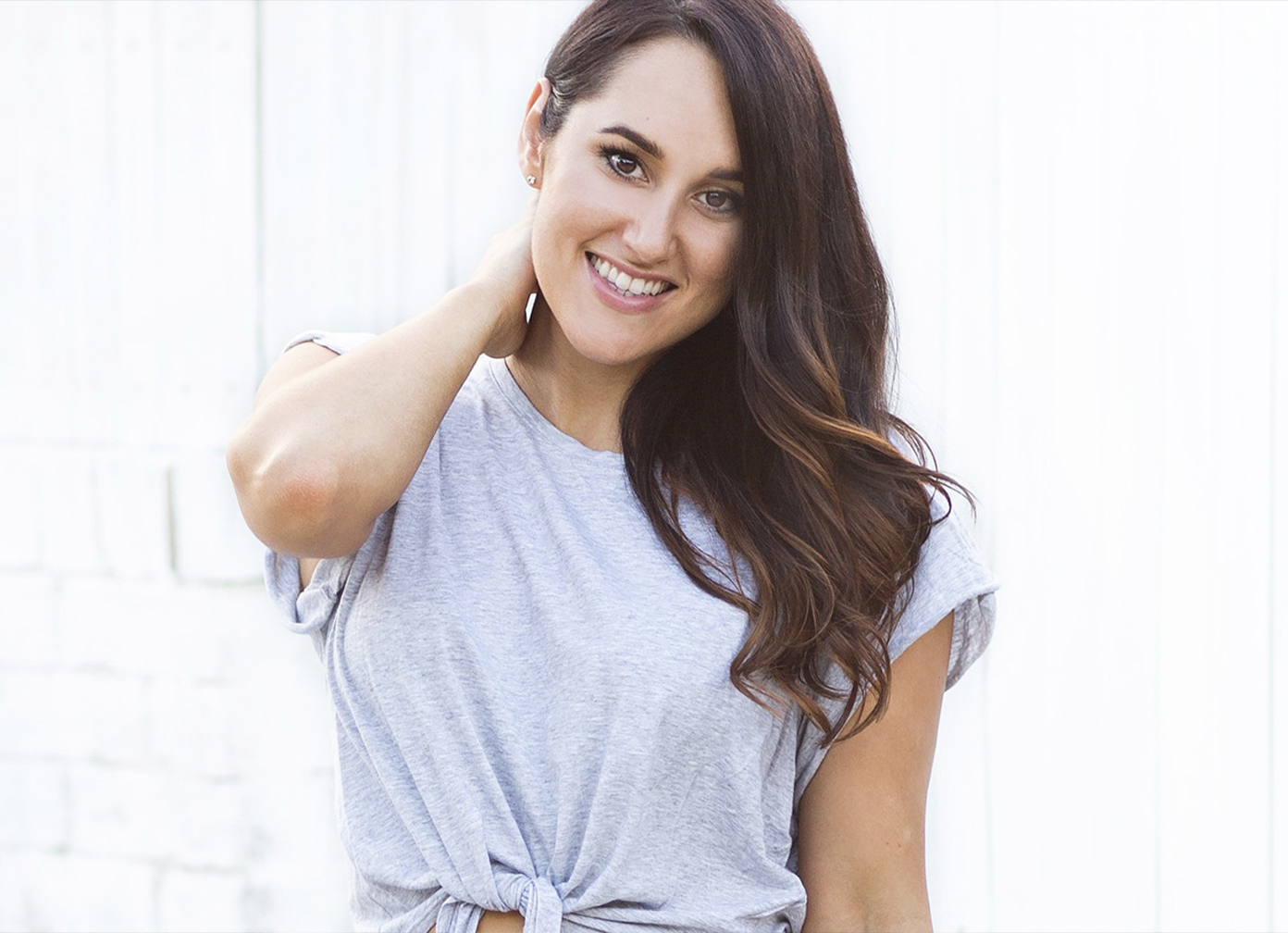 Cassie Mendoza-Jones - Nutritionist, Naturopath, Herbalist, Kinesiologist
"Good Green Stuff is the best super greens powder I've found. There is nothing like it in terms of quality, ingredients, value and taste. I recommend it to all of my clients."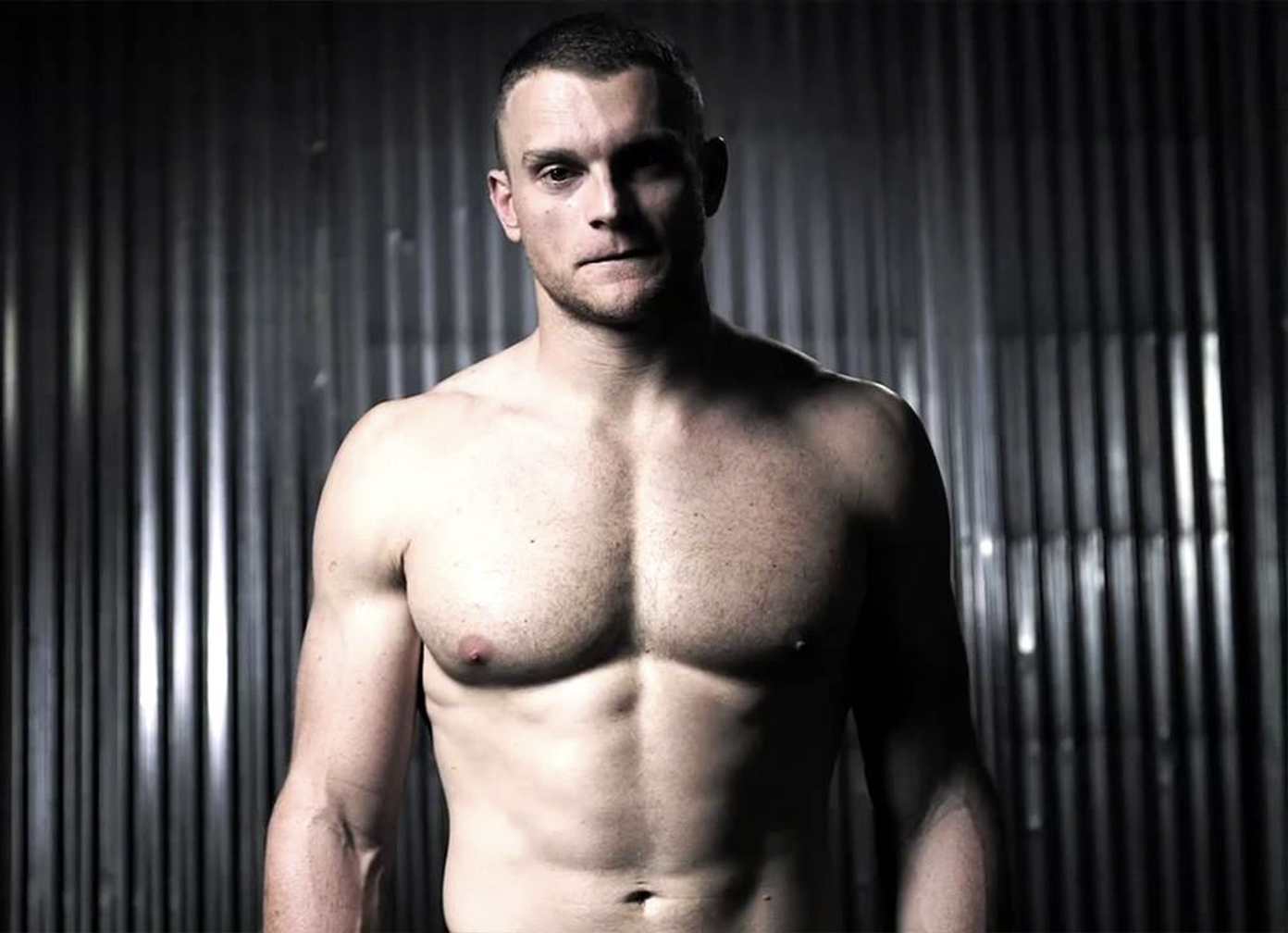 Chad Mackay - Australian CrossFit Champion
"Good Green Stuff has strengthened my immune system and helped in my performance. Taking Good Green Stuff either 1 hour pre-workout or first thing in the morning works best for me."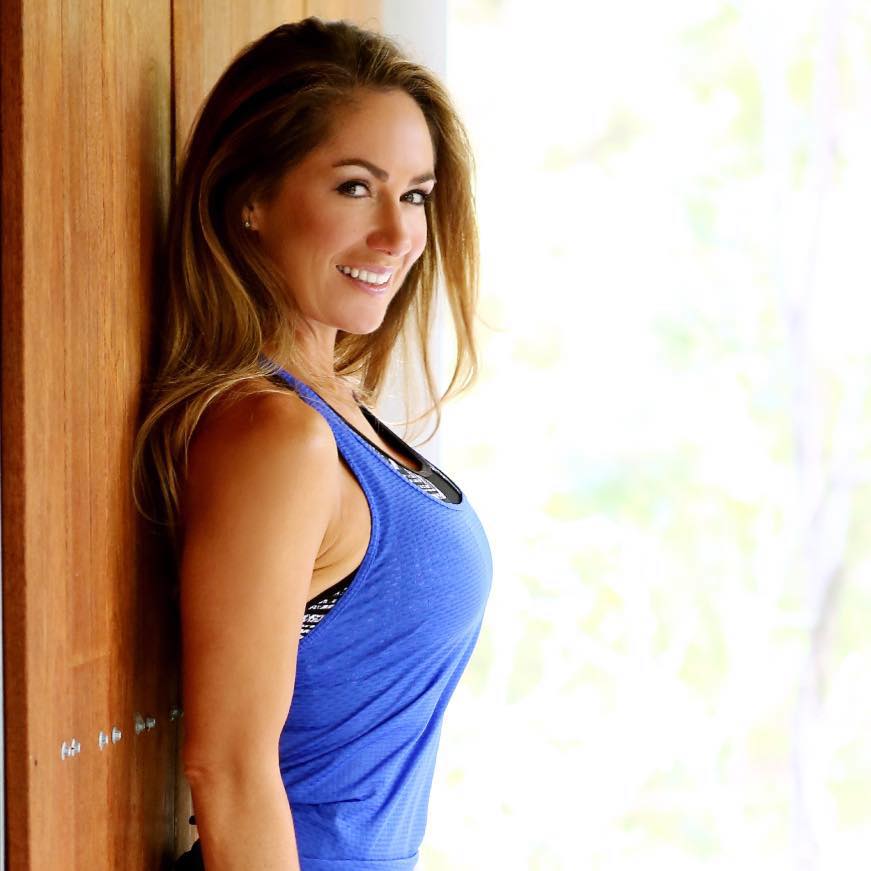 Amber Walker - World Best Body Champion & Fitness Trainer
"As a health coach I was always searching for an amazing natural products for my clients. I will never recommend something I am not willing to use myself."
Recipes
For more delicious recipes using the Nuzest range